Posted: February 24, 2020
On a busy day at Grand River Hospital, Karen Quehl sits among the quiet of the hospital cafeteria, and reflects on the special role the hospital has played in her life. Born a twin back when GRH was the KW Hospital, Karen gave birth to her daughter here in the 1980s and even worked as a biochemistry technician in our lab from 1980-1986. In the early 2000s, she wanted to give back to the hospital and began volunteering her time. You may recognize her as one of the friendly faces who greets you at the front desk of the main entrance at the KW Campus.
When Karen was diagnosed with breast cancer in 2013, she knew she was in good hands receiving treatment in our cancer centre. Through her treatment, she remembers she always received great care by her oncologist and care team, and found support through the many fitness and nutrition classes offered to cancer patients. "My care was so wonderful with such kindness and understanding. They gave me hope that everything would be okay."
Now in remission, Karen's health took a surprising turn in November 2019 when she began experiencing shortness of breath, but was otherwise feeling fine.
"I was on my way to the hospital for my weekly volunteer shift when I decided I should probably visit the emergency department first," said Karen, where her treatment began immediately.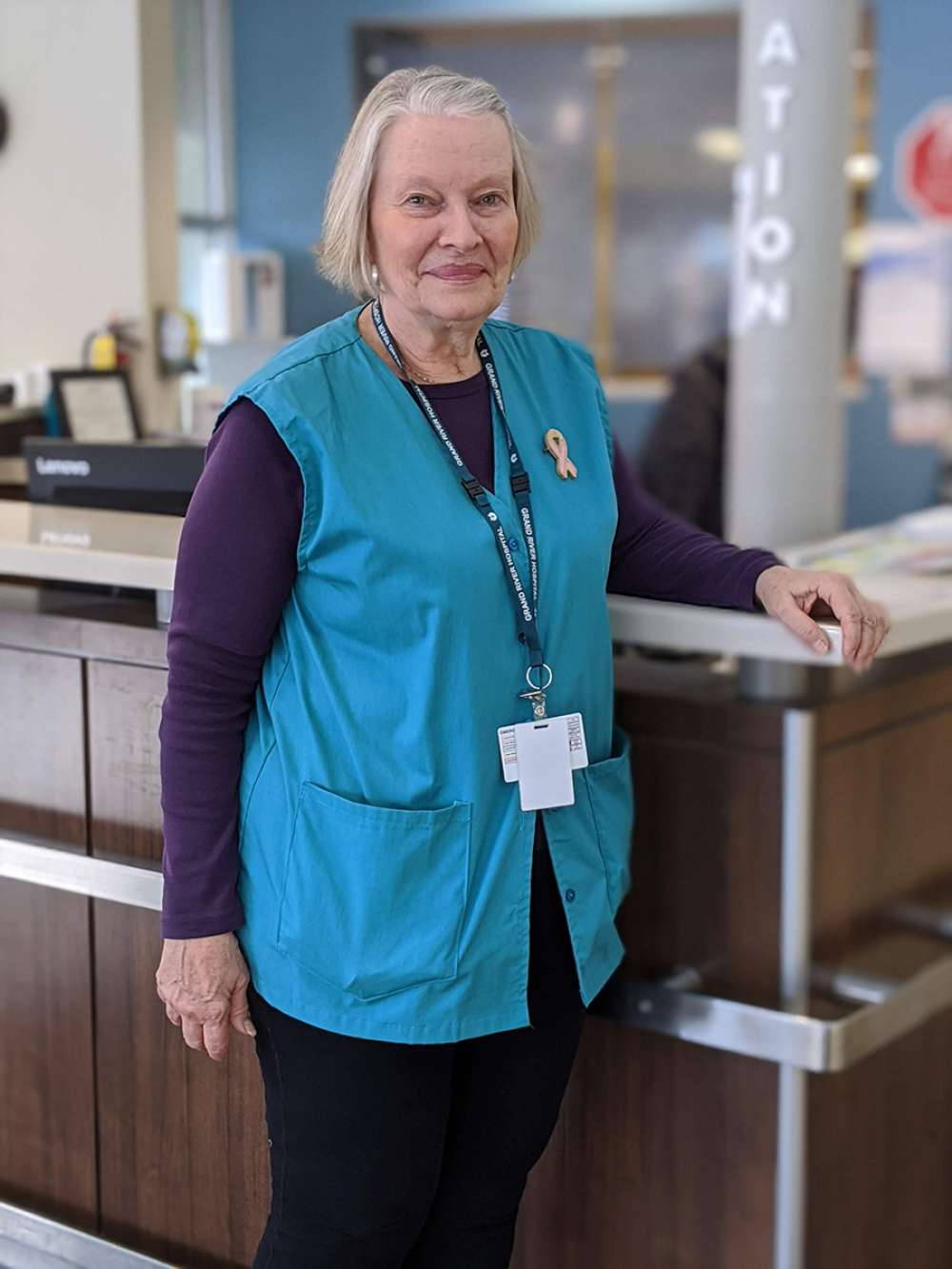 Upon arriving, Karen was given oxygen, had a blood test, a CT scan and was then admitted to hospital with blood clots in both her lungs; an unexpected journey from what she expected walking in to the hospital earlier that morning.
"A young doctor came in quickly and said how dangerous this was because I had large blood clots in both lungs and the one on the heart side was the biggest. I was then seen by an intensive care doctor. She asked many questions to determine why these clots formed."
When she found herself in our intensive care unit just after midnight, she was tired and hungry.
"Knowing I hadn't anything to eat all day, my nurse made me peanut butter on toast to get me to the morning." It was unexpected, but another part of the great care Karen has come to experience at GRH.
"I felt so well taken care of," Karen remembers.
An active volunteer across the region, Karen loves to give back to her community. In her nearly 20 years as a volunteer at GRH, she still loves meeting new people – from her fellow volunteers, to staff, patients, and families who walk in the front door.
"I value Grand River Hospital," Karen said, "As a volunteer at the front desk, you never know who is walking in the front door and how you may change their life, or how they may change yours. This has always been such a rewarding endeavor."
If you'd like to share your story of exceptional care, contact us at comms.team@grhosp.on.ca
More GRH Stories