Posted: October 11, 2018
Jane Keller calls it a truly magical career.
For 35 years, Jane has been a registered nurse in Grand River Hospital's childbirth program. She has seen her share of developments and change while having cared for thousands of babies and new parents over the years.
Jane says there have been times of joy and sadness. But as she retires later this year, she thinks she has just as much enthusiasm for nursing as she did at the start of her career.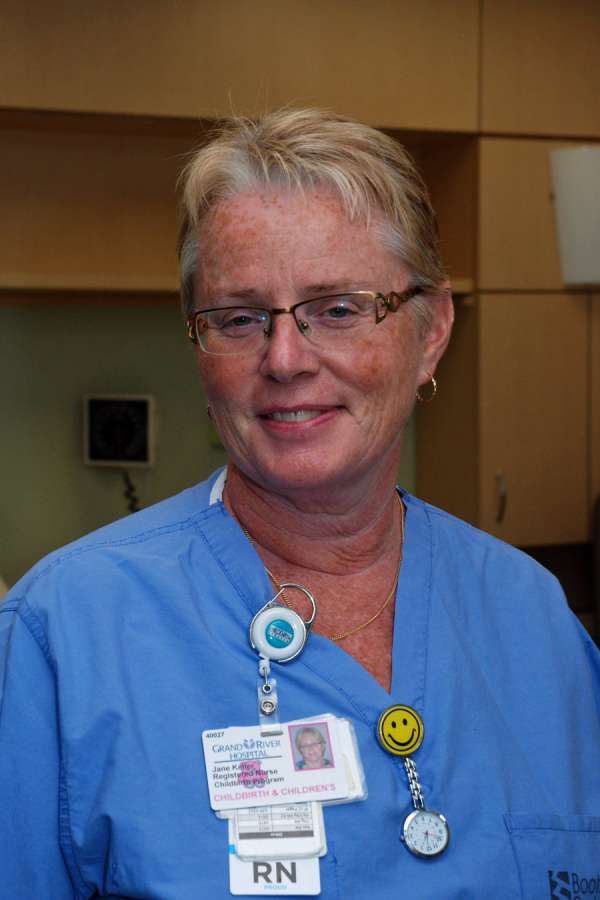 Jane is also proud of all the changes in GRH's childbirth program that have resulted in better care for moms and babies in Waterloo Region.
---
Why did you become a nurse?
Wow, why did I become a nurse… thinking back to the young me, I felt it was a good career choice. I knew people who were RNs and they spoke highly of their career. It seemed like a career that would be exciting and rewarding, with the obvious benefit of caring for people. It has been all of those things to me.
What brought you to Grand River Hospital?
I graduated from Conestoga College in 1981. My husband and I moved to Alberta for two years but after that we really wanted to move back to our home community of KW. I had gained some experience in the area of obstetrics. I applied at the then "KW Hospital" in 1983 and happily got hired! I've been here ever since.
What are your responsibilities today, and what do you enjoy about your role?
I'm a front line staff nurse in the childbirth program. I work to support women through the continuum of childbirth. My role includes the triage assessment area, caring for women in labour, circulating/scrubbing for caesarean section births, care of moms and babies post-partum and taking the role as charge nurse on the night shift.
The ever-changing roles provide excitement and rewards in my job. I have had the joy to mentor new staff registered nurses in our program as well as midwifery students. Both have been great.
What's the most important thing you've learned through your career?
One of the most important things that I have learned in my career is from new Canadians and refugees. When I hear their stories and what brought them to KW, I realize how lucky we are to be able to give them top notch care... physically and emotionally. I have also learned so much from them in my ability to care from them.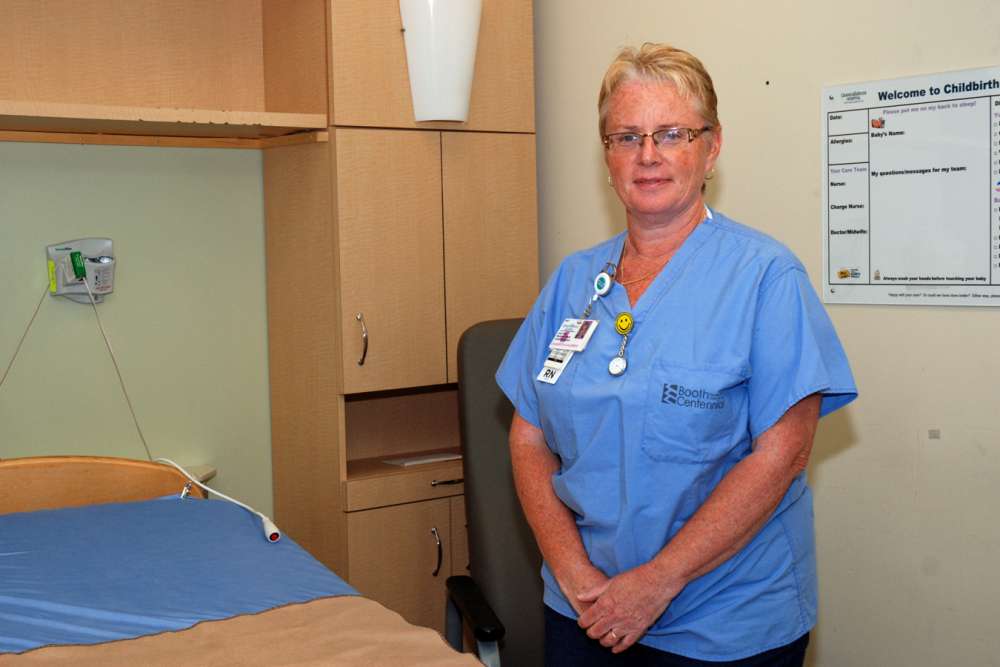 What keeps you on your toes in your role?
The ever-changing landscape! Having 4,400 births a year at our hospital may sound astounding to some.
We also need to be able to respond to the ever-changing needs of our patient population. No day is the same. From the uncomplicated birth to the most complicated one, we must always be ready for whatever comes our way.
Why are you proud to work at GRH?
I'm proud of all the changes within the childbirth program. I have been part of many of these changes. That's involved going from having the separate labor and delivery unit and postpartum unit. This is now all combined care, which is so very important for all the patients we care for.
As you get close to your retirement, what thoughts cross your mind?
As I complete my last year as a full time RN in the childbirth program my personal mandate was to finish with as much enthusiasm as when I stepped through the door. I feel that this has been attainable.
It will be hard to say goodbye but who knows I might return on a casual basis. It is truly a magical career… there's nothing like being an obstetrical nurse.
There are both happy and sad memories. Not every day is roses. When there is a precious pregnancy loss, we help the patients deal with it. I hold all of the happy and sad moments close to my heart.
More GRH Stories