Before applying, you should know...
The Office of Innovation and Research aims to bring researchers and GRH clinicians and staff together. We ask everyone interested in conducting research at the hospital to have established - or given thought to - partnerships with clinicians or staff prior to applying. If you are unsure about how to connect with a clinician or staff member, please contact us and we will be happy to assist you.
How is a research study approved at GRH?
All research studies at GRH must be approved by the GRH Research Committee or GRRCC Scientific Review Committee prior to a submission to an ethics review board.
Once administrative approval is complete, research must then be approved in one of the following streams:
UW ORE/THREB Coordinated review
Clinical Trials Ontario (CTO)
Ontario Cancer Research Ethics Board (OCREB)
The graphic below illustrates the approval process of your application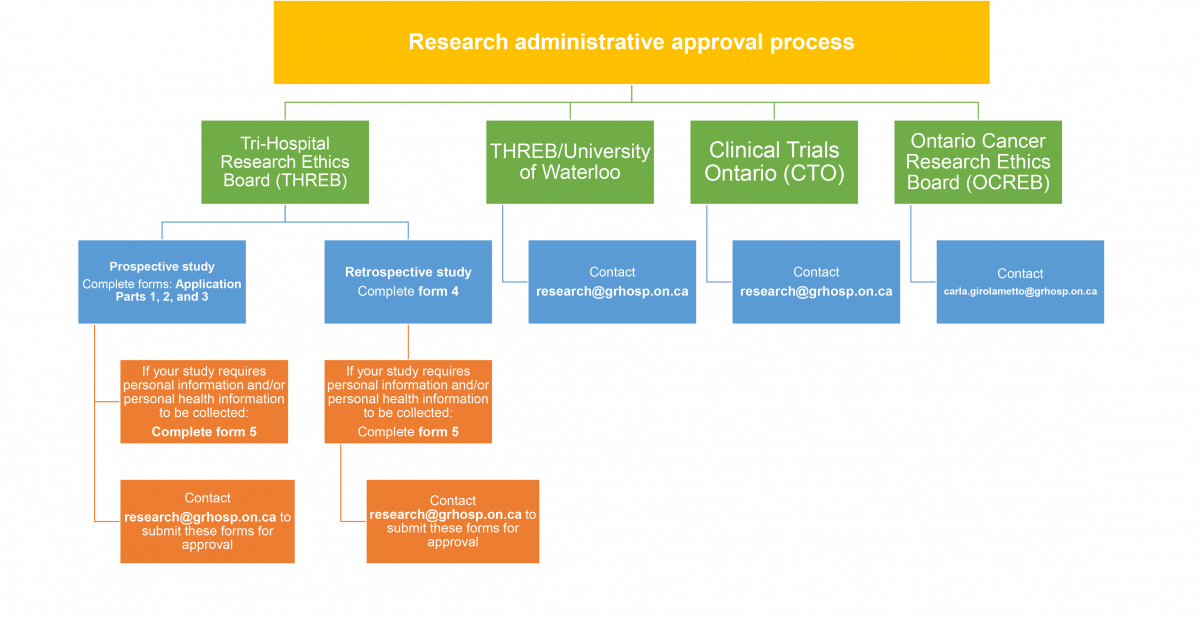 Research administrative approval process
Grand River Hospital's research committee
The first step for all research, excluding studies at GRH's regional cancer centre, is to obtain administrative approval from the GRH research committee. This committee serves as the initial point of contact and primary resource for those interested in conducting research at GRH.
This committee ensures that the research is aligned with the GRH's mission, vision, and values, assesses the impact on hospital resources, ensures program level approval of study conduct, and ensures all administrative requirements are fulfilled prior to study initiation.
---
Grand River Regional Cancer Centre Scientific Review Committee
The purpose of the scientific review committee is to lead and facilitate the development, implementation and evaluation of oncology clinical trials activity and oncology research within the Integrated Cancer Program (ICP).
This committee reviews the scientific purpose, impact on Grand River Hospital (GRH) resources, and budget of proposed oncology clinical trials and makes decisions on approvals to proceed. The committee ensures that the research is aligned with GRH's mission, vision and values and that all administrative requirements are fulfilled prior to approval. For more information about conducting oncology clinical trials at GRH please contact:
Carla Girolametto, Director, Innovation and Research and Clinical Trials Phone: 519-749-4370 extension 2307 Email: carla.girolametto@grhosp.on.ca
---
Administrative Review/THREB review
Your application will be reviewed by the Research Committee and THREB. In order to streamline the approval process, the same application template is used for both the GRH research committee review and THREB review. Links to all application documents are provided at the bottom of this page.
Follow the above graphic to identify the applicable forms to be completed.
Both the research committee and THREB meet several times a year. Click here for a list of the 2021 application deadlines and meetings.
---
Administrative review/CTO review
For studies that will proceed with ethics review conducted through CTO, please contact the Office of Innovation and Research to discuss the administrative approval process prior to submission of a centre application form.
Research committee or administrative approval questions can be directed to:

Sarah Laferriere, Office of Innovation and Research Administrator Phone: 519-749-4300 extension 2876 Email: sarah.laferriere@grhosp.on.ca or research@grhosp.on.ca
---
Research application forms
THREB approval stream
Application Part 1 - General instructions and checklist for the application to THREB
Application Part 2 - THREB application for project review
Application Part 3 - THREB administrative/institutional approval of research project
4. Application for retrospective review of personal health information (medical charts/health records)
5. GRH research data agreement
6. University of Waterloo research data agreement
Adoption of N2 policies
Grand River Hospital is a partner of the Network of Networks (N2) and uses N2 standard operating procedures (SOPs). Click here to learn more about our partnership.

Research committee or administrative approval questions can be directed to:
Sarah Laferriere, Office of Innovation and Research Administrator Phone: 519-749-4300 extension 2876 Email: sarah.laferriere@grhosp.on.ca or research@grhosp.on.ca