Posted: November 9, 2016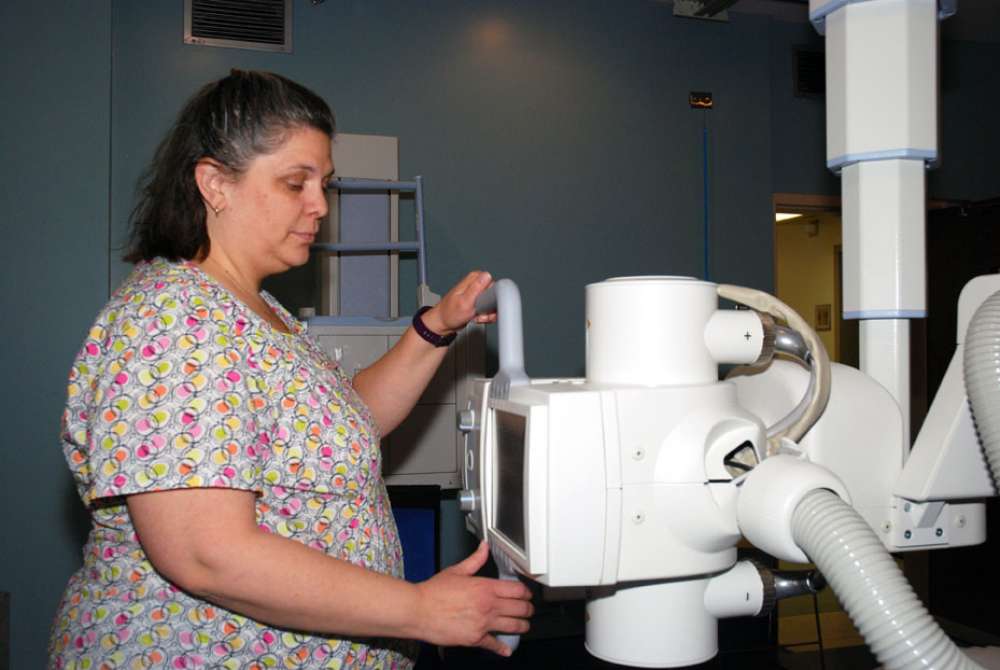 Sometimes, passion and interests can run in the family.

Christy Calhoun was a high school student one Thanksgiving day, confident she wanted to work in a hospital but having a hard time figuring out exactly where would be a good fit for her.
Then, her aunt, an x-ray technologist at a local hospital, got called in to work and brought Christy with her. That was when Christy learned all about the medical imaging field and realized it was the field for her.
Now, she's been working as a medical radiation technologist for 27 years. She has a particular focus on producing general x-ray images, which are a vital tool in caring for patients throughout the hospital.
Why are you passionate about the work that you do? 
I'm passionate because I get the opportunity to meet so many people in this job (patients, staff and students), and I take special care to make sure I treat my patients the way I would want my own family to be treated.
The variety in my job each and every day makes it so interesting. We never know how many patients we will x-ray in a day, the type of patient that we will see, or the severity of their injury or medical concern.
To know that I have done my best and that the images I have taken can help a doctor determine what is happening with the patient is such a great feeling.
What made you decide to get into this specific line of work?
Well, I always knew I wanted to work in a hospital I just wasn't sure what I might want to do.
I was in high school at my grandmothers for Thanksgiving. My Aunt Jean was an x-ray technologist at the local hospital and she got called in to do an x-ray for a teen that had possibly broken his leg. She asked me if I wanted to come to see what she did for a living, so I went with her.
When she showed me what she did and talked to me about her job, I knew this was something that I would definitely like to do.
What can someone expect during an x-ray?
In general x-ray, depending on the exam, a patient could be asked to change from your clothes and put on a hospital gown. We do a large variety of exams so we can do x-rays with a patient standing, sitting on a chair/wheelchair, sitting or lying on a stretcher, or they could be lying on our x-ray table.  The patient can be moved into different positions for each exam.
We will give the patient a lead apron to wear as long as the apron does not cover the body part that we are x-raying. The technologist may also give the patient breathing instructions. Once all of the images are completed, the technologist will check them on the computer screen and will send the patient on their way if all images are the quality needed for the radiologist to report them.
What are some questions you often get asked during x-rays?
Most commonly I get asked if it will hurt, if it's dangerous, if it will make their cellphone malfunction, and if they will 'glow' afterwards (no, you will not!).
More GRH Stories