Posted: May 7, 2019
As a valued member of the childbirth team for nearly 30 years, Judy Carson not only brings knowledge and experience to her patients, families and co-workers, but also sense of reassurance.
Judy is one of the many exceptional nurses in GRH's childbirth program that help deliver nearly 4,300 babies each year.
Judy is passionate about making her patients her number one priority and building a bond during a special time in their lives.
Judy is grateful for the entire childbirth/NICU team at GRH and believes that by working together as a team they are able to provide exceptional care, no matter the challenges they may face. At the end of the day, their goal is to have a healthy mom and baby.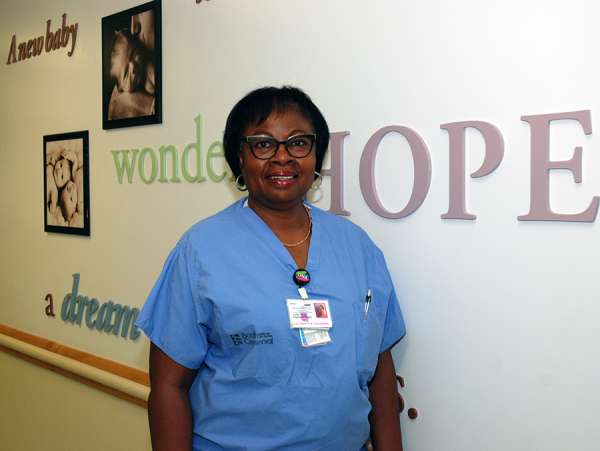 1.     What motivated you to become a childbirth nurse?
My motivation to work in childbirth stems from my midwifery background. During my last year of registered nurse (RN) training in the UK I had placements with a midwife and then a health visitor. A health visitor in the UK is trained to monitor babies' growth from two weeks old until they begin school. There is a lot of teaching and interaction with new mothers. I found this all very fascinating, so after I obtained my RN designation I took the midwifery program. After I completed that I then practiced midwifery at large maternity hospital until I moved to Canada. 
2.     What keeps you on your toes in the childbirth program?
What keeps me on my toes is that my duties involve a lot of different roles. Some days I work in triage, sometimes I am the charge nurse. Some days I am in the operating room, the delivery room or caring for postpartum mothers. I am also involved in mentoring new nurses and residents.
I also enjoy the unpredictability of childbirth and the challenges it may bring. You have to be vigilant at all times and remember that no matter how emergent things are it's important to stop and explain things to our patients in a way they can understand. I also find that you have to be able to forge a good bond with the expectant parents very quickly in order for them to trust you.
3.     What makes you proud to work in the childbirth program at GRH?
What makes me proud to work in the childbirth program is the respect and trust that I share with my co-workers from the ward clerks to health care aides and the staff in environmental services. In times of emergency we all work like a well-oiled machine. Sometimes there is not a word uttered, everyone just springs into action and gets things done. I am also grateful that our colleagues in the neonatal intensive care unit (NICU) and the pediatricians are always there to lend a helping hand.
4.     What is the once piece of advice you'd give to an expectant family?
My advice to an expectant family is that childbirth is a natural process, however it is always good to have an open mind because you can never predict mother nature. Sometimes what you may have planned for your birthing experience might have to be changed. Doctors and nurses always try to work with your wishes, however sometimes due to processes beyond their control they cannot give you what you wish. At the end of the day the main goal is to get through the process with a healthy mom and baby.

More GRH Stories