Posted: July 8, 2016
Everyone at Grand River Hospital wants to provide exceptional care.
When patients and families feel their experience at GRH wasn't the best one, Dana Schultz and Lisa Soehner want to help.
Dana and Lisa are the hospital's patient relations advisors. They work with patients and families to resolve concerns related to their hospital experiences.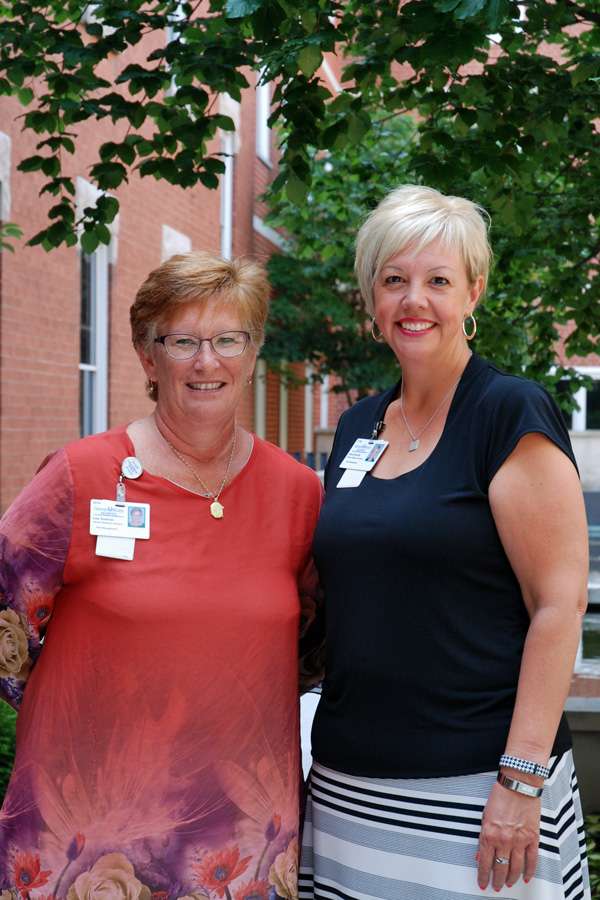 Dana has many years of experience in clinical social work, organizational development and adult education. Lisa brings an extensive background in health care and conflict resolution. 
Together, they support more than 250 patients and families a year in helping provide answers and solve concerns. 
Dana and Lisa share a passion for being there to listen to patients and families, and working to make each experience better.
----

Why did you choose to work in patient relations?
Dana: I've always felt passionate about improving the way we deliver health care and I believe one of the best ways to do that is to learn from the experience of patients and their families.
Many people who access GRH services are feeling vulnerable and frightened. They deserve to know that they are in good hands and staff deserve the opportunity to demonstrate this.
Staff members strive to provide exceptional care and service; however, if that's not the experience of patients and families, we need to figure out why.
I find it very rewarding to help bridge the gap between intentions and perceptions, ultimately bringing some resolution for patients and families while continuously improving the care and service we provide.
Lisa: I chose to work in patient relations to help influence better experiences for patients and their loved ones when coming to the hospital for care.
I see a real opportunity to support staff in all the expertise they bring to the bedside and to resolve conflicts that sometimes occurs when patients don't understand what is happening to them or when they have expectations that we can't meet.
How does patient relations help? Are there particular types of cases that benefit from your review?
Dana: We are involved with many types of cases, from simple questions to complex care reviews. Sometimes feedback comes to us when patients are actively being treated; other times, we hear from people post-discharge.
Patient relations can help to ensure that the feedback is received and shared with the appropriate people in the organization for review and follow-up.
To resolve outstanding concerns, we will often facilitate meetings including members of our leadership team, patients and families to share outcomes of reviews, answer questions, and provide clarification and explanations.
Ultimately, patient relations helps by ensuring that communication is open and transparent and that patient needs are understood.
Are there steps people can take before coming to patient relations?
Lisa: The big step that people can take before approaching patient relations with an issue is to check in with their care team.
Everyone from the nurse at the bedside to the manager or director of an area can help solve a concern that patients or loved ones have about the care being provided.
We can help if the issue is more complex, involves more than one department or team or if the patient wants additional help to resolve an issue. 
What are the best ways for people to prepare when they have a concern to bring to patient relations?
Dana: Although we don't expect people to formally prepare anything before contacting us, we do ask what has been tried so far to address the concern.
When approached by staff, we ask that the patient or family member be informed of our role and the request for our support.
When approached by patients or family members, we require the patient's consent to address the concerns. We also appreciate any details that can be given such as the date and location of care as well as what the person is hoping will come from their feedback.
Recognizing that sometimes people have reservations about contacting patient relations, we encourage them to pick up the phone and just talk to us – we'll walk them through the process!
How long does it take to work through a patient concern?
Lisa: It depends on the complexity of the issue(s) and expectations of resolution. Sometimes issues that seem very big can be solved in a day or two. Sometimes an issue that seems small can be much more complex with many layers that sometimes requires months of support and work to resolve.
We have great support from leadership at the hospital to address issues in a timely way and elevate the concern through the proper channels if necessary.
What happens when you get a compliment?
Lisa: When we get compliments we are always excited as they sometimes are the only positive aspect of our job that day or week. We always try to forward the compliment on to all of the people involved in the care of the patient, as well as the director, manager and vice president of the area. We also welcome nominations for the GRH Foundation's Hospital Heroes program (opens in a new window) or GRH's award of excellence.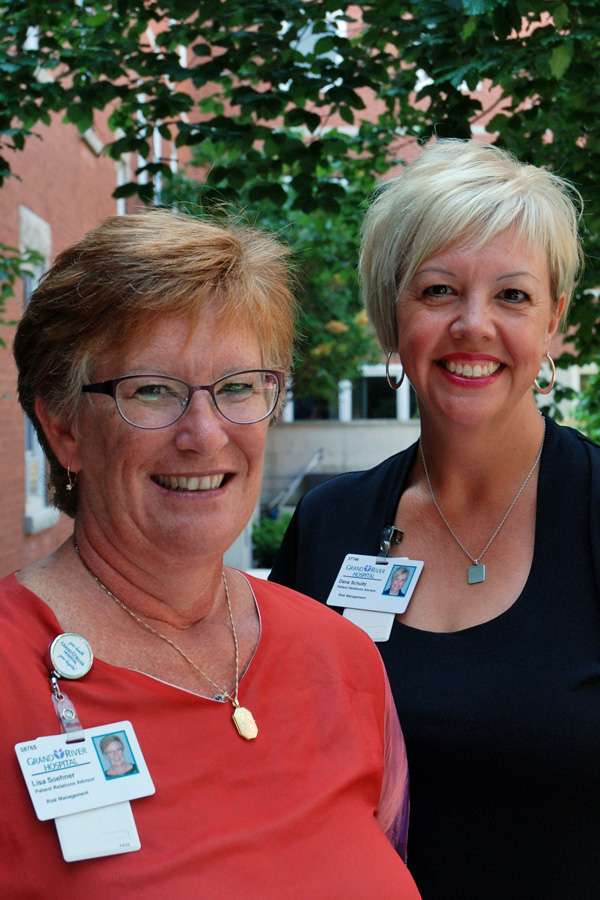 Is there anything else you'd like to add?
Dana: Just a tip that has stayed with me for many years and is very helpful in my role:
"Anger on the tongue means fear in the heart." If we feel angry, deep down there is likely a very valid fear of something...being ignored, feeling vulnerable, not getting what we need, etc. If you've ever experienced it, you know that the last thing you want is for people to back away and not hear you…yet that is what we humans tend to do when faced with an angry person. It's a natural reaction.
If people realize that underneath the anger is a part of us that needs reassurance that the right things are done, that we are not in danger, that people care about us…suddenly we feel less angry and much more supported. Then, we can communicate. That's a big part of what patient relations is all about…and I love it.
Lisa: Sometimes staff members who I cross paths with tell me that they would never want to do my job. My response is that I feel like I have the best job in the hospital. I believe everyone who works at Grand River Hospital deserves to know the satisfaction that comes when a simple empathic conversation can completely change the experience for a patient or the loved one of a patient. It helps you know instantly that you are making a difference to our patients.
To contact either Dana or Lisa, please call 519-749-4300 extension 2966 or email feedback@grhosp.on.ca
More GRH Stories