Posted: April 15, 2016
GRH's smiling volunteers are often on the front lines of supporting patients.
Eleanor Kaufman is an exception though. She's still smiling after 44 years of service. But you're more likely to find her seated at a computer, focusing on the financial records for the GRH Volunteer Association.
"Many people I know say what do you do? Where are you," she quips.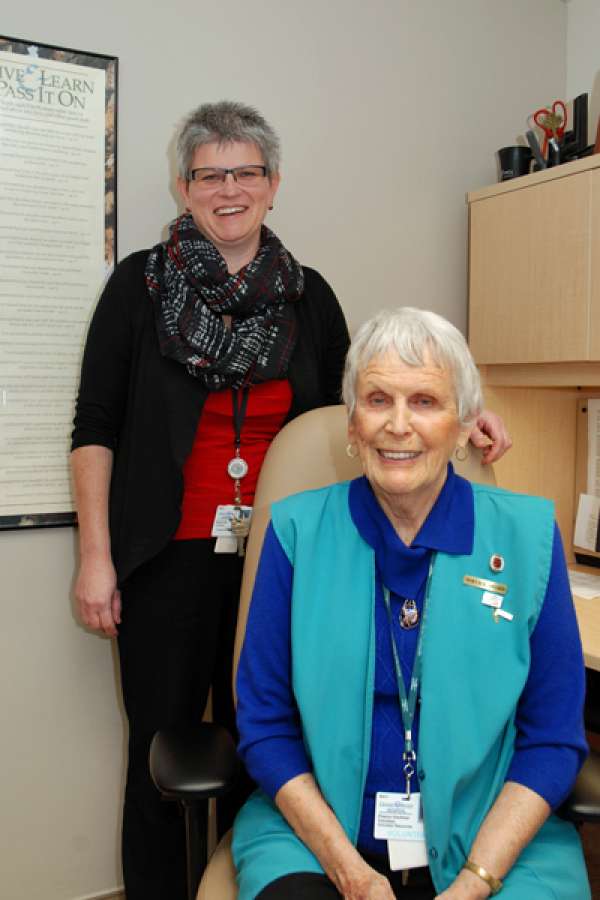 Eleanor started volunteering at GRH in 1972 when her children started school. Back then, the coveted role of volunteers was to work in the hospital's gift shop… something Eleanor wasn't going to achieve at first.

"I started working in visitor information instead," she explains. "Then I delivered flowers to patients with the help of my fellow volunteer Anne Harper. That was a time when patients had longer stays in the hospital."
Eleanor balanced her volunteer time with a position as the undergraduate secretary at the University of Waterloo's School of Architecture. While working, she began supporting the gift shop's baby boutique. Not long after, she moved to the financial side of the gift shop by making daily deposits.
Today, Eleanor remains active as a volunteer supporting the extensive business operations of the hospital's volunteer services.
Eleanor conducts book-keeping for the GRH Volunteer Association, which owns and operates the hospital's gift shops at the Freeport and KW Campuses, the Freeport General Store, as well as the KW Campus Tim Hortons location. Net proceeds from the association's businesses go to the GRH Foundation to help buy patient care equipment at the hospital.
While many volunteers are on the front line of working with patients, Eleanor adds to her 5,500 hours of service in a quiet location in the KW Campus volunteer resources office.
"I've always enjoyed book-keeping, and have had the talent to do that. I enjoy maintaining records, keeping everything in order," she explains.



Here's what GRH volunteer coordinator Susan Entz has to say about Eleanor's service
Eleanor is one of our seasoned volunteers and has played an important role in the foundation of our GRH Volunteer Association.  This is her 44th year of volunteering and I want to acknowledge her faithful service to Grand River Hospital as she continues to come into the office weekly, always arriving at the office with a smile and warm greeting. 
Her extensive knowledge gained over the years continues to help the VA grow, and she can quickly recall events from the past when working out an account issue with the volunteer buyers.  She has happily embraced change over the years – from new technology and new computer programs, to working with new Board members and staff.  We are thankful for her great record keeping skills, including her efficiency with accounts payable and accounts receivables.
It has been my honour and privilege to have worked with Eleanor over the past 18 years that I have been part of the volunteer resources department.
More GRH Stories