Posted: May 6, 2018
When a child requires an inpatient stay, it can be a stressful and concerning time for a young patient and their parents.
But through her years at GRH, registered nurse Frances White has all sorts of ways to connect with patients and families… even including breaking out into song.
Grand River Hospital cares for 20,000 children and young people a year through a wide range of children's programs. Frances encounters many young ones who require overnight stays for care and monitoring.
While she knew she wanted a career in helping people, Frances took a few paths before discovering nursing. Now she's very happy to be part of the GRH community, especially in her role in the inpatient children's unit.
---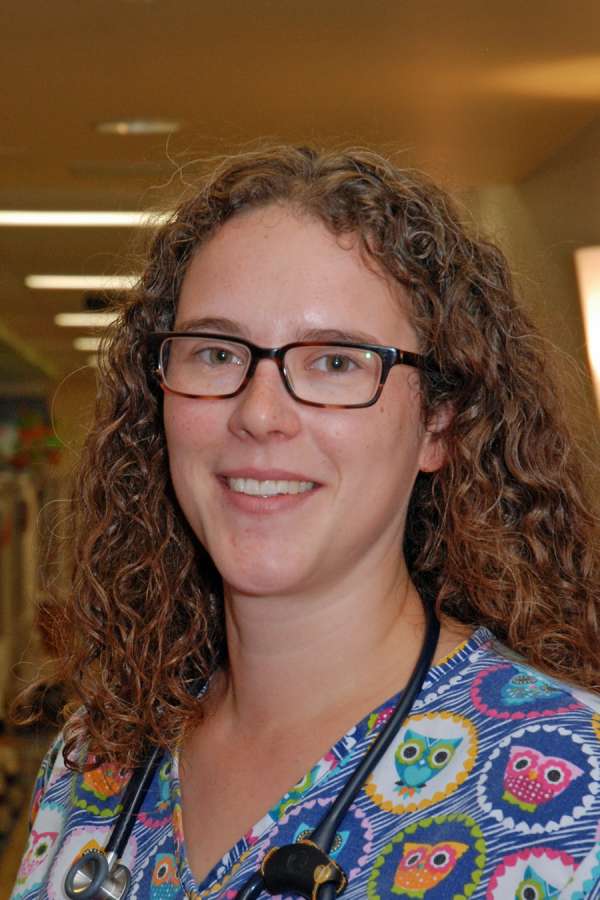 Why did you become a nurse?
Growing up I never dreamed of becoming a nurse or getting into health care, but I did know that I liked to help people.
In my second last year of high school I did a co-op placement at a local nursing home and found that I enjoyed providing physical care for people and helping to brighten their day. So when I filled out my applications for university I applied to the rec and leisure program at the University of Waterloo and several nursing programs.
When the time came to choose, I decided that I would try nursing and if it didn't suit me I would switch to another field of study. Here I am!
How did you come to work in GRH's children's program?
I was first introduced to the children's program during my third year of nursing school where I had one of my placements. I loved working on the unit as a student and working with children and their families.
After graduating I applied to the float pool and one of my areas was the children's program and I loved the unit. When an opening became available I applied and was lucky enough to get a spot in this small and tight knit unit!
What do you like about the work?
I like the challenge of taking care of a wide range of ages, diagnoses and social issues. On a given day I can be helping a mother and baby learn how to breast feed, provide chest physio on a child with cystic fibrosis, teach parents of a new diabetic how to manage this new part of their life when they go home, take care of a teenager with a broken leg and access a port-a-cath for an oncology patient. I think that this is also what keeps me on my toes :) 
It was mentioned that you sing for your young patients. Do you have any favorite songs?
Yes I do sing for some of my younger patients. The songs that seem to get the best reviews are Five Little Ducks, If You're Happy and You Know It, The Grand Old Duke of York and The Itsie Bitsie Spider.
I find that singing action songs helps to distract the children and makes them feel a little more comfortable while being assessed; this has helped me in many cases get blood pressures or help keep children calm during blood draws.
What other means do you use to make connections with children and their parents?
I often will get down to the child's level and play with them before I start assessing them, even if it is only a couple of a seconds. Sometimes this is all that they need to feel safe before you assess them.
I also let children use the medical equipment before I use it on them. An example of this is letting them use the thermometer on their parents or holding onto my stethoscope.
I also let them help by getting them to start the blood pressure. I always try to sit and listen to the parent's concerns and questions try and help them find what they need be it answers, support or both.
Is there anything else you'd like to add?
I first came to love providing medical care to children while working as a health care aide at Sunbeam Residential Development Centre. I worked there for three years during university and learned so much from work with the children, their families and the staff. This led me to explore pediatric nursing!
I would just like to say that our hospital as a community is great and I find that we are always ready to help each other out!
More GRH Stories