Posted: March 14, 2016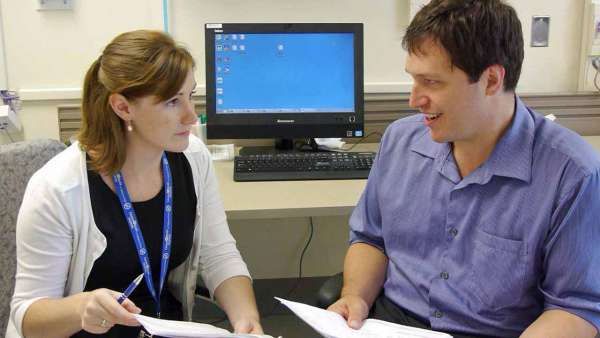 Why did you choose to become a registered dietitian?
As a young adult I became interested in healthy eating, but was constantly confounded by contradictory information I would find.
I went to university to study human nutrition to 'sort it all out'.  As I advanced through my degree, I realized I wanted to help others make informed choices. Becoming a registered dietitian would give me the skills to do just that.
I've been a registered dietitian for seven and a half years now, currently providing care in GRH's medical program.
How does a registered dietitian support patients in your particular program area?
Dietitians in the medical program support optimal health and outcomes through a variety of nutrition interventions. Each patient is unique in terms of medical needs, so I tailor nutrition interventions and approaches on an individual basis.
My colleagues and I provide nutrition via alternate means if a patient can't eat normally, educate patients in the context of a new diagnosis, and help with high energy/high protein strategies to optimize nutrition during an acute medical crisis.
Why is your work so vital for patients in this program area?
There is literature indicating malnutrition can lead to longer hospital stays and higher mortality rates. My work is geared towards treating or reducing risk of malnutrition to improve health and quality of life.
What do you love about your work?
I love the investigative process and trouble-shooting barriers to nutrition in the context of a patient's medical journey.
More GRH Stories