Posted: March 8, 2017
On-going education is a hallmark of high-quality health care.
That's why Karen Campbell is so dedicated to giving renal (kidney) care providers so much support at GRH, so they can do their best for patients.
Karen has spent 15 of her 27 years in nursing at GRH. She brought her earlier experience at Toronto hospitals in organ transplant care and clinical trials for new medications to Waterloo Region.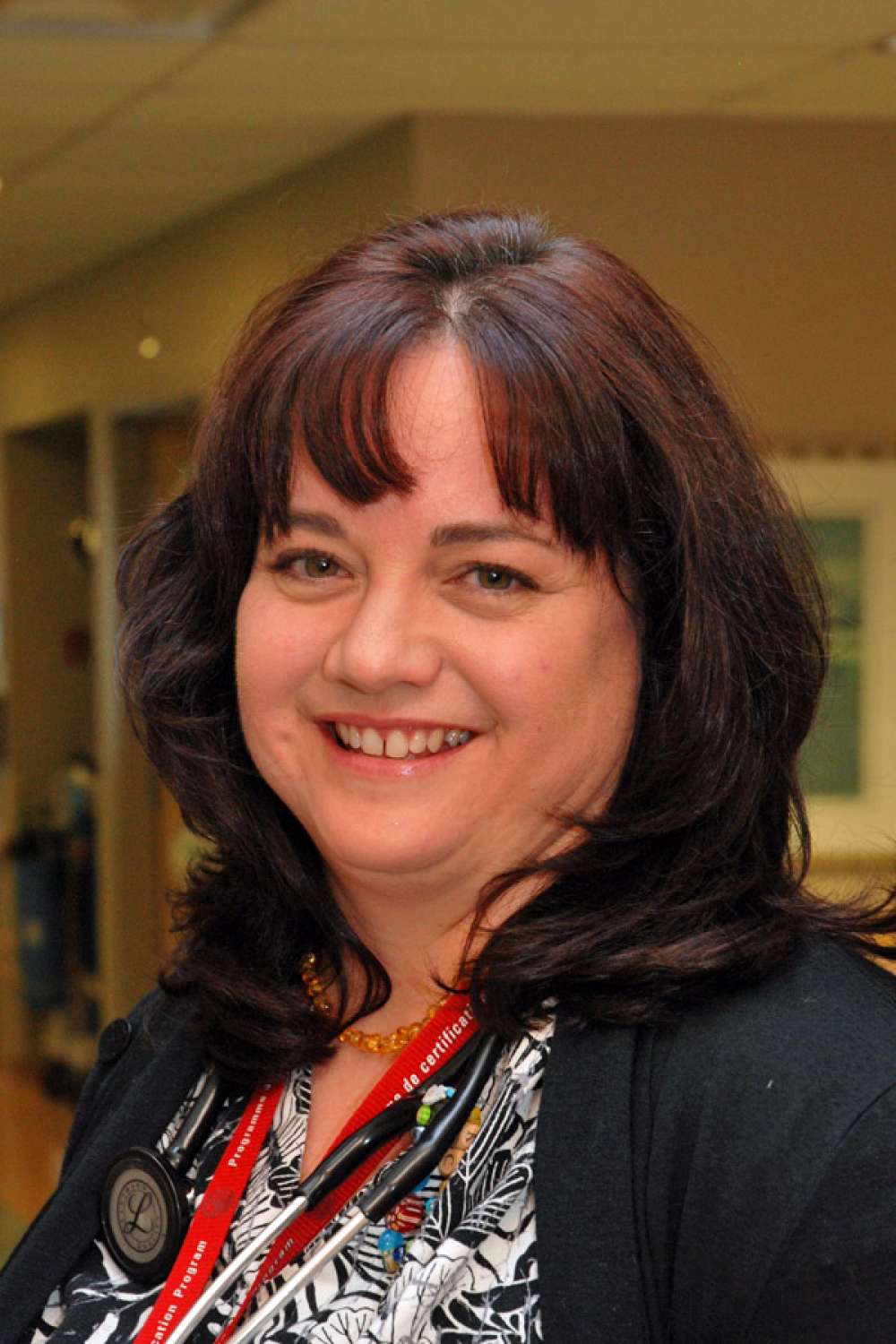 Nowadays in addition to her direct care at the bedside, Karen is a key link with new nurses as they provide kidney care at GRH.
Hundreds of renal patients at GRH require dialysis to clean waste products from their blood when their kidneys have failed. The renal program depends on expert staff familiar with this complex field to provide those patients with the best care.
---
What is your current role with staff education?
I'm the skills instructor. I support nurses hired to work in the in-center and satellite dialysis units, teaching them the foundational skills and theoretical knowledge to be able provide hemodialysis to the over 400 patients we serve in Waterloo and Wellington. 
Once our hemodialysis nurses have settled into their new role in about six months, I then teach them advanced hemodialysis nursing skills for patients requiring acute care hemodialysis in the intensive care units and other off-unit areas, both at Grand River Hospital and St. Mary's General Hospital.  
Hemodialysis has a very technical component to the delivery of care. I also support staff with implementation and or advancement of the use of technology within our program.
What do you enjoy about it?
I think I was born to be a bedside nurse and I have a strong passion for providing patient care.  The skills instruction component of our orientation program is highly integrated at the bedside, and so I am very fortunate to be able to teach and provide patient care simultaneously.
This also provides me the opportunity to work on the front line with my colleagues. They inspire, challenge, and motivate me to provide them with the support and resources they need to ensure best patient outcomes.
What keeps you on your toes about your role?
The renal program and is anything but stationary, and nephrology (kidney care medicine) practices are ever changing and advancing. There is a wealth of nephrology information and resources available, as well as a number of professional nephrology organizations. I stay abreast of the latest advances to bring them into our practices and orientation program.
How has renal care changed in your time involved in it?
I started in the renal program when there were 36 dialysis stations at GRH's KW Campus and one six station satellite unit in Guelph.
We now have 51 (and more to come!) stations at GRH's KW Campus, three satellite units with 22 stations across Waterloo Region and Guelph Wellington, a Right Start unit, a growing home hemodialysis program with more than 50 patients dialyzing at home, along with growth within our renal and peritoneal dialysis clinics. We also provide off unit/acute hemodialysis at St. Mary's General Hospital. 
This surge in demand for renal services means we have to have the resources, including exceptional people and strong infrastructure, to provide efficient delivery of care.
Under the direction and with the support of the Ontario Renal Network, we want to empower our patients and promote their independence for renal replacement therapies.  We're doing more to support self-management of patients' care, which improves quality of life and maintains high standards of care.
What are you grateful for?
I am grateful for my position and all the colleagues who I work with every day. Our hemodialysis orientation program would not exist if it were not for our exceptional preceptors who support our new hemodialysis nurses, as well as all the staff members who collaboratively support our new colleagues.    
Chronic kidney disease that results in the need for renal replacement therapy is not an easy road to travel, particularly when it comes to hemodialysis. I have met some remarkable and inspiring humans along the way, whose stories remind me daily of the importance of gratitude and compassion.
My greatest rewards are from both sides of the bedrail; providing patient care while supporting and being inspired by my colleagues.
Learn more about GRH's regional renal program
More GRH Stories