Posted: April 13, 2016
For Larry Smith, volunteering is about payback and being a surrogate caregiver.
After a long career in retail sales and corporate finance, Larry's wife Laura was diagnosed with breast cancer just a few months after he retired.
Larry was there for Laura through her care until she died in December 2014. While she had his support and good insurance coverage, Larry was very concerned for others who did not have the same help. 
Larry wanted to make a difference, so he began volunteering at GRH last October in the cancer centre. He's since provided help in the hospital's chemotherapy suite, portered patients to and from clinics and appointments, and provided a helping hand at the KW Campus front desk. He rotates his time between the three areas.

Here's Larry's story…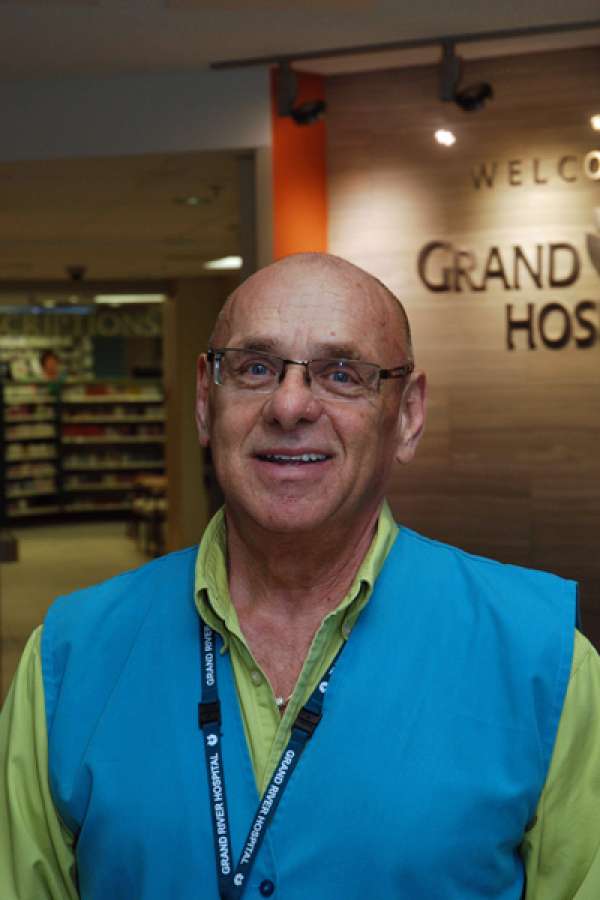 What prompted you to volunteer?

I decided that, given the chance, I could do my bit and, help 'pay back' as much as I could. Anything medical was out of the picture however, I believe what prompted me to volunteer was I saw that there were so many factors in the treatment process that the nurses shouldn't have to do, that the great volunteer program was doing, that it spurred me to see if I deserved to be there.
For example, care providers shouldn't have to get refreshments, or food for patients who are in treatment for hours on end. It should not be necessary for the nurses to ferry patients to imaging, or down to their vehicles. 
Yet still, there is a better reason for me to have applied to the program: giving support to those who need it the most… the patients themselves. From first-hand experience, we went through the fear, the anger, the sadness, and the pain associated with medical treatment and, it was always such comfort to see a smiling face, to be handed a candy, to be listened to in our darkest times, and to know that someone really, really cared. Laura had me, and vice versa, however, a great deal do not have that advantage. Which makes a volunteer a surrogate caregiver.
What have you learned from volunteering?
Overall, it has been a fascinating experience to date, and the learning never stops. The whole process enables a person to look deeply into their own role in society and, whereas a career gets us to where we hopefully achieve certain goals, this allows us to relax, and give back. 
Not all of us may have "made it" however, what we do here allows us to expand our horizons no matter what stage in life we are at. 
For both the young and old that are part of the program, we may not only get a glimpse of where we are going in life but also find a retrospective of where we have been to this point.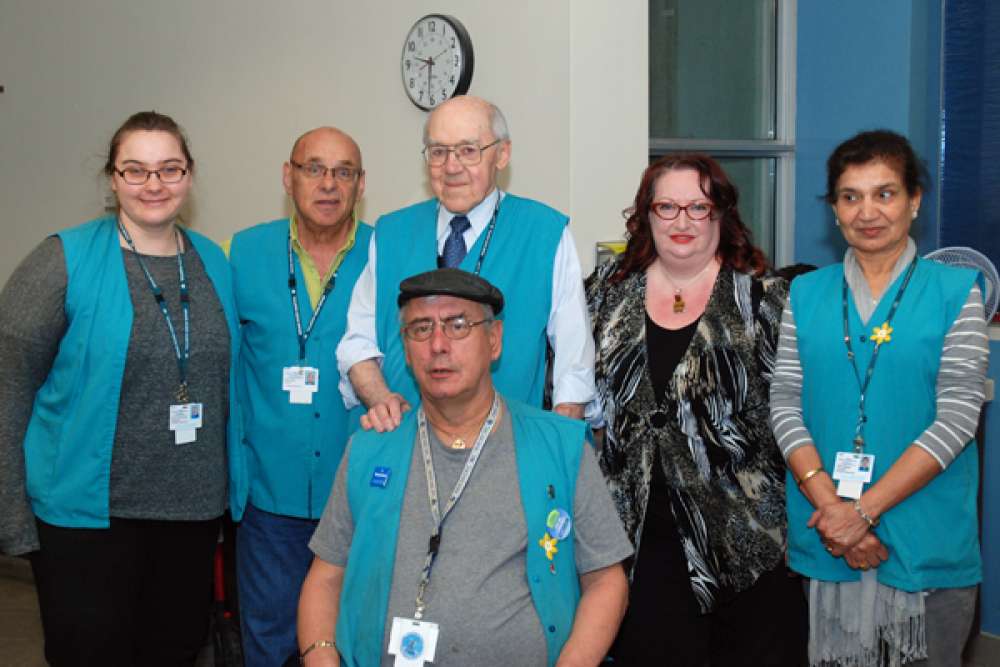 What would you say to new or potential volunteers?
The main point that should serve as directive to all is '... go get'em... By that I mean most attendees to the hospital approach the buildings with more than a bit of trepidation.  It is up to us to offer ourselves to them as they are exiting from their vehicles (mobility issues), by coming out of the buildings, if possible to bring them in. In the foyer(s) we should approach them with a "can I help you ", since many are too confused, and fearful in this environment.
These pointers are certainly not new. I see our volunteers doing that already, and it has taught me a great deal.
What have you been able to take away from it for yourself?
Actually, I have a twoonie sitting on top of a fridge that I see every day, that was given to me as a tip from a frail little elderly woman whom I had wheeled from the car that brought her to GRH's KW Campus and then down to imaging. She would not take it back, and said that she didn't have much, and that she was so happy to see me smile. She reminded me so much of my mum, (that is something she would do), that I acquiesced, and took it.
The twoonie multiplies in value every day I have the privilege of working in the volunteer program.
More GRH Stories