Posted: July 8, 2022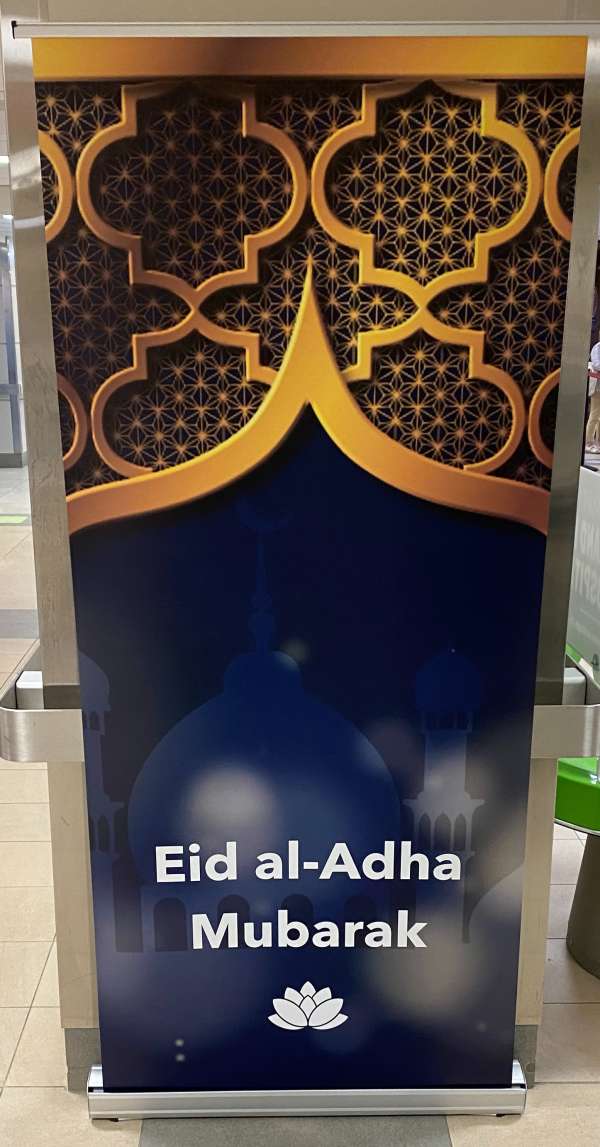 Ahead of Eid al-Adha, one of our team members is sharing how they celebrate. We are committed to sharing and learning about the traditions and customs celebrated in our community and are excited to share the articles developed by our team and shared with our team to learn more about holidays celebrated throughout the year.
Eid al-Adha Mubarak! By Nayyara Pathan, Bed Allocation
Eid al-Adha (or Bakri Eid) is the second most important Muslim festival that is celebrated globally. It is celebrated on the tenth day of the final month of the Islamic Calendar – Dhu-al-Hijjah.
This Eid is celebrated a day after the completion of the holy pilgrimage Hajj, which is performed in Mecca and Madina in Saudi Arabia. Hajj is one of the five obligatory pillars of Islam. Depending on the moon sighting, this year Eid al-Adha is going to be celebrated on either July 9th or July 10th.
The festivities begin with special early morning Eid prayers offered in congregation in the Masjids. Families come to pray in their best attires and clothing. After prayers, they exchange greetings, food and donate to charities.

Depending on a family's financial stability, capabilities, and location, they may perform Qurbani (sacrifice) of an animal which could be goat, lamb, sheep, bull, or camel. The meat is then divided into three equal portions: a third for self and family, another third for friends, and the final third to be donated for those in need. The celebration of Eid al-Adha is to commemorate Prophet Ibrahim's complete devotion and sacrifice to Allah (God). Therefore, Eid al-Adha also means the Festival of Sacrifice or Bakri (goat) Eid.
Eid celebrations go on for three days with family and friends enjoying delicious meals (including biryani, kababs, curries, and samosas) and desserts (such as kheer, sheerkurma, cookies, and baklava).
My most cherished memories of celebrating Bakri Eid are putting on Henna, dressing up in the most colourful and pretty dress, and relishing on the BEST goat biryani made by my mom.
I would like to wish "Eid Mubarak" to my colleagues, and all the hospital staff, patients and their families who are celebrating Eid. I also wish everyone good health, happiness, prosperity and peace.
You can learn more about Eid at the following links:
More GRH Stories