Posted: February 10, 2017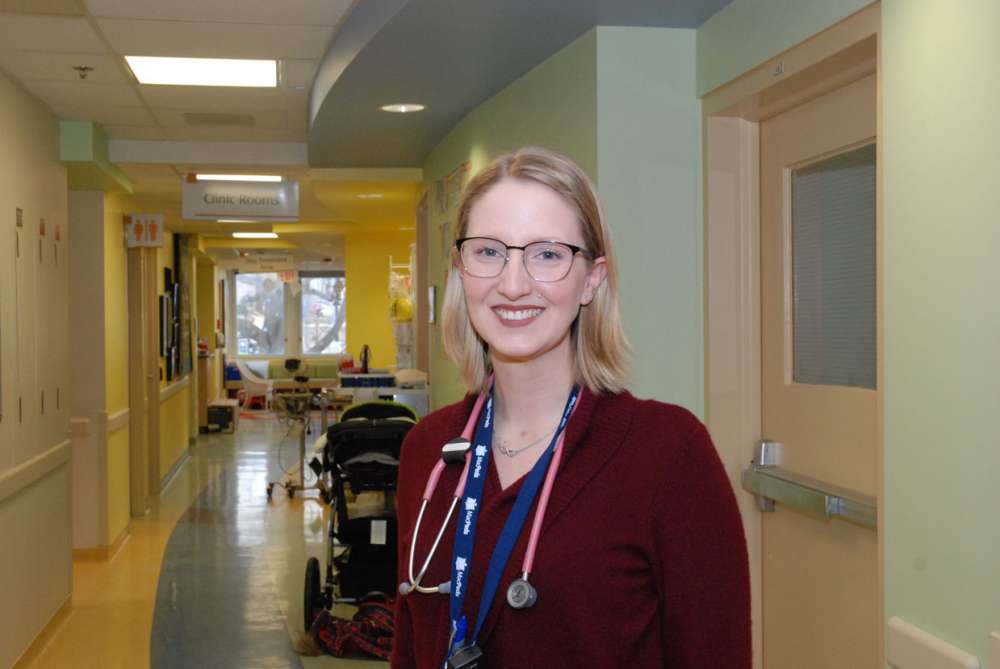 Dr. Lisa Brown could have completed her pediatric residency anywhere. But Waterloo Region was too good to pass up.

When selecting a hospital to complete her pediatrics residency, Dr. Brown had several important factors to consider, such as the people, the community and the approach of the program. Taking all of this into consideration, she ended up choosing Grand River Hospital.
Now for the next four years in the hospital's pediatric clinical teaching unit (CTU), she's learning about deliveries, the neonatal intensive care unit (NICU), child psychiatry, consultations in the ER, following up with patients from clinics and more.
While she's learning and gaining new skills at GRH during her residency, she's hoping upon completion there will be a permanent position that allows her to stay.
Why did you choose to come to GRH?
I picked GRH for residency for a few reasons – the biggest was the people. The residents who had gone through the program ahead of me had nothing but enthusiasm and good things to say about the program. It's rare to find residents who love their program as much as we do, so that sold me right away. I knew that I wanted to work in community pediatrics, and where better to train than in a community I'd love to work in one day!
The general pediatrics approach at GRH was also a huge selling feature – being able to be involved in such a wide range of clinics, inpatient and outpatient work, as well as working with the CTU team and teaching medical students were all important to me. 
What have you learned during your time at GRH?
In my time at GRH, I've rotated through child psychiatry, and learned how to talk to kids and teens about sensitive subjects like self-harm and suicide.
On the pediatrics CTU rotations, I've attended deliveries and been able to practice and implement my neonatal resuscitation skills. I've also learned more about managing both my patients and a team of learners on rounds.
Being at GRH, I've had the opportunity to learn more procedural skills than my colleagues at bigger hospitals, which is important since I'd like to practice in a community where I'll be the doctor responsible for performing any needed procedures.
What is the difference between your experience at GRH vs. other hospitals?
GRH definitely feels more like a community. I've gotten to know staff throughout the hospital, and people recognize me as the new pediatrics resident which is really nice (especially at 3 a.m. when a friendly face is very welcome!).
At times in bigger hospitals it's easy to feel lost in the shuffle. The nice thing about being in a community hospital is that as the pediatrics team we get to see more and do more. The fact that we don't have all of the subspecialty services readily available in the community means that we get to do more of the workup and patient care, and it feels like a more holistic care experience than in a bigger hospital, where it can sometimes feel like as the general pediatricians we're mostly coordinating care via other specialists.
I'm so glad I chose to train at GRH; I can't imagine a better program for my career goals!
What do you hope to accomplish during your time in the CTU?
During my time on CTU in KW over the next four years, I'd like to learn as much as I can from all of the excellent teachers here. I've been amazed at how willing everyone is to teach here, from the doctors and nurses I'm working with to the allied health team, and especially patients and their families!
I've had more than a few families eager to share with me their journey with their child's medical condition once they learn that I'm in training to be a pediatrician, which I appreciate more than I can say. I hope to create lasting relationships with my patients, see some of the premature babies I've cared for in the NICU grow up and go to school, and see some of the teens I've cared for graduate to adult care. By the end of my training, I hope to be the kind of pediatrician that my colleagues would send their children to. 
What do you hope to do following the CTU?
Once I graduate from residency I'd like to keep working where I'm training now – in the community as a general pediatrician. I love the continuity of care in community pediatrics, and the ability to form long-term relationships with my patients and their families.
Working in the community provides an opportunity to have a practice that includes everything, from having inpatients at the hospital to going to deliveries to care for newborn babies to seeing outpatients in my office, no two days are ever the same and that's what I love about community pediatrics. I'd love to stay at Grand River Hospital when I'm done, because the patients, families, and staff all make me look forward to going to work every day. 
What is the best part of the CTU from your perspective?
The best part of the pediatrics CTU in KW is that families from the region can get their pediatric care closer to home. We have an inpatient pediatrics floor, NICU, outpatient clinics, a satellite cancer treatment centre, diabetes clinics and cystic fibrosis clinics.
For families who live in KW, it's so much easier logistically to receive their medical care in their community instead of having to drive all the way to one of the larger hospitals regularly. When needed, we can coordinate care here with the larger hospitals to make things easier on families. 
More GRH Stories