Posted: October 28, 2016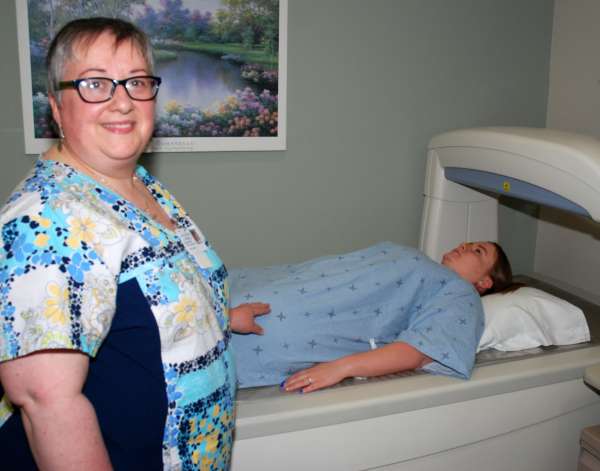 Marianne Bohl has been working in the medical imaging department at Grand River Hospital for the past forty years. Her mother instilled a strong work ethic in her from a young age, and she believes it is that, coupled with her professionalism, compassion and empathy for patients that allows her to succeed in the health care field.
Because she sees her patients on a regular basis, they all become like a "family" – always looking forward to seeing each other the next time. And, she says, a patient's hug is one of the best rewards she can get during her day.
What is your position at GRH and how long have you been doing it?
I am a registered medical radiation technologist MRT (R) and I am also an accredited certified densitometry technologist (ADT). I have been performing bone density testing since 2003.
It has been my privilege to work in the medical imaging department at GRH for the last 40 years.
My focus for the past four decades has been my strong work ethic (instilled in me by my mother from a very young age), professionalism and my compassion and empathy for the patients that I work with. Because I see bone density patients on a regular basis, we become like a community family. A hug from one of my patients is one of the best rewards that I can receive during the day!
About Osteoporosis:
Osteoporosis is a condition that causes bones to become thin and porous, decreasing bone strength and leading to increased risk of breaking a bone;
No single cause for osteoporosis has been identified;
Osteoporosis can strike at any age and affects both men and women;
Osteoporosis is often called the 'silent thief' because it does not develop overnight and bone loss occurs without symptoms unless fracture occurs;
Osteoporosis can result in disfigurement, lowered self-esteem, reduction or loss of mobility and decreased independence;
Women and men begin to lose bone in their mid-30s; as they approach menopause, women lose bone at a greater rate, from 2-3% per year; and
1 in 3 women and 1 in 5 men will break a bone due to osteoporosis according to Osteoporosis Canada.
What is a BMD test? How does the test actually work? How can someone make an appointment for a BMD test?
The test is quick, painless and non-invasive. It uses a very small amount of radiation, about a tenth of the level used in a chest x-ray. Bone densitometry tests can be booked by either a family physician or specialist between the hours of 8:00 am and 4:00 pm. The BMD test is performed by medical radiation technologist who is also an accredited certified densitometry technologist. Please allow 30 minutes for this test.
Is there any preparation required for a BMD test?
To prepare for a BMD test:
Do not take a calcium pill on the day of the bone density test;
Wait one week after any barium, contrast media or nuclear medicine to have your BMD test;
If possible, avoid wearing clothing with zippers, metal or plastic buttons and belts for the test. Sweat pants and a top are good options;
We do not conduct BMD tests if you are pregnant or suspect you might be pregnant
Who should get a BMD and why?
The following people should get a BMD test according to Osteoporosis Canada:
All women and men 65 years or older
Postmenopausal women and men 50 – 64 with risk factors for fracture including:

Fragility fracture after age 40
Vertebral fracture or low bone mass identified on x-ray
Currently smoking
High alcohol intake
Parental hip fracture
Low body weight, i.e. less than 132 lbs or 60 kg
High risk medication use: prolonged glucocorticoid use, aromatase inhibitors for breast cancer, androgen deprivation therapy for prostate cancer
Weight loss since age 25 greater than 10%
Rheumatoid arthritis
Other disorders that may contribute to bone loss

Younger men or women (under 50) with a disease or condition associated with low bone mass or bone loss:

Fragility fractures
High-risk medication use (steroid use, aromatase inhibitors, androgen deprivation therapy)
Rheumatoid arthritis
Other chronic inflammatory conditions
Cushing's disease
Malabsorption syndrome
Uncontrolled hyperthyroidism
Primary hyperparathyroidism
Hypogonadism; Early menopause (< 45)
Other disorders associated with rapid bone loss/fractures
What do you see when you walk into the BMD suite?
Our BMD room is small but very inviting and peaceful looking. There is a beautiful picture on the wall by the artist Diane Romanello; so many of my patients comment on how beautiful it is. The painting appears to invite you in to the "scene." There is also a wreath on the wall. Perhaps the most relaxing part is the soft, gentle music playing throughout the test. The lights are dimmed during the procedure as well. Many patients have commented that it almost feels like a spa.
What benefit does our BMD test provide vs. other facilities?
Our Bone Mineral Density Program has been re-accredited as of March 2016 for 5 years by the Ontario Association of Radiologists (OAR) Canadian Bone Mineral Densitometry Facility Accreditation (CBMD) program. It is recognized as the "Gold Standard" of BMD Accreditation for Ontario hospitals and clinics providing BMD services to Ontario patients at risk of the debilitating effects of bone loss and osteoporosis.
At the time of BMD re-accreditation, there were only a handful of sites in Ontario and none in our community that had received BMD accreditation. Accreditation means that we have been recognized for doing a "fabulous" job by our peers and that our patients are getting great care with high standards.
Our medical imaging patients can experience the fabulous care that we offer as a department.
My passion for my patients and job means that I go out of my way to be supportive, caring and empathetic and ensure that my patients have the best care possible.
What is the biggest challenge of working in medical imaging?
In my forty years of working at GRH, the hospital as well as our department has gone through many changes over the years.
Our medical imaging department is "a family" and we work together to do the very best for our patients as well as each other. It is all about teamwork, caring, thoughtfulness, empathy and compassion.
I would have to say the biggest challenge is that the department has become so large with so many new and exciting modalities and staff, that we don't get to see everyone as often as we would like.
More GRH Stories