Posted: December 16, 2016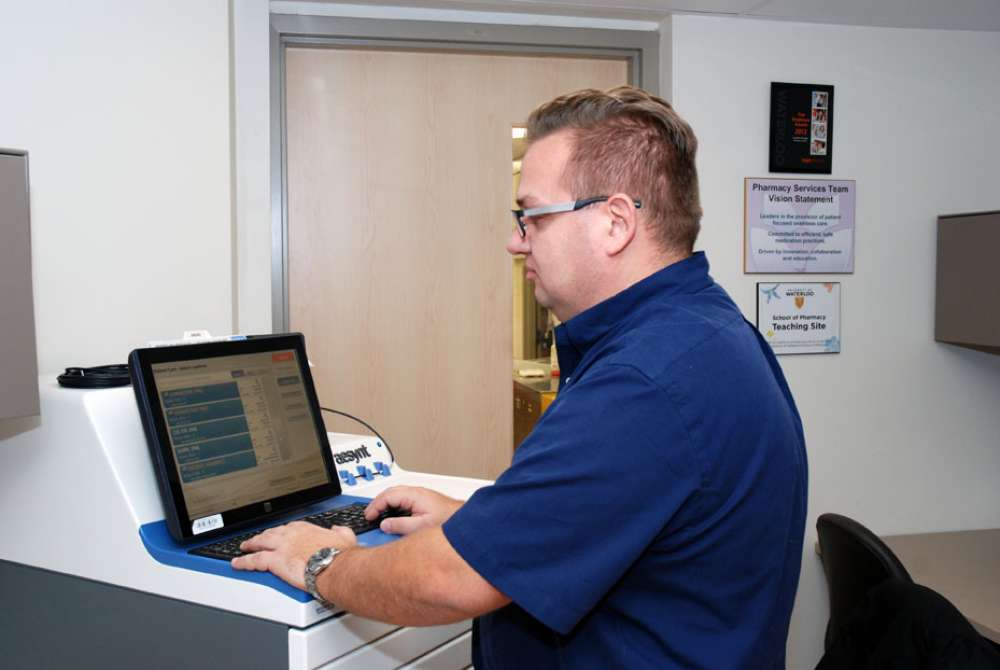 With hundreds of patients and thousands of medications at a hospital, a great deal of care is needed so each patient gets their correct medication and correct dosage.
GRH has implemented a variety of measures for organization, automation and medication management to effectively and accurately dispense medications to patients; this is a measure that pharmacy technician Goran Petrovic looks after.
Goran has been working at GRH's inpatient pharmacy since 2001. He was hired on as a pharmacy technician and since then has worked in a variety of different roles under the pharmacy technician's scope of practice.
His current role is pharmacy systems administrator, which means he oversees the pharmacy automation medication management system – from the point of entry in the pharmacy, to the packaging, and finally to the removal of a medication by a nurse. It also involves closely working with nurses, pharmacy staff and doctors.
What exactly is pharmacy automation?
It's a group of computerized equipment that works together to control medication distribution throughout the hospital on a daily basis. An integral part of the automation is a network of 73 AcuDose cabinets in each of the patient care areas at the Freeport and KW campuses. The cabinets are similar to bank machines with the exception that they do not give you money but rather medications for patients to authorized staff. These machines are only fingerprint-accessible.
These machines are part of the highly-integrated software and machinery that speaks to many other hospital applications. It captures information used for decision support, improves accountability by recording and tracking of medications through the supply chain, and improves the timeliness of medications to be available for patient care.
It also helps to track the millions of doses of medications provided each year, reduces waste from expired medications and manages inventory during drug shortages. Most importantly, it improves patient outcomes and safety and makes medication distribution more efficient for pharmacy staff and nurses.
What does your average day look like?
I generally come in at about 7 a.m. and start my day by following up on nursing enquiries and work on optimizing medication cabinets.
I will then run reports and triage the information to the appropriate people or act on it. I am the point person when it comes to troubleshooting all equipment in the pharmacy before it escalates.
Oftentimes I will stay later or have to come in in the middle of the night for upgrades or scheduled downtimes. In my role, hours must be very flexible.
What do you think is important for people to know about the hospital's pharmacy?
The inpatient pharmacy at GRH is one of the most technologically integrated and advanced pharmacies in all of Ontario. We have such a high level of integration and a focus on medication safety.
Our goal, and the goal of the medication safety plan, is to provide the highest quality medication management system.
One machine in particular, PACMED, packages 160,000 single unit doses a month – a task that would be much more daunting if done by hand. Each package is traceable and has all the important information captured in its barcode.
You're the hospital's technician representative at the Ontario College of Pharmacists (OCP) – what does that entail?
I've been actively involved with the OCP since 2010 in various roles and serving on many different committees.
I'm currently serving my second 3-year term as an elected member of the OCP Council in the "TH" district (which represents Ontario hospital's pharmacy technicians). That's a huge accomplishment for me, especially as I was elected by peers from 220 Ontario hospitals.
As an elected member of the council, I have the opportunity to participate in making decisions concerning standards of practice, professional conduct, competencies for pharmacists and pharmacy technicians, new policies, government initiatives and by-law development – basically anything new that is concerning regulating and advancement of pharmacy practice in Ontario and Canada.
I also sit on statutory committees such as Fitness to Practice, patient relations and discipline. Not only that but I've participated on many ad hoc working groups through government initiatives such as the sexual abuse task force, hospital pharmacy oversight group and the code of ethics redesign working group.
This participation is enrichment for my professional life, and enables me to help patients have better care and implement better practices at our hospital pharmacy as well as at pharmacies for all Ontarians.
What makes your work so enjoyable?
What makes my job enjoyable is meeting new people all the time and sharing positive energy with others. In my role, I support pharmacy staff and nurses every day and meet many frontline nurses, education practice leaders and unit managers.
I firmly believe when we enjoy doing something we do it more, as we do something more we get better at it, as we get better at something WE ENJOY DOING IT – it's a self-reinforcement cycle.
What made you decide to work in a pharmacy?
Patients go to pharmacies because first and foremost they need help with their health and they need medications. We as pharmacists and pharmacy technicians have been given that trust and patients rely on our expertise and education to help them with their health conditions. I even enjoy helping patients and their relatives when they need quick guidance throughout GRH maze of hallways.
The same trust is given to us in the hospitals, where we provide medications to the nurses on behalf of patients. Pharmacists and pharmacy technicians are respected team members of the hospital team and that always makes you feel good.
More GRH Stories