Posted: June 13, 2017
If you have had a stroke or require cancer treatment, you might first be surprised to have a speech-language pathologist (SLP) like Maureen Evans involved in your care.
The role of expert care providers like Maureen becomes clear in restoring the health and quality of life of many patients at Grand River Hospital.
Maureen has provided care to stroke and cancer patients at GRH's KW Campus since 2007. She supports patients through a wide range of difficulties that can include swallowing and communications problems.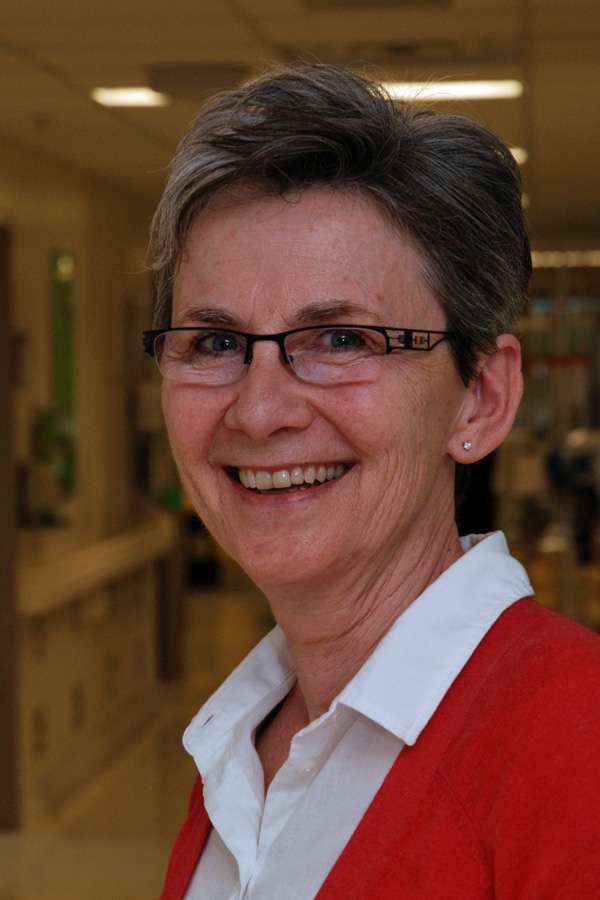 GRH is fortunate to have the services of Maureen and six other SLPs, as well as three communication disorders assistants who provide rehabilitation as directed by SLPs.
Together, they advance a wide range of care needs and rehabilitation services at the hospital.
---
Why did you become a speech language pathologist?
I used to work in dementia research and loved it, but realized how much satisfaction I derived from working directly with patients and families. Speech language pathology seemed to be the perfect way to combine clinical care with my longstanding interests in research and neuroscience.
What brought you to GRH?
I completed my final clinical placements in speech language pathology here at Grand River, and was fortunate to join the SLP staff here after I finished my degree. Working in an acute care setting was actually my dream job and, luckily, I'm here and really pleased to be part of the stroke and oncology teams.
What does your day-to-day work involve?
My days are always interesting, never routine. In addition to assessing and managing communication and swallowing difficulties in the stroke and oncology programs, I'm involved in educating and training new staff and volunteers, developing new initiatives and maintaining professional development.
What kind of care do you provide stroke patients?
About half of people with stroke will have trouble swallowing, at least in the first few days following the stroke. A small number of people will have ongoing difficulty swallowing and may even require a long-term feeding tube.
The swallowing problems are caused by weakness on one side of the face, tongue or throat, which in turn cause problems with controlling food in the mouth and protecting the airway during swallowing.
If a stroke patient has swallowing difficulty or 'dysphagia', they are at increased risk of having food or fluids going 'down the wrong way', also known as aspiration. We work to prevent aspiration because it can result in pneumonia.
Stroke may also cause problems with a person's ability to understand what is said to them or be unable to understand text they have read. They may have difficulty using language to express their thoughts, whether through speaking or writing.
Some stroke patients may be able to understand and express language but have slurred speech or 'dysarthria', in which their speech is very difficult for a listener to understand. It's important to point out though, that not all patients with stroke will experience these difficulties. It depends on the location and the size of the stroke.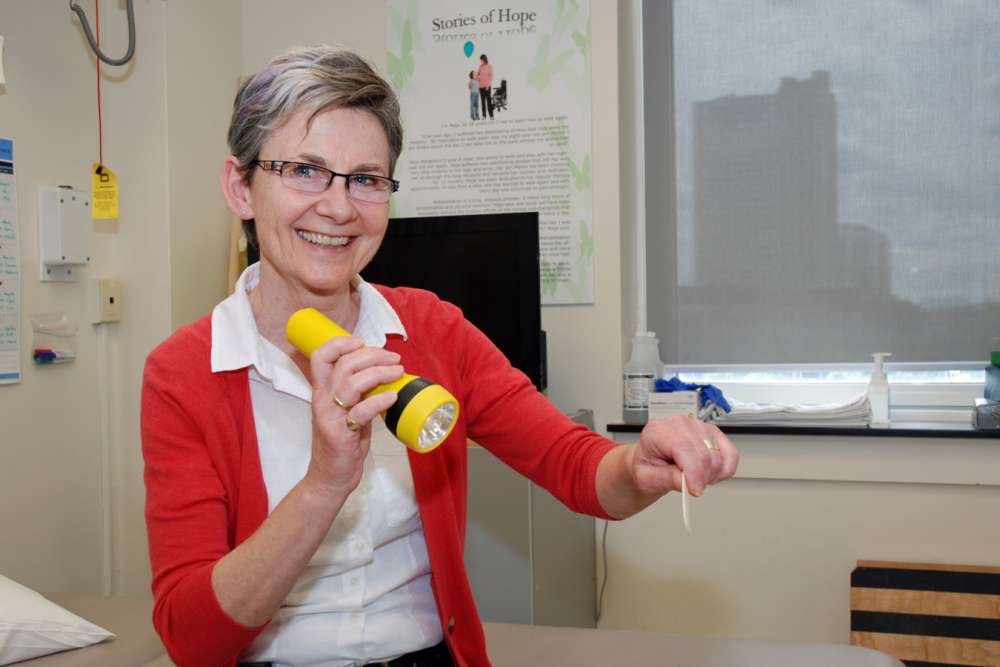 What about for cancer patients?
The swallowing difficulties that cancer patients experience can be due to severe pain in the mouth and throat caused by infections that occur as an effect of the chemotherapy and/or radiation therapy. These infections can really limit a person's ability to eat and drink enough (or at all) to maintain nutrition and hydration, which are so important in supporting recovery. 
In other instances, dysphagia occurs when cancer affects the swallowing mechanism itself, increasing the likelihood of aspiration. 
Cancers of the mouth and throat may cause dysphagia and communication difficulties because these cancers involve the structures involved in swallowing and speaking.
After chemotherapy, radiation or surgery for head and neck cancers, patients benefit from swallowing and communication therapy to re-establish their ability to take in nutrition and establish their best means of communicating.
What keeps you on your toes?
Two things keep me on my toes: First, ongoing education is required to keep up with the constant growth of medical knowledge and constant improvements to the ways that we assess and rehabilitate patients.
Secondly, supervising students in the clinical aspect of their education helps to ensure that my own practice remains current.
What's changed in your time at GRH?
I've been here at the KW Campus for ten years and along with my colleagues, have observed an increase in the complexity of the patients to whom we are referred. This complexity requires that we SLPs collaborate and support each other as well as ensuring that we maintain our professional education. 
What do you enjoy most about your job?
I thrive on working directly with patients. It is both a privilege and immensely fulfilling to have a positive impact on a person's quality of life. Another significant source of my work satisfaction lies in the amazing and talented people with whom I work.
More GRH Stories