Posted: October 31, 2019
With over a decade of combined healthcare experience, Catherine Lindsay and Tiffany Malzer are always looking for new ways to increase patient safety at Grand River Hospital.
Catherine and Tiffany are risk management and patient safety consultants at the hospital, and part of a team of people who are passionate about providing safe care to the community.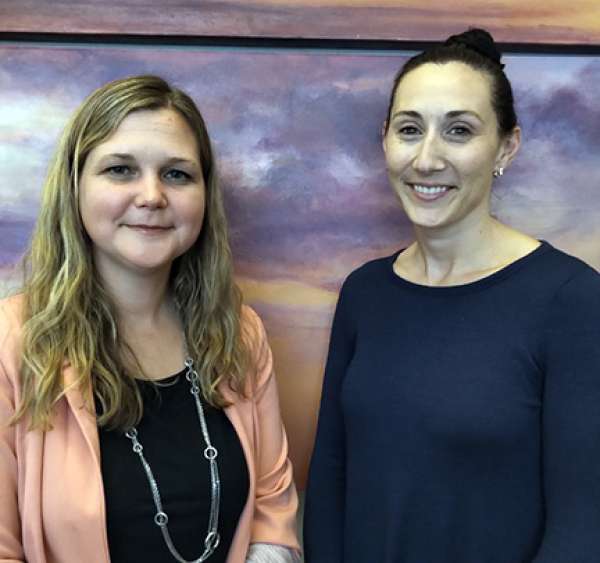 1.     Why did you choose to work in patient safety?
Catherine: Patient safety work never stops and provides opportunities to make change for the better. It is fulfilling to know that we can make a difference for our patients and staff.
Tiffany: My varied career has always been focused on how to do things better and there is no better value than creating a safer environment for my community. Having a business background allows us to focus on the structure and process that allows clinical teams to provide the best care possible.
2.     While your role does not involve direct patient care, why is your work so vital to patient care?
Catherine: I believe our work supports the work of those providing direct patient care. We continuously strive to identify areas for improvement and implement change to make the care provided to our patients safer.
Tiffany: My personal belief is that we learn from our mistakes. As a hospital, we try to identify areas of potential harm before they affect patients. We then bring focus and attention to help close any process gaps and create a safer place for patients to come for care. Since we are not engrained in the day-to-day, we are able to form systems-based questions from an unbiased perspective to help foster collaboration.
3.     What role do patients play in the safety of their own care?
Catherine: Patients have a significant role to play in the safety of their own care. We rely on patients to provide information that is relevant for care decisions. Patients also need to ask questions and advocate for themselves.
Tiffany: Nobody knows how a patient is feeling better than the patient, so patients have valuable information to share about how they're feeling, any changes that happen or concerns they might have.
4.     How does GRH work to ensure that our patients receive the safest care possible?
Catherine: To ensure our patients receive the safest care possible we work collaboratively to respond to patient safety issues as soon as they are identified. 
Tiffany: We help provide the supports needed to improve on systemic issues, freeing staff to spend their time working with patients to help get them home.
5.     What do you love most about your job?
Catherine: I love being a part of our GRH patient safety and patient relations team as we respond to the ever-changing challenges in the pursuit to make GRH a safer place.
Tiffany: We are provided a unique perspective with the opportunity to work across the organization. The best part of this work for me is getting to learn something new every single day, as each situation is different.
---

The safety of everyone at GRH (patients, families and our team) is our priority. We can all contribute to a safe environment. If you feel uncomfortable, feel there is an issue that is unsafe for you or for others, experience an injury of any kind or have a suggestion, please let your care team know.
More GRH Stories