Posted: May 2, 2017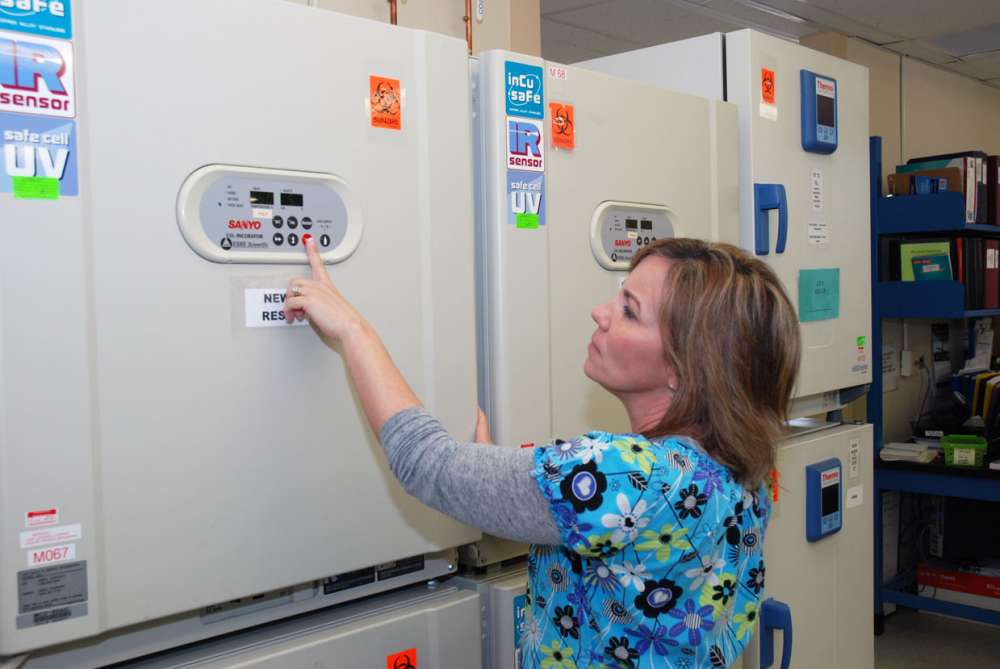 Paula Young thinks that the hospital laboratory is a bit of a mystery for a lot of people, because they never seem quite sure exactly what goes on in there.

As a senior medical laboratory technologist, Paula knows that lab techs play a very important role as part of a team of people who work together in both the treatment and monitoring of patient health. She works on test results that help to diagnose illnesses or determine antibiotics for a doctor to prescribe.
When she first graduated college, she worked in phlebotomy homecare. She travelled around Waterloo Region to take blood samples from patients who were unable to get to a laboratory. Now 24 years in her career later (half of which has been spent at GRH), Paula continues to advance exceptional care in GRH's laboratory.
What does a medical laboratory technologist do in your particular area of care?
A laboratory technologist tests various samples of blood and body fluids from a patient to help the doctor with the diagnosis of diseases. If any these test results fall outside of the normal range, this will help to determine where the source of the illness stems from. 
My department is microbiology which is a certain section within the lab that deals with the diagnosis of infection by bacteria. We also determine which antibiotics the doctor would be able to use for treatment.
What does your average day look like?
I am a senior technologist working in pre-analytical microbiology.
That means I deal with everything that happens with the sample before it gets to us. We want to make sure samples are collected correctly, stored correctly and are received within an acceptable amount of time to get the best possible results for the patient.
What drew you to this type of work?
When I was in high school, after school I would volunteer at a hospital. That's when I knew I wanted to work in a hospital career. After some research, I discovered the laboratory sounded right for me.
How important are medical lab technologists in the healthcare process?
I think that the lab is plays a very large role in the health care process as we either validate or rule out a diagnosis for the doctor when there are abnormal results. Most illnesses could not be diagnosed without these test results.
What do you enjoy most about your work?
Microbiology is always interesting. Bacteria doesn't really follow any rules and is constantly changing, so it keeps it interesting for us.
In terms of the samples you collect, how are they collected? Swabs or blood tests or other means?
The samples we examine are collected by nurses, doctors, respiratory therapists, and other health professionals working in whatever area the patient may be in.
Samples can be taken from virtually any site in the body; anything that can become infected is a source for a sample to be collected.
What keeps you motivated at work?
In my current role, I didn't realize how much I would enjoy being a supervisor; it wasn't anything I ever thought about doing when I was in college.
I really like being able to help my fellow staff members out by helping to problem solve and making sure the work environment is the best it can be.
That's what really helps to motivate me at work because it feels really nice to know I've helped and continue to help to improve things. 
More GRH Stories