Posted: January 4, 2019
When someone is receiving treatment for a mental illness and an addiction, Stephanie Demers wants to care 'with' them rather than 'for' them.
Stephanie is a concurrent disorders specialist with GRH's specialized mental health program at the hospital's Freeport Campus. Her role is to support patients with a mental illness and an addiction through their journey.
A social worker by profession, Stephanie is among four concurrent disorders specialists in the hospital's mental health and addictions program. She says an integrated approach is vital in helping patients to deal with highly-complicated care needs.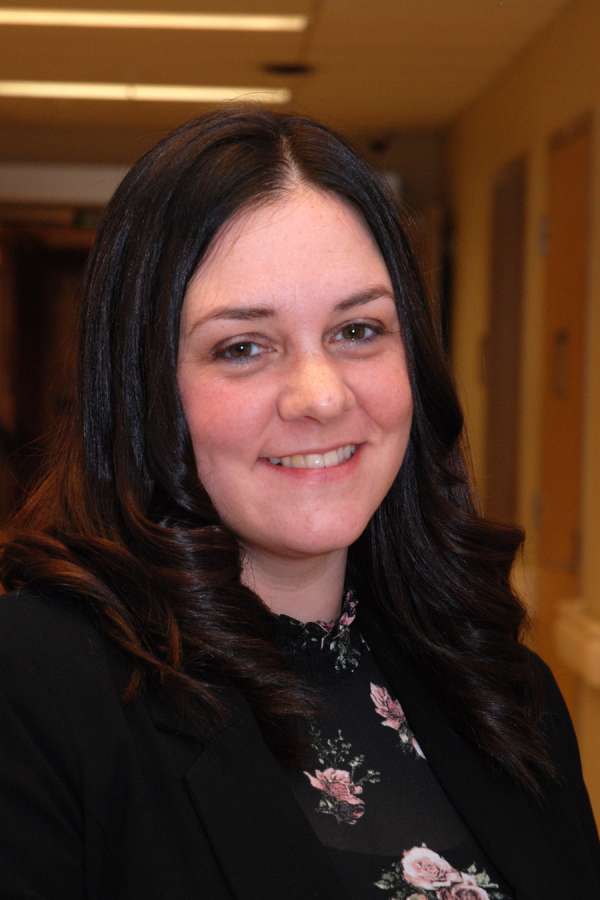 Stephanie feels honoured and humbled to help patients, offering hope and encouragement through their recovery.

---
What brought you to a career in mental health?
A passion for supporting people with inner resilience and strength who are often marginalized by society and vulnerable to stigma as a result of complex mental health issues and addictions.
How did you come to work at Grand River Hospital?
I transferred here from Regional Mental Health Care – St. Thomas in 2010 with the divestment process that occurred at that time. It brought Waterloo Region residents receiving long term psychiatric care back to their home communities and closer to family and friends. 
How do the care needs of patients with concurrent disorders differ from other types of mental health care?
People living with mental health issues and problematic substance use experience greater adversity. This includes greater severity of psychiatric symptoms, poor physical health, precarious housing, greater legal involvement, dire financial situations, and distressing relationships that often result in loss of friends and family.
The use of illegal drugs, cannabis, and alcohol worsens mental health and leads to longer and more recurrent hospitalizations. The complex link between addictions and mental illness requires an integrated approach to care to address both issues at the same time.
What do you enjoy about helping patients with concurrent disorders?
I enjoy the collaboration and team work in the relationships that I build with clients. Walking beside someone on their journey is humbling.
It is always an honour when patients share some of the most difficult things they have endured and overcome, and accept support and encouragement with creating future successes in their lives.  
Where are we doing better in concurrent disorder care now than we were five or ten years ago?
When I started here in 2010, I transferred in a social work role with aspirations to one day see the concurrent disorders role come to life. I am fortunate to have been in this position since 2012, and am grateful to work with an additional three new concurrent disorders specialist colleagues!
Together we are able to provide capacity building to inpatient and outpatient clinical teams, deliver exceptional integrated care to patients, and educate and support families and community support providers.  
Why are you proud to be part of the GRH community?
The GRH community provides a space for growth and initiative. I have always felt supported in bringing new ideas and approaches forward and in exploring creative ways to connect with and support clients in their recovery journey.
More GRH Stories