Posted: May 16, 2022
At GRH, we celebrate two incredible individuals who have been nominated for the Oktoberfest Women of the Year awards.Both women have played a key role in protecting our community through their work at the Region's largest COVID-19 vaccine clinic and supporting equitable and culturally safe access to life-saving vaccines.
When Grand River Hospital opened the first vaccine clinic in late December 2020, many retired health care workers didn't hesitate to put back on their scrubs to support mass vaccination efforts.

Many of these volunteers were there to see the first COVID-19 vaccine administered when the hospital opened the first vaccine clinic in December 2020 in the Grand River Hospital auditorium. Volunteers and staff continued to provide their support when the clinic moved to its Pinebush location in March 2021 due to a partnership between the Region of Waterloo, Public Health and Grand River Hospital in Kitchener.
Behind it all is Vickie Murray, integrated director of pharmacy services at Grand River Hospital and St. Mary's General Hospital, who was seconded to the Region to lead the GRH managed Pinebush Vaccine Clinic and manage the Region's vaccine response.
The Pinebush vaccine clinic, which initially began as a handful of vaccine stalls, successfully transformed with the region's vibrant community in mind to ensure safe, equitable care for all, and became a symbol of hope for many.
Vickie has been nominated under the health and wellness category, as well as for the the lifetime achievement award.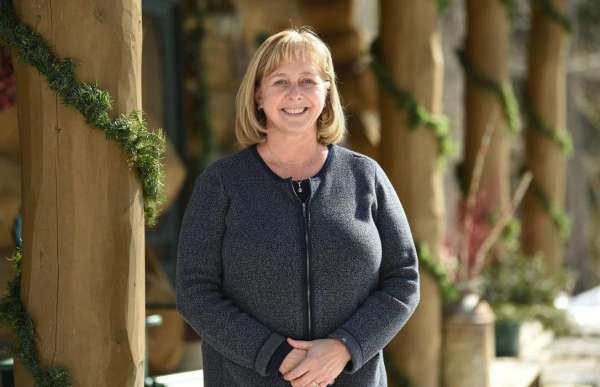 The most reward part of her work for Murray was knowing that COVID vaccines save lives.
"By achieving strong community vaccination levels, we were able to provide our family, friends, neighbours and co-workers with a safer place to live and work. There were many times when the work of the vaccine rollout was challenging, but because I was surrounded by an incredible team, we were able to overcome many obstacles and make the vaccine accessible for our community."
Murrays credits the Pinebush and Region teams with these nominations.
"We did it together, with passion, caring and determination," says Vickie. "I'm proud and humbled to be nominated on behalf of those around me who have also worked so hard. It has been my honour to have the opportunity to work on Covid vaccination and I'm so grateful to have been given this chance to serve along so many incredible colleagues."
Rachel Radyk (WaabanoKwe), Indigenous patient navigator at Pinebush, has also been nominated under the health and wellness category. As a member of the Southwest Ontario Aboriginal Health Access Centre (SOAHAC), Rachel has been a strong advocate for culturally aware and equitable care at the Pinebush clinic for Indigenous community members through the implementation of spaces that supported vaccine administration with traditional practices and medicines.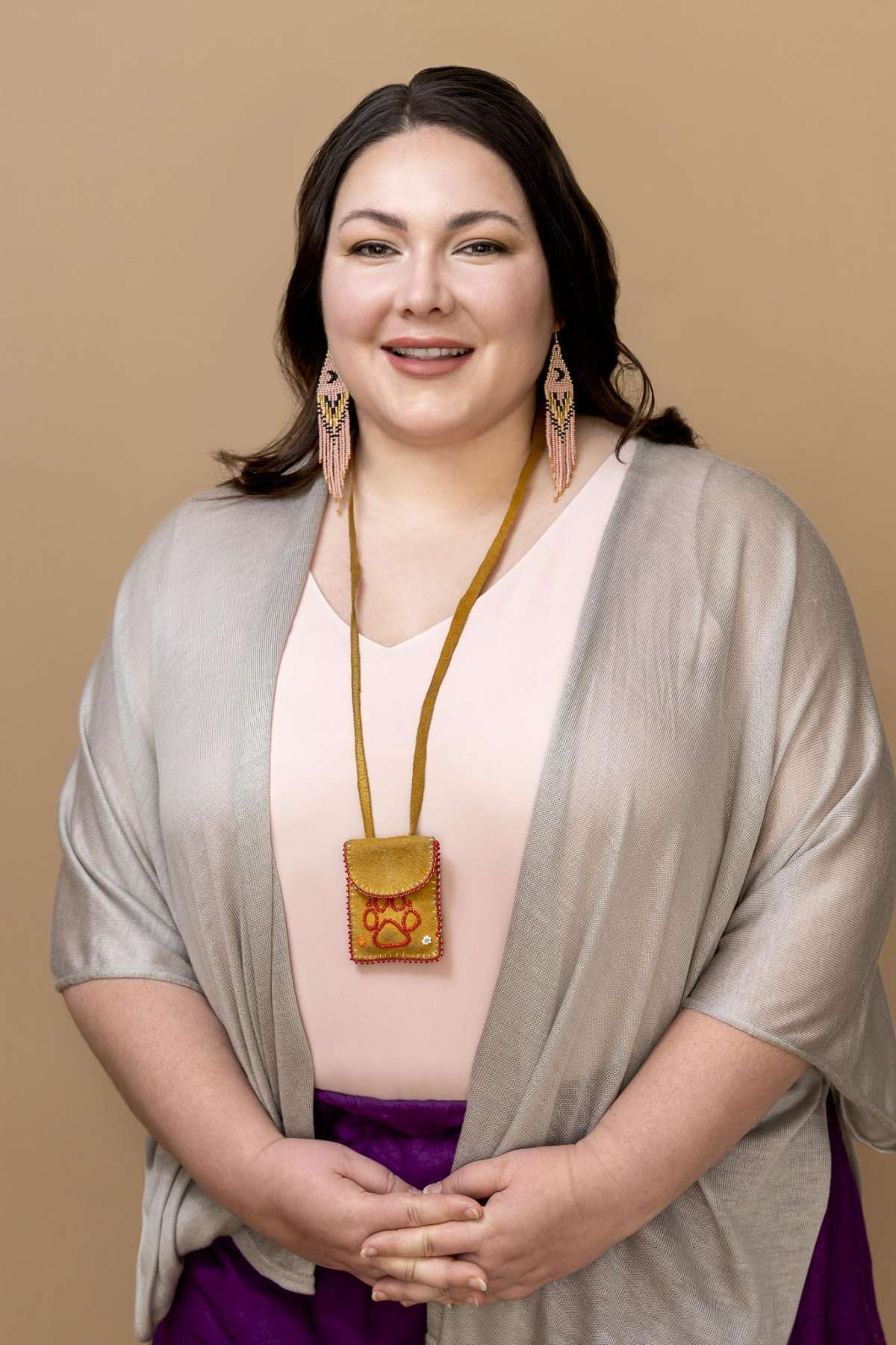 For Radyk, the most rewarding part of her experience was knowing that she was directly making a difference, one vaccine at a time.
"At Pinebush, we were able to rebuild trust among the Indigenous community. It was an incredibly positive experience to take my knowledge – both as an Indigenous person and nurse, and serve my community."
She also credits her nomination to the support of the entire Pinebush team, GRH and SOAHAC staff.
"Chi Miigwetch (a big thank you) to the all of the volunteers and staff members at Pinebush," says Rachel. "It was so rewarding to be able to walk together in this experience. And the leadership I witnessed at the clinic was outstanding – they all tried their best every day to make it a positive experience for everyone."
Throughout the summer of 2021, the Pinebush team extended their hours of operation by launching "Doses after Dark" to support community members who were unable to receive their vaccination during typical daytime hours. This initiative saw more than 3,400 eligible residents roll up their sleeve to receive their dose one summer evening.
By July, the team partnered with Grand River Transit to visit high-priority neighbourhoods in buses to provide the vaccine where COVID-19 case numbers were high and vaccine uptake was low. Approximately 20 per cent of those visiting the vaccine bus during July were receiving their first dose, highlighting the success of this outreach initiative to improve vaccine access.
By the late fall, when children began to become eligible for vaccines, Pinebush underwent another transformation to become "Camp Pinebush," a child-friendly space complete with lots of colour, interactive activities, games and familiar costumed characters. Vaccine stations became equipped with toys and TV screens to help distract kids while they got their shots.
In January 2022, the clinic adopted a hockey hub model through Pinebush Alley to support the delivery of 3rd vaccine doses. Over 11 days, Pinebush Alley administered over 3,000 3rd doses per day to community members.
With staff and volunteers united through strong bonds, friendships and a shared sense of purpose in helping their community, the team shared many special moments together, including a wedding proposal offered by volunteer Ryan Galway that was accepted by his girlfriend, Jocelyn Rauchfleisz at Pinebush. The pair volunteered at the clinic together, and warmed the hearts of colleagues and community members alike, who had the privilege of witnessing this special moment.
With more than 85 per cent of Waterloo Region residents fully vaccinated, the last vaccine was administered at Pinebush Vaccine Clinic on Thursday, March 30, a moment that was celebrated with an Indigenous closing ceremony by partners from SOAHAC.
After working so closely for over a year, it was a bittersweet and rewarding day for the entire team.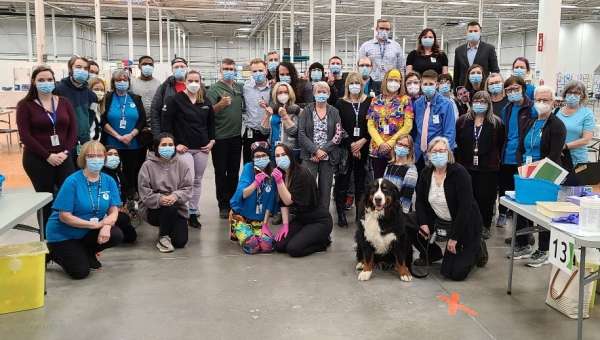 "It's been an incredible journey for the team," says Lisa Anstey, Pinebush Vaccine Clinic Manager. "We know we've done our part and this phase of the rollout is over and we're just happy that we were here to be able to support."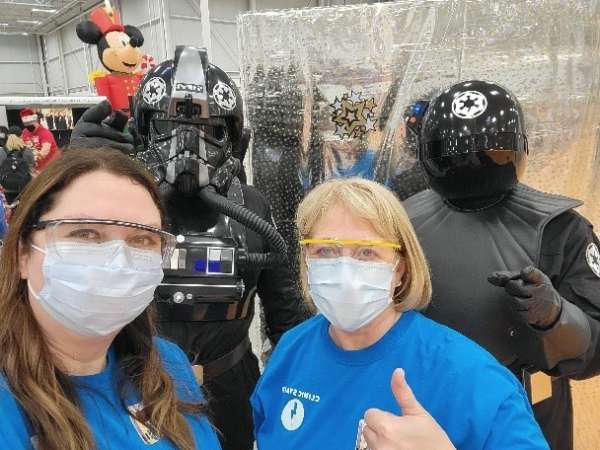 "It was incredible to see the collaborative effort that spanned across many areas of our Region," says Vickie. "Health care, business, universities, Public Health and more. We were able to make the impossible happen, with kindness and compassion because everyone worked together with one common goal."

While the GRH part of the vaccine roll out is winding down, Waterloo Region continues to focus on vaccine community outreach vaccinating the community with vaccine buses and walk-in vaccine clinics available. Community pharmacies are also offering easy access to Covid vaccines. A new phase has already begun for the GRH vaccine team, who have turned their attention to COVID treatments. There is still work to be done, and a willing team ready to help.
More GRH Stories