Things to bring for your baby
All the basic necessities are provided for your baby. However, if you wish, you can bring:
Sleepers and undershirts
Linen
Bath items
Personal items—pictures of parents and siblings, small stuffed toys, etc.
Please label all items with your last name. Floral arrangements and balloons are not allowed in the unit.
Getting information about your baby
You may call any time day or night and speak to your baby's nurse to find out how your baby is doing, 519-749-4300, extension 2348. 
Have your baby's hospital ID number available to identify yourself. This number is located on both yours, and your baby's armbands. 
Your baby will have a primary doctor while in hospital who will visit regularly and update you on your baby's progress and treatment. 
It's helpful if you prepare a list of questions for the doctor. An on-call doctor is available and may attend to your baby as well. Your baby's nurse can answer many questions and assist you in contacting the doctor as needed.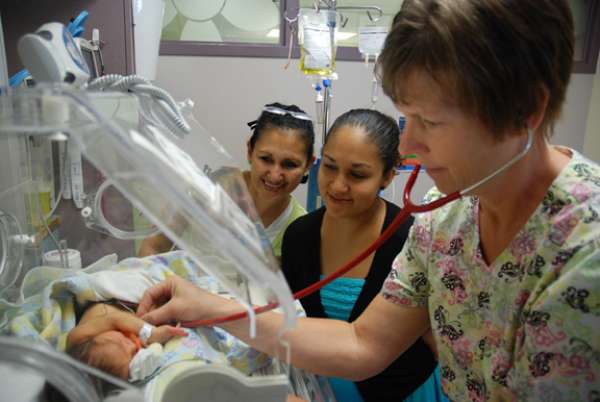 Feeling comfortable in the NICU 
Your baby may be moved to another area within the NICU depending on your baby's needs and those of others.
Please don't be alarmed if your baby has been moved. Different equipment may be needed to care for babies in the NICU. These include isolettes, over bed warmers, "giraffes" and cardio/respiratory monitors, oxygen monitors and intravenous pumps and lines. 
Your baby's nurse will explain the purpose of any equipment being used. A member of the health care team will explain procedures and blood work.  If you have questions, please ask.
Breastfeeding your baby
Breastmilk is the perfect food for your baby. NICU nurses are trained and experienced in helping new mothers to breastfeed their babies. If you are having difficulty and need extra assistance, the NICU lactation consultant is available to help. 
For further assistance with breastfeeding after you go home you may call breastfeeding support at 519-749-4355 for telephone support or to book an appointment. 
For your convenience, breast pumps are available for in-hospital use and pump kits are available to use in the unit. Electric breast pumps can be rented or purchased through the hospital's retail pharmacy, or at other locations in the community. 
Any electrical equipment from home must be safety checked by the hospital's maintenance department. Please speak with your nurse to arrange this. 
Developmental care
Babies born early or who are sick need to be cared for in an environment that supports their special growth and developmental needs.
You will notice that the NICU is a quiet, restful environment.  We achieve this through the following:
Low, soft lighting that allows your baby to comfortably open his/her eyes;
Lighting that is brighter in the daytime than in the night;
Sound levels that allow your baby to hear your voice easily when awake;
Uninterrupted quiet sleep times;
Swaddling or nests to encourage good posture and development of movement;
Quiet voices at the bedside;
When possible, care that enables baby to have uninterrupted sleep periods and to ease the baby from sleep to awake states. Just ask your nurse to help you handle your baby at the optimal times to ensure sound sleeping and optimal growth and development; and
Kangaroo or skin-to-skin care. Kangaroo care is when one of the baby's parents places the baby (dressed only in a diaper), on their chest, skin to skin with blankets over the baby. Speak to your nurse or pediatrician about the benefits of kangaroo care for your baby.
Criteria for discharge
In order for your baby to be discharged, the following criteria must be met:
Pediatrician's order for discharge;
Your baby must be feeding well at all feeds;
Your baby is appropriately gaining weight;
Your baby is maintaining body temperature in an open cot;
Discharge planning and teaching is complete; and
Car seat testing is completed if required.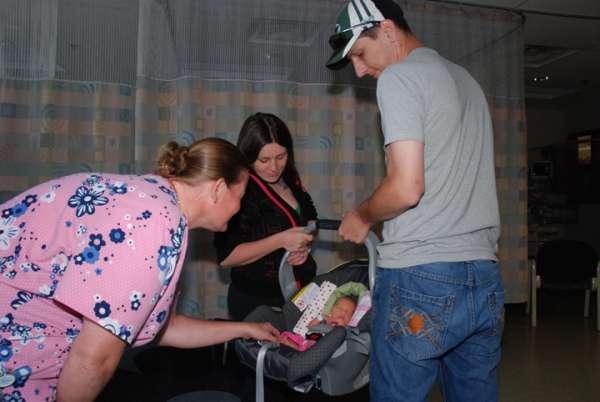 Getting ready to go home
Some families need help in caring for their baby at home. A meeting can be arranged with caregivers from the community who will come in to the hospital to meet you and baby before you go home.
If your baby has special needs a community support group may be able to give you help and support. Talk with your nurse about this if appropriate.
If travelling by car, your baby must be placed in a CSA-approved infant car seat. Please read your car seat manual before discharge. It is your responsibility to secure your baby safely in your car seat and in your car. 

Even though you want to go home, you may feel hesitant caring for your baby without hospital staff nearby. This is normal and once home you will gain more confidence.