Posted: November 25, 2016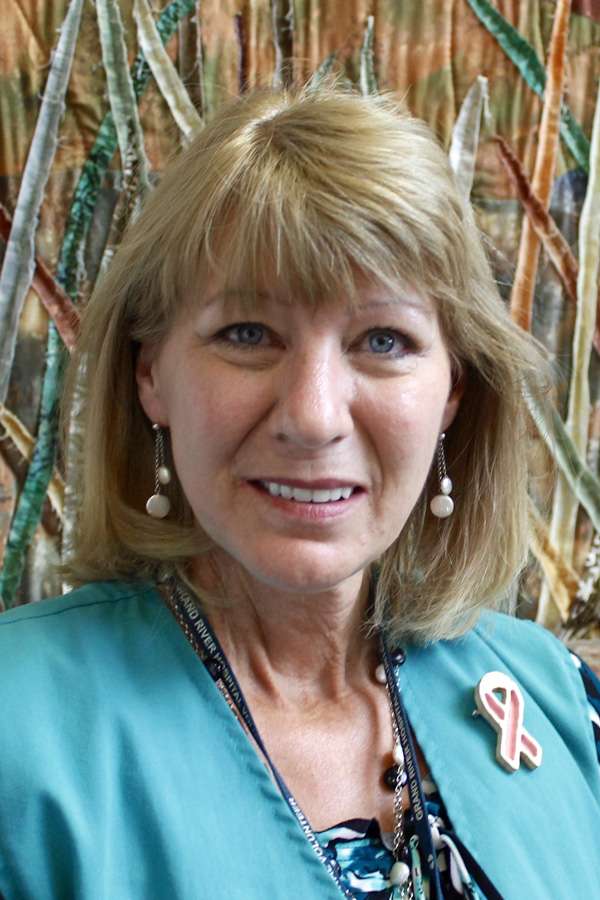 By Amanda Paul, GRH volunteer correspondent

Connie Henderson likely can relate to what patients and families are going through when they enter the GRH regional cancer centre, given the many miles she has walked in their shoes.
 Connie has volunteered at GRH for almost two years. She volunteers within various programs at the hospital, which includes the cancer centre, the gift shop, patient orientation, and the centre's patient and family advisory council (PFAC).
Not only is Connie a valued volunteer at GRH, she has also lived with several types of cancer. Having spent many years battling various forms of cancer, she is in remission now. Connie brings her experience, strength and positive nature to GRH, helping to lift patients' spirits.
---     
How did your experience at GRH influence you to become a volunteer?
It was because of the nurses, doctors, and seeing how the other volunteers conducted their roles in the hospital. By seeing how much they give and care about the patients, I wanted to be involved with that team. After I was a year in remission of cancer, I went through the whole process of becoming a volunteer.
I am now part of a fantastic team at the front desk of the cancer centre, the gift shop, patient orientation and PFAC. Whatever I can do to help with my healing and to help someone else, by laughter, a smile, or a hug, is what I think being a volunteer is all about.
What have you learned about being a member of the GRH community, as a volunteer and patient?
I'm coming up to my second year of volunteering and I've learned that the patients are not just a patient, they're like a family member. I bring a customer service background with me so I think that patients need to have their questions answered and we do a great job of that at GRH. Everyone works together to have the needs of the patients met to benefit them in the long run.
As someone who's lived with cancer, what do you bring with you when you volunteer?
That I am a survivor. I tell the patients, "you are a survivor" and that "your body is the boss". So at this point in their journey, they need to listen to what their body is telling them. For example, food cravings or when the body needs to rest or take medications. Also, they are showing strength just by being at GRH.
I also say, "each patient is unique and special, just like a snowflake" – there is no patient alike, no DNA is alike. For instance, there are many different types of breast cancer. I want patients to understand that we're all here to support, listen, and assist you with the best treatment for them and not just their cancer.
It's important they know that the staff is here to help treat them and know what they're going through. Everything is different for each and every person. Another strong suggestion of advice that I give them, is to bring their supporters or family member along with them to appointments – it makes a big difference to assist them, in their complete recovery.
I also like to think a hug is a great gift… one size fits all.
How do you try to lift patients' spirits?
It's a hard stage to get a patient out of being upset about their current situation. I think it's one of the biggest struggles as a supporter to help in. As a patient, it's important to laugh and make jokes. It's important that we make the best out of every situation.
While I was going through chemotherapy, my body was experiencing many different changes. Everybody becomes a bit different after this process and it's okay to embrace that because you're living and have become a survivor.
It helps to receive and read positive quotes or even jokes from all of your supporters. Just that one, small gesture can put a smile on everyone's face and heart. By showing acceptance, you show strength.
What is the most important thing that you would tell a patient?
I would tell them that they're strong; and it's important to smile and laugh at yourself. Also, it's important not to look at the finish line – just look at the next thing you need to do. Be concerned with the next hurdle or the next mud puddle. So what if you knock over a hurdle? So what if you get a little dirty in the mud puddle? Brush it off, get up, and continue to move on. Just a take a deep breath and exhale slowly while relaxing. It helps relieve the body and mind.
The c-word can come with different definitions and can put a patient in different moods. Right now, it's okay how you feel because your supporters, staff, and volunteers are here for you with every step. The thought I'd like to convey is: you can do this; you are worth taking this journey to survive.
Learn how you can help make GRH the best it can be!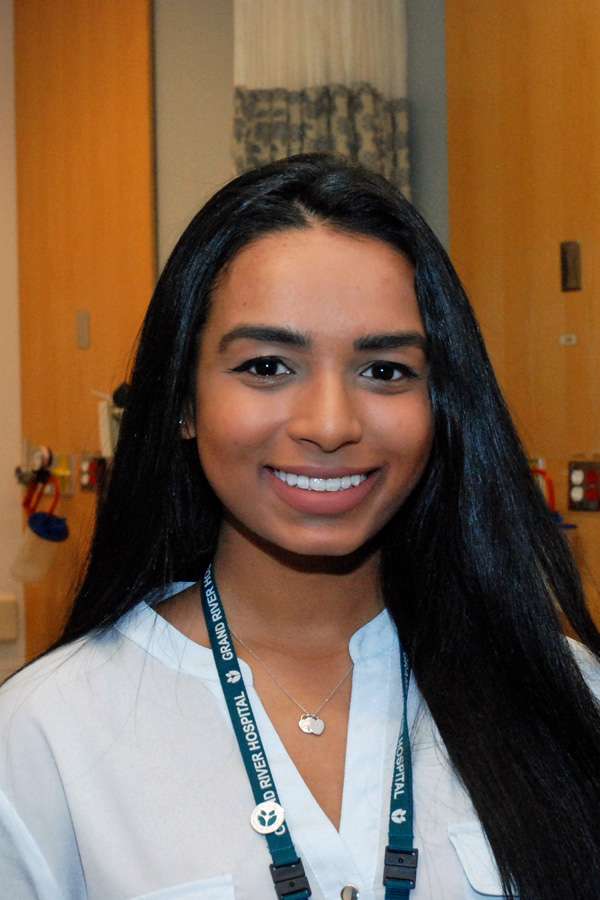 Interview and photography by Amanda Paul
Amanda Paul is Grand River Hospital's volunteer correspondent. Amanda has volunteered at GRH's Freeport and KW campuses since 2012. She's passionate about telling the stories of her volunteer colleagues at the hospital.
Learn more about Amanda and her role at GRH...
More GRH Stories