Posted: September 28, 2016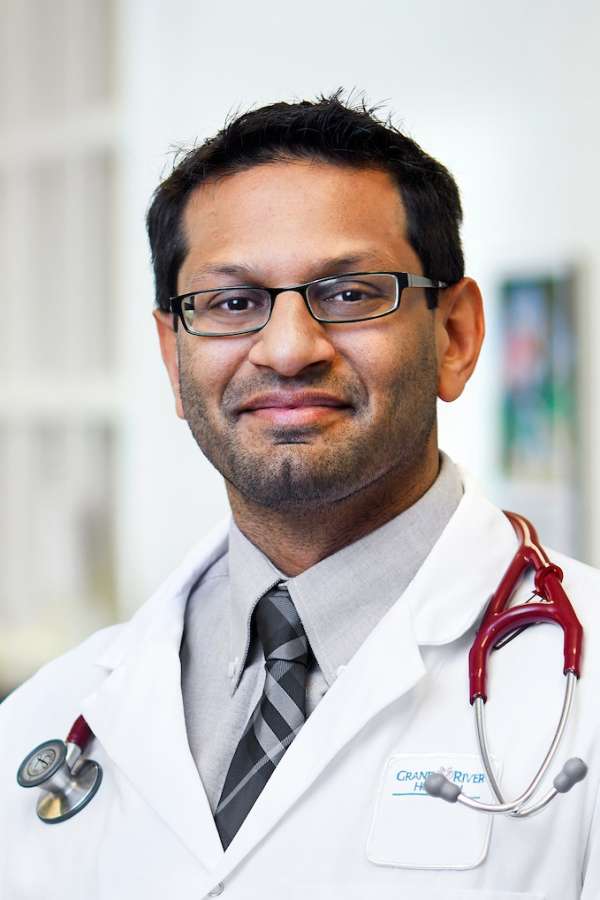 Dr. Abhishek Narayan works in the Complex Care – Restorative Care Unit at GRH's Freeport campus. He works with geriatric patients and helps them to regain a more functionally independent status after a hospital stay.

He was first introduced to GRH as a volunteer porter in the summer of 2001. During this time, he was always talking to patients and listening to their stories and experiences.
Dr. Narayan has completed a Care of Elderly Fellowship from Queen's University. He also has roots in KW as he trained in local family medicine at the Michael G. DeGroote School of Medicine McMaster University Waterloo Regional campus.
He is passionate about seeing his patients push past their own limits. The best reward for him is supporting their medical, physical and mental recovery and being a part of their rehab journey.
---
What kind of patients do you support at area hospitals?
I mainly support geriatric rehab patients that are deconditioned after being in an acute care hospital. I also treat patients with multiple medical illnesses and help them to regain their previous functional capabilities.
What drew you to that kind of care?
I believe that everyone can achieve their fullest potential, so being able to have seniors and older adults achieve things that can be viewed as hard is very rewarding. It's always nice to see.
What are some of the challenges that today's senior's face that they may not have in the past?
A challenge can be people living beyond their financial means. We are living longer than before and as a result our savings and retirement plans are inadequate. Bankruptcy is a growing concern with elderly patients. Also, as many older adults are having to be more independent as they age, looking after their partners all while having more health concerns is challenging.
What about caregivers? What do they face now that they may not have before?
Generally, adults are living longer these days compared to the past. That means that an adult child's parents are living longer. They are having to care for people who may have more diseases for an even longer period of time than before. The support they may receive from the community is not the same as it once was because of such an influx and limited community supports.
How is the health system adapting as we see greater numbers of seniors needing care?
To be quite honest, I don't think the health system is adapting just yet. It's my belief that there is still a lot of work to be done on a national strategy for seniors needing care.  
At the community meeting, what's the main message you want to tell people taking part?
The main message I feel is important to convey is to stay active and stay healthy. Ultimately the more you do now will help you that much more later in life.
More GRH Stories