Posted: May 2, 2016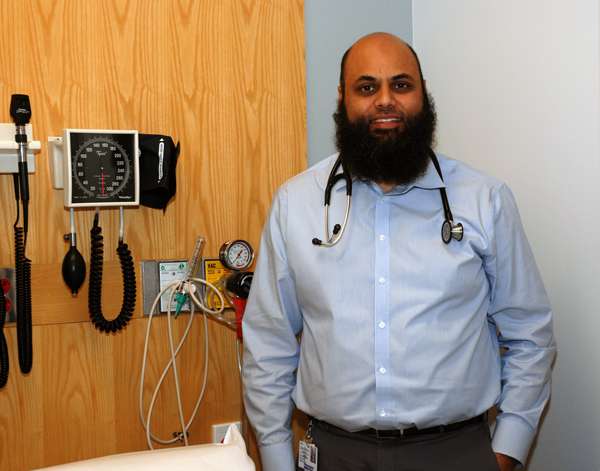 For palliative care physician, Dr. Ahmed Jakda, nothing is more satisfying than being able to help another human being. Dr. Jakda works with patients and families as they go through a difficult journey, and he couldn't be more honoured to provide them with the best care possible.
Dr. Jakda was also recognized for his outstanding work as a care provider by being appointed the Provincial Clinical Co-Lead for palliative care by the Ontario Palliative Care Network. Congratulations Dr. Jakda!
1. What is palliative care?
Palliative care is caring for patients who have illnesses that are serious and cause symptoms such as pain, shortness of breath, anxiety, depression and others. As a team, we work to support patients and families as they go through a difficult journey, supporting them and working with them to provide the best care possible.
2. How do you support patients in palliative care in the hospital?
We want to be sure that patients are well cared for and supported. Often times, pain and other symptoms, and the uncertainty of their journey, is the most difficult thing. Exploring their concerns, trying to bring clarity and symptom management as best as we can, and being a sounding board, will provide some relief and calmness to their circumstance. We want to be accessible so their concerns are addressed on a timely basis, and we work as a team to accomplish this.
3. Why is your work important to these patients and their families?
Patients and families need to have access to a team that will provide comfort in times where symptoms are difficult. They also need to have flexibility in their ability to contact health care members and address their concerns.  We try our best to be accessible, and listen well to cater to patients and their needs.
4. What do you love about your job?
I love my job. There is nothing more satisfying than being able to help another human being and their family. I truly consider it an honour to be able to help people when they are going through difficult times. The ability to sit in a room and provide care, surrounded by such a wonderful health care team, is an experience that I cherish every day. My patients give me strength with their courage – they are wonderful to care for!
5. Why did you choose your job?
Caring for patients with advanced diseases is a complex process that involves symptoms, team-based care, and a strong psychological presence.  I love working in the hospital and cancer centre because I feel supported in the work that I do and my patients show me the best of humanity on a daily basis.
More GRH Stories