Posted: August 16, 2022
A program that is designed to support the hands-on learning of health care students is also helping GRH team members to provide mentorship, and retain health care staff of tomorrow.
Funded by the Ministry of Health, the hospital's clinical extern program opened in May 2021 and has seen the students that benefit grow from six to 58 currently enrolled. Of those who have graduated from the program, 85% of these students, or "clinical externs" have joined GRH as valued team members after they graduate to provide high quality care to patients.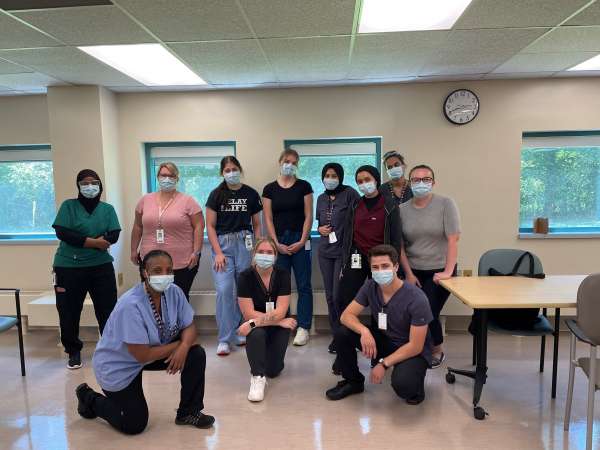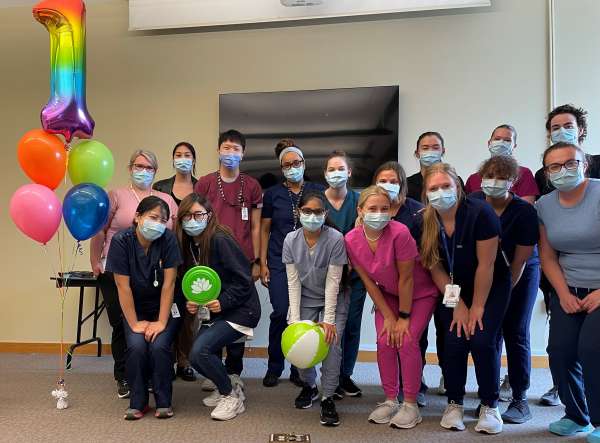 What is a clinical extern?
A clinical extern is a student that is enrolled in a health care professional program who works and learns in acute care hospital environments to supplement their learning and support care. Externs gain clinical experience and mentorship by established health care professionals in their field of study.
At Grand River Hospital, externs can learn within roles that include respiratory therapy, paramedic, nursing in the hospital's medicine, emergency, critical care, surgery, childbirth, mental health and oncology programs across both campuses. The program also supports internationally educated nurses to update their skills for a Canadian setting.
Sakuya Kashino found the program beneficial for entering the workforce in Canada. "I highly recommend it, especially to internationally educated nurses who did not learn nursing in English. It is natural to fear working in English, but this program will help you to gain that experience."
Through mentorship and one-on-one skill training, clinical externs quickly establish themselves as highly valued members of the health care team.
"The clinical externs are an amazing addition at GRH," shares Waheeda Salimi, a registered nurse on the stroke unit at GRH. "They are very helpful and provide nurses with hands-on support in many aspects of patient care. We are always hopeful that they will come back to join our team when they graduate."
For former extern Kristen Bradley, who was hired by GRH after she graduated, the program provided hands-on learning and the opportunity for employment.
"I had the opportunity to demonstrate my skills and experience more care areas than I would have been able to through nursing school," says Kristen, now a registered nurse in the critical care program. "These experiences were rewarding and gave me more confidence as a new nurse."
"Seeing them grow, and become confident and 'nurse-ready' upon graduation is so very rewarding," says RN and clinical extern coordinator Kim Trinh. "We truly believe this program helps students to become confident in their field."
To-date the clinical extern program at Grand River Hospital has helped 77 students to develop their skills and learn from within a health care setting and has helped to fill 12 roles, supporting GRH's vision of being a world class employer.
"We want to attract world class talent to GRH," Kim says. "This program supports that by investing in and enriching the experiences of the health care team members of tomorrow, right here in Waterloo Region."
Grand River Hospital's clinical extern program is one of the ways that the hospital is championing to recruit and retain world class team members. The hospital also benefits from the Ontario Nurse Graduate Guarantee and Community Commitment programs and the employee referral program, and has hired more than 2,500 team members over the last year to support the delivery of high quality, world class care in Waterloo Region.
More GRH Stories