Posted: April 17, 2018
In her final year of high school, Jessie Elias is thinking about post-secondary education and final exams – but that doesn't stop her from volunteering at Grand River Hospital.
A visit to the hospital can be overwhelming, but Jessie helps patients and visitors find their way around. As an information desk volunteer, she guides patients to where they need to be and offers any additional support to make their visit more comfortable. Excited to learn more about the medical field, Jessie brings enthusiasm and positivity to every shift.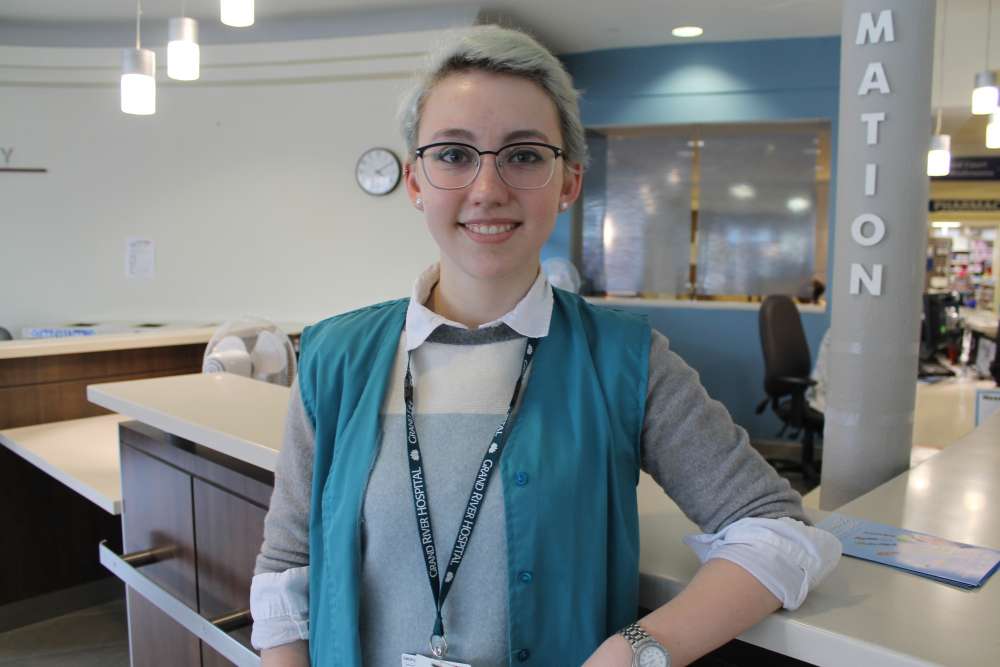 Why did you start volunteering?
Volunteering is a really good way to see what's out there, as far as possibilities for your future. I started volunteering because I was curious about learning different career paths. After my first summer I continued to volunteer because I loved it so much.
What have you learned so far from volunteering?
Volunteering has taught me the importance of prioritizing people. I've learned that when working with someone one-on-one, it's important to focus on that interaction. Your time with that person is what's important in that moment.
How is volunteering rewarding for you?
There's a chance someone might not be here for the happiest reason. It's a relief to have someone take responsibility for small worries. Providing comfort and support to someone during a difficult time is really gratifying because they're so appreciative of your help.
What is unique about volunteering at the information desk at GRH?
The most unique thing about volunteering at the information desk is the ability to get an overview of the entire hospital. This role involves going back and forth between different units. It gives me an opportunity to be a little bit involved with different parts of the hospital.
Why do you continue to volunteer?
It's something that I enjoy doing that is a little bit separate from the rest of my life. Right now, I'm a high school student who is looking towards attending university. My life is very much about school and grades. It's a relief knowing that I have a scheduled shift and for that time, I have different responsibilities.
More GRH Stories