Posted: March 11, 2021
March 11 is World Kidney Day! This year's theme is "living well with Kidney Disease", and Grand River Hospital is highlighting our Right Start Unit, one of our kidney care teams that's empowering patients to live well as they begin their dialysis journey.

For many people, beginning dialysis treatment is life-altering and overwhelming. The Right Start Unit works with people who have recently begun dialysis, and their loved ones, to ease the transition and empower them with information to make the right decisions for them.
Right Start began about 4 years ago, as a pilot project targeted to support patients who were eligible for home therapies (completing dialysis at home instead of coming into the hospital for treatment). In January 2021, the unit expanded to support all patients new to dialysis. "It's an individualized start with a nurse, one-on-one, for 3 weeks" explains Sandra Nuttin, Resource Nurse for Right Start and the Home Hemodialysis units. Most patients come to the unit three times a week, where they receive dialysis and education from a small team of specially-trained nurses, kidney doctors (nephrologists), and allied health professionals like pharmacists, social workers, and dietitians.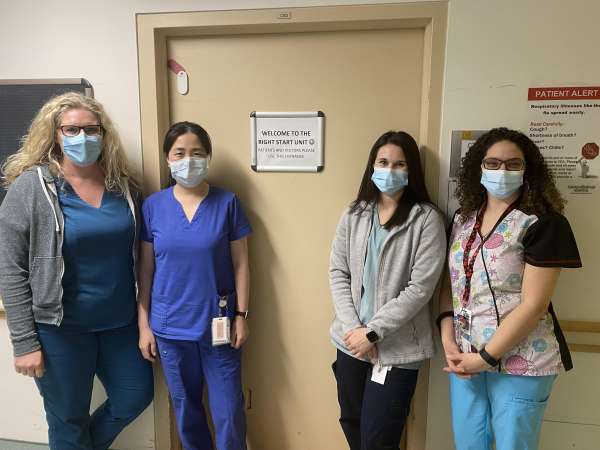 "When you learn you need dialysis, life kind of goes upside down" says Pamela Xuereb, one of the unit's nurses, "At Right Start, you are given the time talk about the impact, and it helps with the transition." The Right Start Unit also meets with the patient's support system – important people in their lives who may help them with their care, like adult children or spouses. It's an approach to education and care that's very personalized to the patient's life. "Our goal is to lay a strong educational foundation so no matter which option [home therapy, in-centre dialysis, etc.] you choose, you are empowered to make that choice and live a healthy life." Says Sandra.
The Unit encourages home therapy options when possible, because it gives the patient more autonomy compared to spending hours in the hospital, two or three times a week, for treatment. Since absence of prior knowledge regarding treatment options can be a big barrier to someone considering home therapies, the Unit's more personalized, education-focused approach may result in more people being able to do their kidney treatments in the comfort of their home. Since they re-opened on January 25th, they've seen 16 new patients – so it's too early to say if they are achieving this goal, however the earlier pilot project and similar units across the Province have been very successful at transitioning patients to home therapy options.
"Working here is extremely rewarding, to see people being empowered to make decisions that are best for them" shared Nicole Bauman, another nurse on the unit. "Patient feedback shows we're having a positive impact – we're here to help."
More GRH Stories