Posted: March 28, 2018
Kari Soontiens plays an integral role as a pharmacist working hard behind the scenes and directly with patients to improve the medication management system at GRH. With a focus on medication safety, Kari's ultimate goal is to ensure patients receive the right medication, in the right dosage, at the right time. 
Medication management can be a complex process, but with the right systems and staff in place, we can make the process easier and safer. Next year GRH aims to introduce a new computerized medication system which will further implement safety features to ensure patients receive the best care possible. As a pharmacy quality improvement coordinator (PQIC), Kari is dedicated to working with various staff and physicians whose number one focus is medication safety and quality care improvement.
GRH's pharmacy program has over 30 pharmacists and staff members who work collaboratively together to dispense approx. 7,500 oral medication doses each day to our patients. That's over 2.7 million doses each year!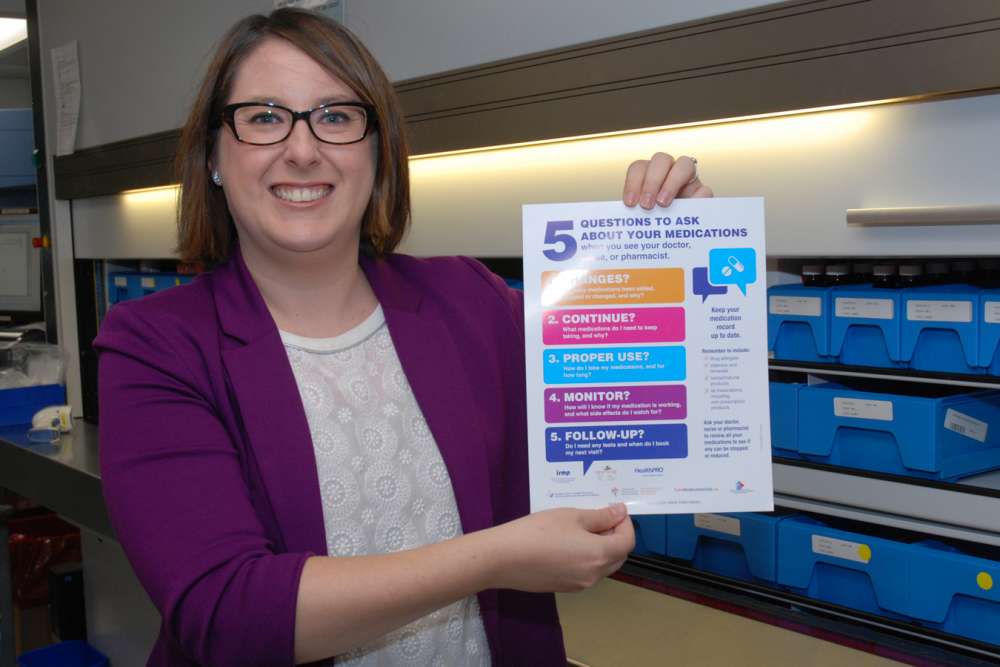 1. Can you tell me a little bit about the work you do in this role?
As a pharmacy quality improvement coordinator (PQIC), I help implement initiatives to improve the quality of care that our patients receive, with medication safety as my main focus. I help various departments identify and report both actual and potential medication-related incidents in order for us to develop processes to reduce preventable errors. I also develop action plans and regularly assess whether or not we are meeting our goals and adjust plans accordingly.
2. How does your work impact patient care at GRH? 
By constantly evaluating our hospital's practices we are able to identify potential areas of concern and make changes to prevent adverse events from occurring. I also sit on a number of quality and medication safety committees that help move initiatives forward and bring changes and ideas to staff who are interacting with patients on a regular basis. By doing this we can ensure we are incorporating the safest practice possible to help our patients recover in a supportive environment.
3. Can you tell me about your role and how it impacts medication safety?
My entire role is built around medication safety. I am responsible for knowing what standards and regulations are expected of our hospital, from various governing bodies as well as what is considered best practices among clinical experts. I gather all of this information and try to translate it into real life by figuring out how we can incorporate these great ideas into our policies and practices. We want to implement all of these great practices to ultimately improve our patients' care and experiences.
4. What kinds of protocols do we have in place to ensure patients get the right medication at the right time?
We have a medication safety plan that guides all the wonderful work we are doing. This plan helps set out timelines so that we are able to move towards well-defined goals. The plan is a collaborative team effort to ensure that our health care providers have the right tools available to ensure our patients receive the best and safest care possible.
Part of the plan includes the implementation of a new computerized medication system across the hospital next year. The ultimate goal is that orders are entered at a computer by a provider, be transmitted electronically to the pharmacy for verification, linked to the distribution system and then to the nursing unit where safety features in the system will ensure the six rights of medication administration; right patient, right drug, right time, right dose, right route and right documentation.
5. What kinds of things can people do to ensure their own medication safety?
Patients need to be an active partner in their health to ensure that they have the information they need to use their medications safely. Patients should ask themselves the following questions:
Changes: have any medications been added, stopped or changed, and why?
Continue: what medications do I need to keep taking and why?
Proper use: how do I take my medications, and for how long?
Monitor: how will I know if my medication is working and what side effects do I watch for?
Follow-up: do I need any tests and when do I book my next visit?
Patients should keep their medication record up to date and carry a copy with them. Remember to include drug allergies, vitamins and minerals, herbal/natural products and all medications including non-prescription products. By doing this, your health care professional will know what medicines you are taking and how. This can prevent a mistake with your medicines like missing a dose of a medication you need, or getting two medications that shouldn't be taken together.
6.  What do you enjoy most about your job? 
I love knowing that the projects I am working on are making our patients' care safer. I love that being a GRH pharmacist in the PQIC role allows me to work directly with patients as well as staff, students, management and physicians.
GRH has an amazing, hardworking, dedicated pharmacy team of which I am proud to be a part of.
More GRH Stories