Posted: August 9, 2016
Carol Holst realizes her huge responsibilities in keeping intensive care patients safe.
Carol is an environmental services assistant in GRH's intensive care unit A, which cares for some of the most ill patients in the hospital. She and her colleagues are responsible for cleaning and disinfecting each patient room.
Carol is a veteran employee at GRH with nearly three decades of experience. She brings many years of service in the hospital's medical device reprocessing department to her work in environmental services. In reprocessing, Carol helped clean and sterilize instruments used in surgical procedures, requiring a fine eye for detail.
It's fair to say Carol sees a hospital room far differently than the average person. She's passionate about making sure every room is clean and safe for critically-ill patients, and enjoys being part of GRH's intensive care team.
---
What do you like about working in environmental services?
I like the infection control part of it. That's always been an interest to me. Even taking the course for sterile processing, learning about cross contamination and how infections and bacteria can grow. When working in environmental services, you learn a lot about new infections. It just fascinates me.
What do you see when you walk into an intensive care room?
There's nothing that can't be touched in a room. If you can reach it, then you get down to clean or you reach up to clean. You never know where hands have been.
You worked for many years in medical device reprocessing. How did that job prepare you for your current role?
We prepared instruments for the operating room for surgeries, so you learn how the instruments would come out of the OR and the process for going through the different stages, and the process of sterilization for the next surgery. So it's all about being very meticulous about cleanliness and sterilization.
GRH's intensive care unit A opened in 2010, and was quite different from the previous unit (nearly four times larger). How did that affect the work you do?
The old ICU was just one big room, and it was a patient bed divided by a curtain and so on. It was very hard to clean. It was very old, but I did the best I could.
Coming into this was just a dream compared to that. All the rooms are private, so each patient has their own room. They are bigger rooms, there's a lot more to them to clean. There's more equipment, there's a lot more to focus on in an ICU room.
How long does take to clean an intensive care room?
The beds take a good half hour to clean alone. Cleaning the rest of the room can take 45 minutes to an hour and 15 minutes depending on the state of the room.
Double-cleaning comes in when we may have had a patient with C. difficile. I'll go in and do it, and somebody else will come in a few hours after and do it again.
What's your role in teaching? Is there anything you try to impress upon new staff in environmental services?
I can train up to 20 students in a few months, particularly in the summer. I pass every little detail that I can for them. Right from walking into the room and wiping down the door handle where the first hand would touch. I teach them to do every room the same, you go around the whole room, and you do everything the same. You do that day after day and it sticks with you.
What keeps you motivated and excited about your work?
I like the fast pace. Since I've been in this unit, I've learned more about new infections, what they are, how long they last and how to deal with them. In the environmental services department, we push and practice the meticulous cleaning that we need to do to keep these bugs at bay. That's really important to us. I'm on an employee engagement committee with our director Debbie Richarz and a couple of other staff members. We focus on how we can make things better in environmental services, and how we can improve on things.
Working with the rest of the ICU team is great. The nurses, the doctors, and Michelle White (ICU director) are absolutely excellent.
What would you like people to know about the work that environmental services staff do?
When you see someone cleaning a floor or wiping something down, these people are doing their best to give patients and their family members the safest care environment. We take a lot of pride in our work, and we do our best to give people a healthy place to get better.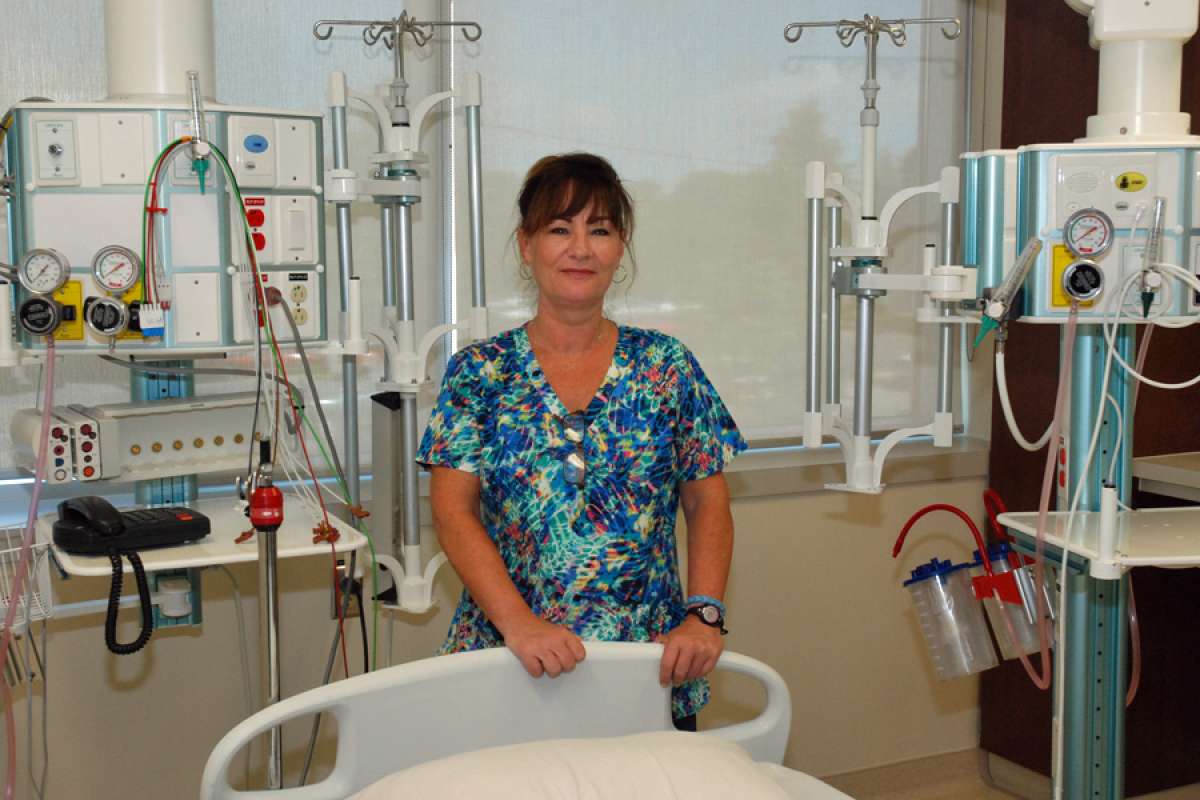 More GRH Stories