Posted: June 18, 2018
Family brought Kim Moran to Waterloo Region.
And helping new families keeps Kim very busy these days at Grand River Hospital.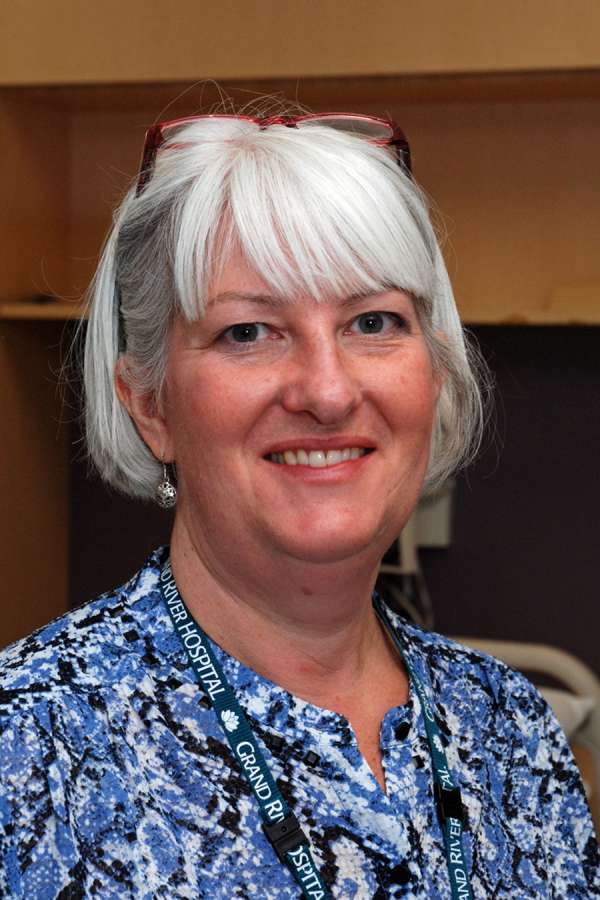 Kim has become the clinical manager of the hospital's childbirth program. A registered nurse by profession, she's providing leadership in the program which has more than 4,000 births every year.

Kim wants to help the childbirth team members to do their very best. She's also a big advocate for lifelong learning, another example set by a family member… 
---
Why did you become a nurse? 
As long as I can remember I wanted to be either a nurse or physician.  Once I entered university, nursing seemed a better fit for me.
My mom was a nurse, initially a registered practical nurse and then she returned to school to become a registered nurse. This was a great lesson to me on the value of life-long learning – you're never too old to move forward with your goals and try something new.
How did you come to practice childbirth nursing? 
I did my undergrad at Western (UWO as it was then). We had placements in many different clinical areas. I knew as soon as I finished my first day in labour and delivery that this was the place for me. I loved the fast pace and variety of the nursing work.
What struck me most was the influence of the nurse on the birth experience of the patient and her family. The nurse would spend her entire shift working with the family, getting to know them and helping them achieve their birth plan. This was the most satisfying part of the placement for me.
How did you come to GRH?
As sentimental as it sounds, my husband and I followed our kids here.  We have three grown children… two have married and settled in this area and our third is going to school in Cambridge.
Even more enticing is that grandchildren have started to arrive. Our grandson is just over a year old and we have another grandchild expected in September… our daughter will be giving birth at Grand River in early fall.
With all this going on, we realized that we were living on the wrong side of the GTA (in Whitby) and began to look for work opportunities in the KW area so we could relocate. 
What do you enjoy about your role, and nursing in general?
I love the idea of building and supporting a strong team. I feel that the staff members are accountable to their patients whereas I'm accountable to my staff to support a work environment that focuses on clinical excellence, family-focused care as well as respect and appreciation for the many teams that participate in care. 
I consider it a good day when I can clear away barriers and frustrations so that the team can focus fully on caring for our patients and their families.  I love this level of administration… getting to know the staff on a more individual level,  what's important to them and how I can support them as they progress in their career. 
What keeps you on your toes?  
Childbirth attracts really strong staff: strong in terms of skill, knowledge and opinion. The team members know their work and environment better than anyone. 
A big part of my job is to tap into this knowledge and work with the team to bring necessary change or alternatively, hold fast to what works well.
I try to always be honest with staff and true to who I am and hope that staff members are the same with me. I welcome feedback knowing that some of the best learning comes out of mistakes.
What are you thankful for?
I'm thankful for the childbirth team for how they have welcomed me to Grand River. There is such good work going on here by staff members who are passionate about the care they offer to patients and families. It's a privilege to be part of this team.
More GRH Stories