Posted: April 26, 2016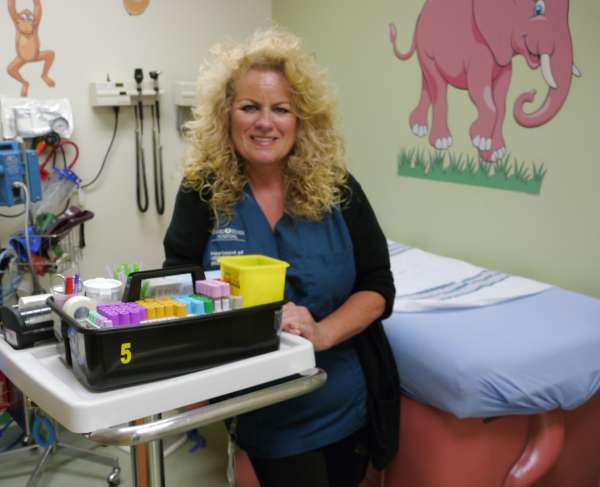 Although your encounter with them at the hospital may be over in a pinch, medical lab technicians (lab techs) play an important role in your health care. Lab techs visit patients across the hospital to collect blood samples to help health care providers diagnose their patients and develop treatment plans.
April 24 to 30 is Medical Lab Week and GRH is celebrating the often unrecognized work of these very important staff members. Read about one of our lab techs and how she plays an important role in the hospital and why she loves doing it.
Deborah DiPede
If your child has to have blood drawn, you can trust Deborah DiPede to do it well and make the experience as good as it can be.
Deborah chose to become a lab tech/phlebotomist because it fit like a glove. After witnessing medical evacuations at another job, she realized she found her calling to work in health care. Shortly thereafter, she found herself working alongside a lab tech who encouraged her to follow her passion for patient care. Deborah now has nearly a quarter century of experience as a lab tech, with 14 of those years spent at GRH.
While Deborah works around the hospital, she's often called upon to provide care in GRH's vast services for children.
1. How do you support patients in the hospital?
Lab techs offer support and bring both experience and professionalism to our patients. We answer patient questions and we work with other members of the health care team to assess each patient in order to expedite a quick turnaround time. This is vital because we are front line workers who help doctors diagnose and treat their patients. 
In the past few years a group of phlebotomists (people who are specially trained to draw blood) have been doing intravenous (IV) starts. This has been instrumental and successful in providing fast delivery of medication to patients who have challenging IV starts. We work as a team with nurses who invite us into the process to aid in patient care. This is another way GRH uses its skill sets in all areas to provide optimal patient care.
2. How do you support young patients who are afraid to have their blood taken?
We support our young patients in a variety of ways. GRH has child life specialists who engage our young patients in role play, electronics, bubbles, stories, and other forms of distraction to provide a positive experience and desired end result.
I also often ask if the child would like to help by assisting me. I let them choose the arm they would like their blood taken from and which bandage they prefer. Talking with them about the procedure ahead of time for some children can also be helpful. Each child and situation is different.
3. How can parents prepare their children?
Parents can prepare their children by using the resources the hospital offers. Examples include engaging a child life specialist or by having the nurse or lab tech demonstrate what they are going to do first.
4. How is your role as a lab tech with our youngest patients different than in other areas of the hospital?
My role as a lab tech with children is different than other areas of the hospital. I encounter more fear, anxiety and of course very small veins to work with. I also face challenges with sites and volumes of specimen taking because of size, weight, and physical factors of the child. Sometimes it's a parent who struggles with the fact that their child is hurting. We work hard to help alleviate the tension in the atmosphere of that experience. This is where both experience, nurses, child life specialists and good assessment skills work together to get the job done.
5. Why is your work so vital to our patients?
My work is vital to our patients because I provide a service that assists doctors with treating them. We bring fast results, minimal puncture sites and are familiar with multiple ways of sample collection.
6. What do you love about your job?
I love my job for many reasons. I enjoy the patient contact, the actual venipuncture procedure (IV), training of new staff and students, problem solving, the lively environment of a busy hospital, and my co-workers. I also love learning new ways of doing my job. Recently, I had the privilege of being the first of eight staff members to become IV/phlebotomists at GRH. I spent three months training in the operating room, pediatrics, endoscopy and emergency. It was amazing to work with and be supported by so many wonderful doctors and nurses. 
7. Why did you choose your job? 
I chose my job because it fit like a glove. Originally, I was going to go into nursing. I was working at Pearson International Airport and saw the medivacs coming in and felt a pull to health care. I did a health care aid program and ended up assisting a lab tech in the nursing home where I worked. She encouraged me to pursue a career as a lab tech and I have never looked back. It was what I was born to do. My daughter once said to me, "I hope I find a job that gets me up at 4:00am with a smile on my face and a desire to go to work every day the way you do!" When others get it and you inspire them to find their calling, that is when you know you're in the right place, doing the right thing.
More GRH Stories