Posted: September 6, 2016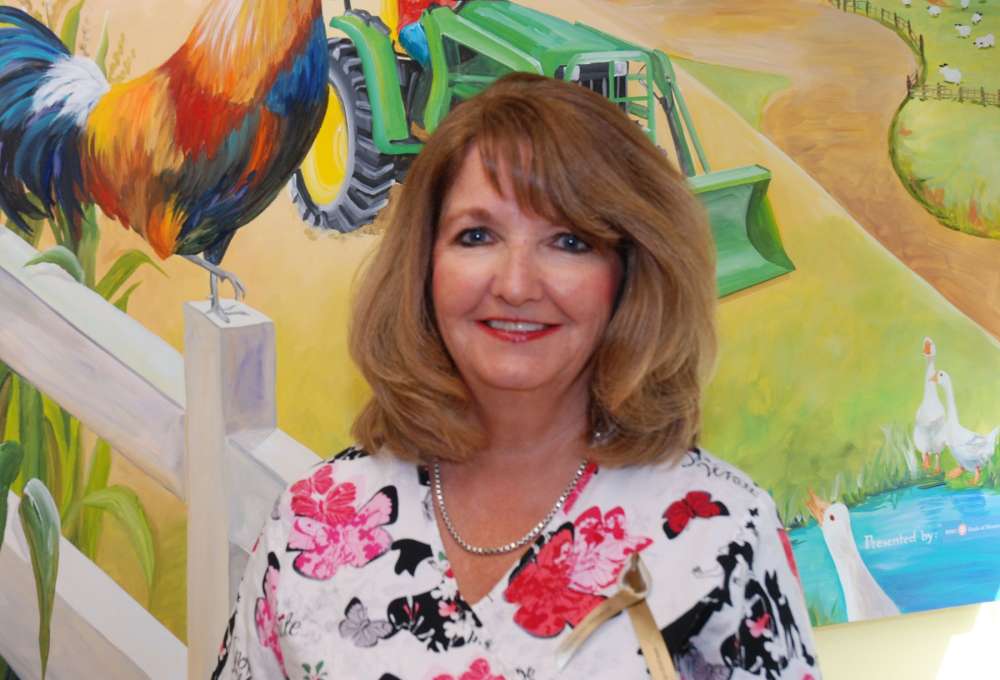 Young patients who receive care provided by Patti Bambury can rest assure that they are being cared for by someone with a wealth of compassion and experience. Patti has been a nurse for over 36 years, beginning her career in the United States before returning to Canada.  She now works in the Pediatric Oncology Group of Ontario (POGO) clinic at GRH.
The POGO clinic lets GRH provide beneficial one-on-one care for children with cancer and allows them to stay closer to home which decreases financial burden with travelling and families are nearer to their extended family and community supports.
Patti's experience behind-the-scenes with committees coupled with her hands-on experience enables Patti to provide exceptional care and comfort to children living with cancer.
How long have you worked in our POGO clinic? What does your day-to-day work involve?
For 22 years I have been enjoying a fulfilling career as the POGO Nurse Satellite Coordinator at Grand River Hospital, managing care closer to home for children with cancer in our community. 
A typical day for me is providing supportive care for these children, which includes maintenance chemotherapy, transfusion therapy, follow-up appointments and palliative care when necessary.
Care is initiated and shared with GRH's tertiary partners in London, Toronto and Hamilton.
What other areas of healthcare have you worked in throughout your career?
My nursing career began when I was working in a Neonatal Intensive Care Unit (NICU) in Pasadena, California. After being there for a year, I relocated to an NICU in Toronto where I heard about the Haematology/Oncology Clinic at SickKids and knew that I wanted to gain experience in this specific field of nursing. This was an area that was always pushing your limits with continuous learning and evolving research. I made the very tough decision to leave this position, and shortly after started working on a general pediatric ward after moving to Kitchener.
How has cancer care changed in your time as a nurse?
Over the course of my many years as a nurse, I have witnessed modern medicine advance tremendously, especially in regards to the survival rates of children. It is such a pleasure to see children who you provided care for years ago come back to visit to let you know they are starting Grade 1, or graduating from university. I have even had some visits from past children who are now getting married. It really makes your day.
What's your secret to making connections with young patients and their family members?
It's really important to allow our young patients to make choices on the days they're in the clinic, even if it's just letting them pick their favourite Band-Aid, or negotiating a plan on how they want to receive their treatment that day.
We develop heartfelt relationships with these children and their families; we are united and working together as a team in the battle against cancer. We in the clinic often refer to our patients as "our kids" while they travel through their journey.
As the relationships evolve, you get better at finding ways to help what works best for them so they feel more comfortable and relaxed. Ultimately, you work to find a normal in what isn't really normal.
How long are patients typically supported by you and the clinic?
The POGO clinic team provides continuity of care in treatment that varies, sometimes lasting months to several years.
What do you like about working in the POGO clinic?
I am especially grateful for what these children have instilled in me about life and living. They are kids just wanting to be kids. The bravery and courage they show during every visit is truly amazing; their feisty and positive attitudes are an inspiration. Every day, I am thankful for the children and their families who have allowed me into their worlds and shared their cancer experience with me, enabling me to be a better nurse with a challenging and rewarding career.
More GRH Stories