Posted: May 3, 2016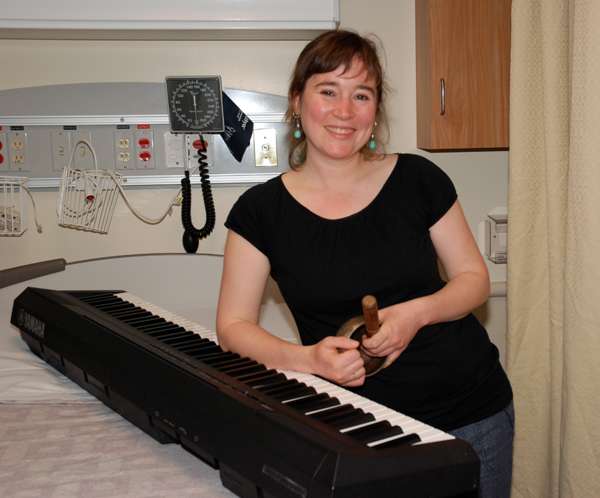 What was once a personal passion for music is now a rewarding career that brings a little known service with a big impact to our palliative care patients. Sarah Pearson, a music therapist at GRH, works with very ill patients at the hospital through the use of music. Music can bring them comfort, relaxation and a way they can work through the sometimes challenging emotions they may be feeling. 
What is music therapy?
Music therapy uses music within a therapeutic relationship to address physical and/or psycho-social goals. A typical session may use live instruments, improvising with the patient/family, song writing, listening and musical discussion.
How do you support patients in palliative care in the hospital?
I use music therapy to address physical wellbeing. By playing music that supports relaxation or visualization, often symptom experiences are decreased. I also use music therapy to address anxiety, grief, depression, and distress that can often accompany an end-of-life prognosis.
Music is a spiritual, holistic language for many people and finding the right music (usually played live) can meet a person where they are, provide validation, and even move through the challenging emotion.
Often it's just me playing music for the patient based on what they are presenting, and often a patient will play with me – by banging on a crash-cymbal to express the fear they are describing, or playing a gentle rain stick to summon the peacefulness they wish to feel.
Sometimes I support patients and their families in relationship completion and legacy work, for example, by writing songs together that reflect on their lives and say goodbye. Finally, I often meet patients in their final hours of life and play live music while they are dying, to provide a holding space for them and their families to make those last hours meaningful.
Why is your work important to these patients?
I think that being met by someone who is not there to administer any medical procedure, but there solely to support them emotionally, can feel valuable for many patients. Also, mindfully-delivered music has an ability to reach right into our hearts, and so often patients and families are holding in so much emotion as they try to cope through the incredible stress of hospitalization.
Sometimes music therapy seems to give people sudden permission to let it all out, and my job is to make sure it's a safe space for them to do that, and to journey with them through that emotional release.
If someone is looking for music therapy for a loved one, how do they go about it?
Referrals for music therapy at GRH can be made through anyone on a patients care team, and is a free service for current patients on oncology or palliative care services.
What do you love about providing music therapy?
I love the opportunity to connect deeply with patients and families in some of the most critical moments of their lives. The work in oncology is fast-paced and often challenging, and finding a window for music therapy is not always obvious. However, the team is so incredibly dedicated to providing whole-person care, and when music therapy can fit right in there with a patient and their family, the opportunity for whole-person caring can be instant and powerful.
I love working with such a dedicated team and seeing the surprising ways that music can impact the whole environment of the units I work on. Music has a way of bringing people together and I see that happening all the time in unlikely and wonderful ways – doctors joining a patient in singing a song, nurses finding comfort in the relaxing music trickling down the hall, etc.
Why did you choose your job?
I've been a musician all my life, and for me, music is more about human connection than it is about perfection and fame. I pursued a career in music therapy because I knew this was a way I could serve the greater community. I am passionate about palliative care and welcome the challenge to bring the arts into the culture of caring.
GRH is thankful for the Grand River Hospital Foundation and our community who make this program possible.
More GRH Stories