Posted: February 23, 2018
Life-long volunteer, Wayne Buchholtz, finds great pride and joy working in the newly renovated J. Wesley Graham Patient and Family Resource Centre. Located in GRH's regional cancer centre, the resource centre provides patients and their families with access to information and other resources regarding their illness and treatment.
Dedicated to helping others, Wayne encourages patients to give the resource centre a try and find out how it can help them through their cancer experience. The resource centre, redeveloped in partnership with Grand River Hospital Foundation and Kitchener Public Library, provides access to books, movies, KPL online resources, computers and iPads, and "Ask an Expert" drop-in sessions.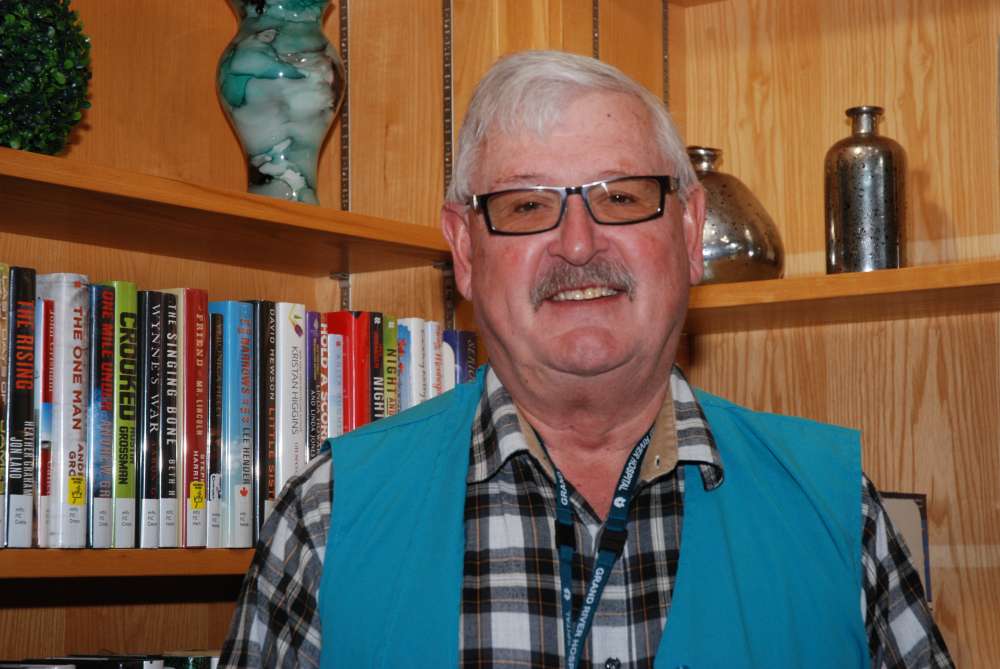 1. How long have you been a volunteer and where have you given your time?
I have been a volunteer most of my life. I have been an adult advisor for our parish, as well as umpired for 30 years and referred for 18 years. I also served as the volunteer chair for those organizations. I volunteered in schools after retirement, as well as served on a variety of boards throughout my career as a principal. I also spent seven years coaching a world class blind lawn bowler and travelled around the world for tournaments.
2. What prompted you to become a volunteer in the resource centre? 
The resource center was my entry position at the hospital. I chose it because of my involvement with the Kitchener Public Library and my interest in sharing their resources. I have been here since last September and I love it. It allows me to interact with many people, from very supportive staff to large groups of patients and their families whom I have been able to assist with their individual needs.
3. What services does the resource centre provide to our patients and their families?
The biggest thing I hear from patients is the fact that we are here to assist them to find any resource we have available to help answer their questions. They are astounded by the multitude of resources available through the Kitchener Public Library and the fact that we provide them with a library card no matter where they are from.
4. Why would you encourage a patient to visit the resource centre?
This resource center is in a position to help any and every patient who comes through the cancer center doors. All they have to do is give us a chance to demonstrate what we have and how it can assist them.
5. The resource centre could always use an extra set of hands.  What would you say to someone who is considering on becoming a volunteer?
A successful volunteer must love to work with people and be knowledgeable about the resources in the center. If you try it, you will love it. It has been a pleasure to have been selected to volunteer in the resource center and I hope to be here a long time.
More GRH Stories