Posted: December 11, 2018
It can be complicated when patients with complex health needs finish their hospital stay and return to the community.
Fortunately, registered nurses like Sophia Scott with the Waterloo Wellington Local Health Integration Network (WWLHIN) provide key supports as patients return home or move to long-term care.
WWLHIN care coordinators like Sophia are located at Grand River Hospital's Freeport and KW campuses. They work to understand each patient's health needs, and connect them with health services and/or housing once the patient's hospital stay is complete.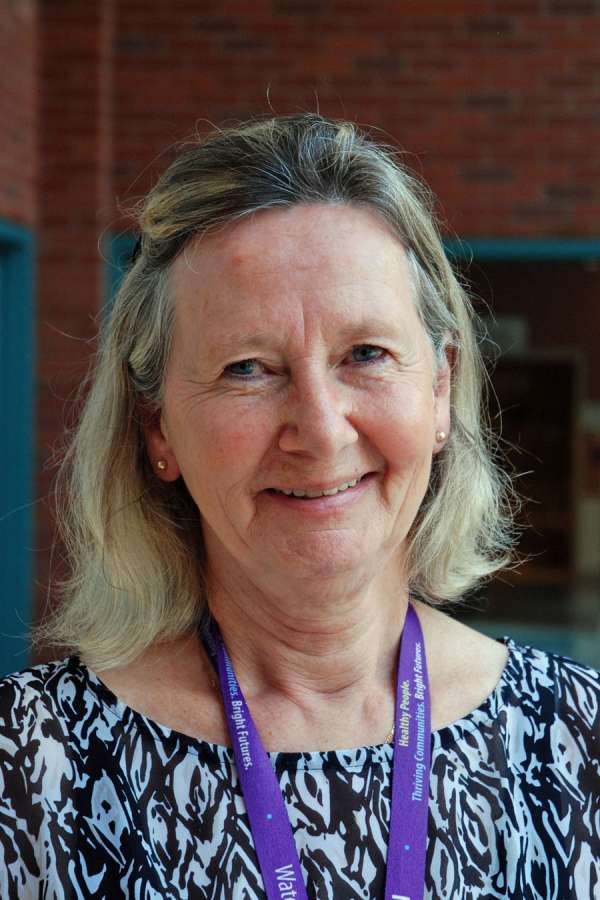 Sophia has spent her entire career supporting care for older adults. These days, she works with patients, families and care providers at GRH's Freeport Campus to help build bridges between the hospital and community care services.
The work of WWLHIN staff like Sophia in partnership with GRH care providers is vital in helping patients move on to the next step in their care.
---
How did you come to practice in your current role?
I actually entered nursing as what is now called a "mature" student. After having my children, I returned to school as I had been working as a health care aide in a long term care home. I became a registered nurse.
I worked as a visiting community nurse in Perth County and Stratford.  After seven years in the community, I joined the former community care access centre. In 2002 I moved to the Waterloo Wellington CCAC and joined the team at Cambridge Memorial Hospital completing long-term care placement applications.
I came to GRH's Freeport Campus in 2009 to do discharge planning and long-term care applications on the geriatric assessment, neurobehavioral and palliative care units.
What does an average day for you involve?
In an average day, we do assessments for people returning home, discharging to retirement homes or requiring long-term care placement. We also attend team and family meetings. We liaise with families, retirement home staff and the team members – the nurses, therapists and unit physicians.
How do you consider a patient's needs when they're going home?
As discharge planners and care coordinators, we collaborate with other team members. Patients often have the desire to go home. But there are other factors. Their care needs are often beyond what family can support, and require more than a home environment. Family members may also live far away or are working.
For some the needs are fairly limited, such as a home assessment and home modifications. Other clients require many hours of support – often shared by LHIN supports, purchased services and family assistance.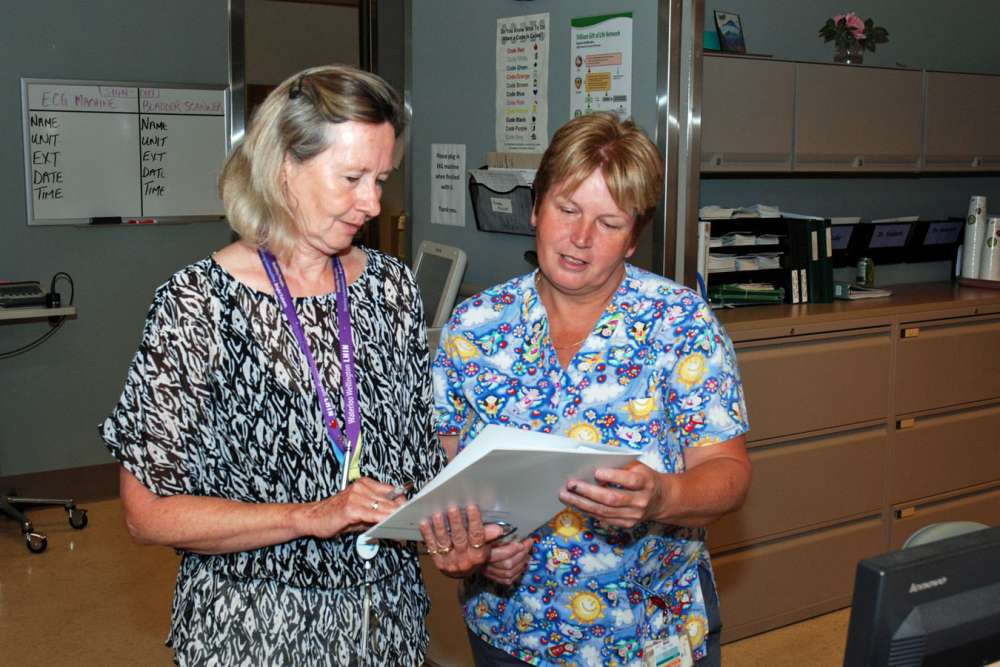 Can you give a typical example of how you and others make that journey from hospital to home easier?  
We arrange pre discharge assessments in the home if that is deemed to be beneficial to the patient so care needs can be better assessed.
We also like to liaise with the community care coordinators, if that is reasonable, as they are often so familiar with the home environment with which a patient may already be dealing.
What do you like about your role?
I have always loved working with the elderly clientele, I really enjoy and appreciate the collaborative aspect of the team concept  of working together for patients' needs to have the best outcome possible.
What keeps you on your toes?
Constant change, in short. There are always new policies, new procedures, new assessment tools, new systems to work with. 
Nursing is an ever-changing field and our health care systems are constantly challenged to work within the confines of limited resources, both financial resources and human resources.
More GRH Stories