Posted: April 28, 2016
GRH psychiatrist Dr. Sophiya Benjamin calls the specialized mental health program at Freeport one of the most collaborative work environments she's been part of.
Specialized mental health opened in 2010 after a major expansion to the Freeport building. It provides longer-term mental health care for patients with severe and persistent mental illness. It helped bring many area residents receiving care in London back to Waterloo Region to be closer to their loved ones.
Dr. Benjamin and her husband joined the program's psychiatry staff in 2013. Since then, she's been amazed by the team-work and collaboration that have helped many patients return to lives in the community.
---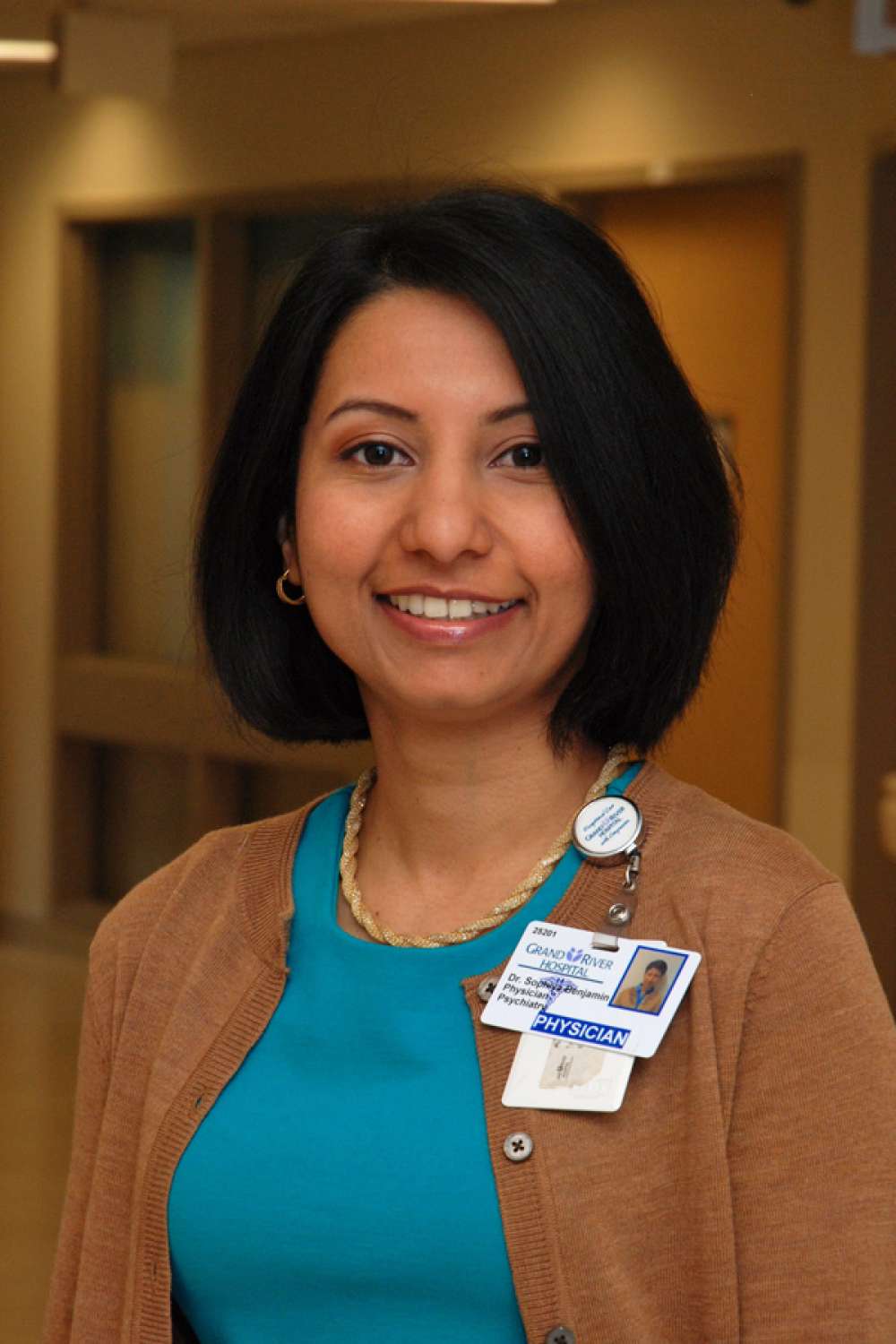 What interests you about psychiatry?
Psychiatry is a field that strikes a balance between the science and art of medicine. We have very effective and evidence-based treatments that decrease suffering from illnesses like depression, anxiety and schizophrenia.
Beyond that, this is a field that has encouraged doctors to see patients as much more than symptoms and diseases to be treated. It teaches us to appreciate the individual, their unique reactions to illness and how it is intertwined with their families, environment and culture. Psychiatry has been advocating for "person-centred care" all along.
When and why did you begin practicing at GRH and specialized mental health?
Three years ago, husband and I moved all the way from Durham, North Carolina to be a part of this program. We interviewed at many places after completing our training and when we were at SMH, we felt that the philosophy of this program reflected our own values.
But there was a problem- we needed two jobs as we are both psychiatrists and there was only one position available. We were incredibly fortunate as within the next few months another position became available and we did not have to fight it out as to who gets to work at SMH.
What do you think is different about helping people in specialized mental health compared to a more acute hospital setting, for your and/or your patients?
It is unusual for patients to come her after their first episode of mental illness. When our first cohort of patients arrived from another facility, many believed that they could never leave the hospital. Today, almost all of them are in the community.
The unique aspect of this program is that we see some of the most ill individuals and yet every member of the team believes that they are capable of living a meaningful life and will stand by the person through what might be some of the most difficult times in their life. We often have to come up with very unique solutions and even make changes to the existing system to accommodate individual needs which can take time.
How can the specialized mental health program promote excellence in care?
I believe that this program has the potential to be a centre of excellence in treating severe mental illness in a collaborative and recovery focused manner. We have a cohort of clinicians who strive to provide the most current and evidence based care.
We always have students around us; medical students, residents, nursing students and students in every allied health specialty. The thing about students is that they always ask us questions about why we do what we do which pushes us to make meaningful decisions based on current evidence. 
The reason we have so many students is also because we have a large number of individuals who are each committed to continually learning in their own fields as well as an administrative environment that makes students feel welcome.  We have an industry funding free journal club that takes place every week in which we or trainees present to our colleagues on relevant topics.
What keeps you excited and energized about your work?
This is the most collaborative work environment that I have had the privilege of being a part of. I have never seen so many health professionals from different training backgrounds take ownership of the care that they provide to the patient. As a physician, I feel supported by the team and know that we can do things together that I would never be able to do for the patient by myself.
More GRH Stories