Posted: April 10, 2017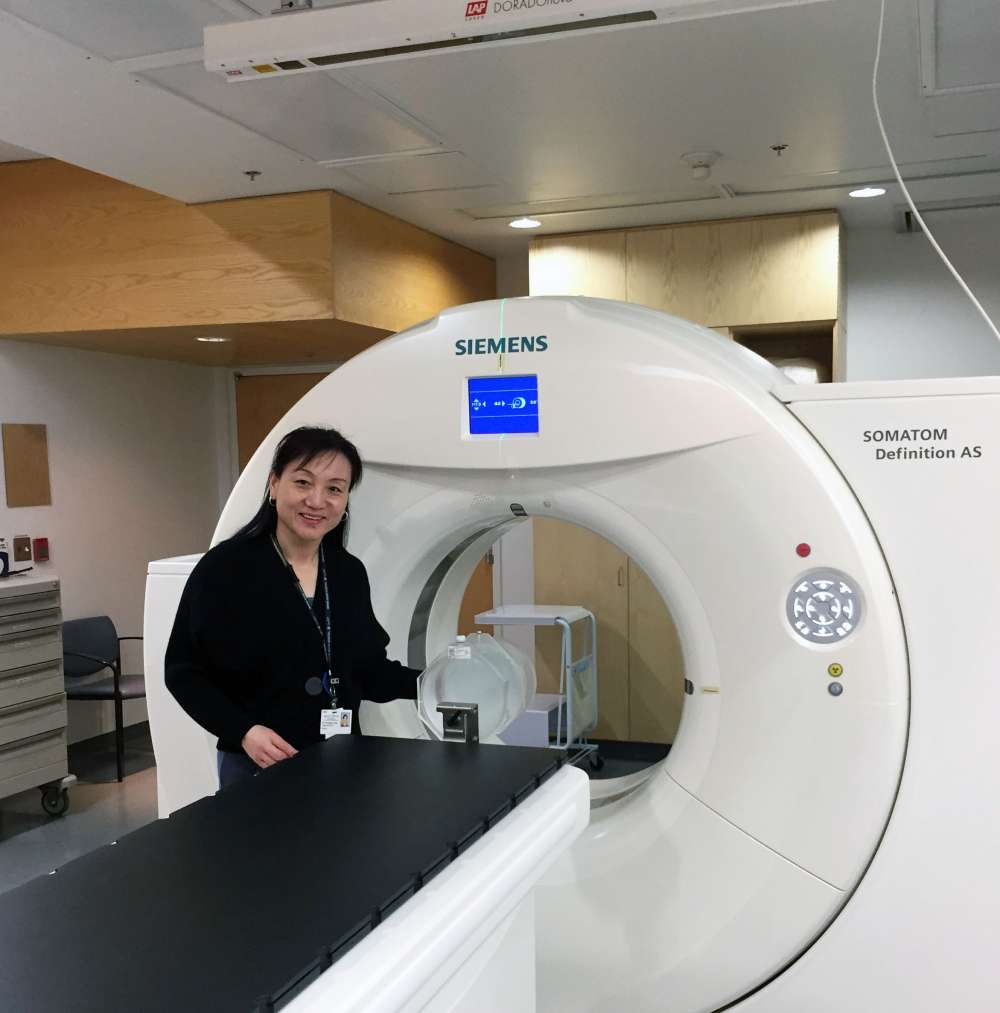 For a cancer patient, a CT simulator is usually the first step in a patient's journey during radiation treatment. The simulator determines the exact location, shape, and size of the tumour to be treated, and allows the radiation therapy team to plan the radiation treatment based on the data the CT simulator provides.

Dr. Runqing Jiang is proud to be a part of that process for cancer patients.
As a medical physicist for the Grand River Regional Cancer Centre (GRRCC), Dr. Jiang is responsible for setting up, calibrating, and ensuring the accuracy of GRH's new CT simulator. If any issues come up with the simulator, she enjoys solving the issue quickly to provide exceptional care for the patient.
This new CT simulator, funded from the Government of Ontario through Cancer Care Ontario, is replacing one of GRH's previous scanners so GRH is able to continue to support cancer care medical imaging needs.
What do you find most interesting about CT simulators?
CT scan is the starting point of radiation treatment. The patient's journey will be determined in part by what the CT simulator shows the oncology professionals, and the whole treatment is based on the dataset CT scan provided so it's a very important first step and it's rewarding to be a part of that.
How have CT simulators changed over time?
As the technology advances, newer CT simulators will generally have a clearer image quality, a lower dose of radiation and a faster speed so patients do not have to stay as still for as long.
What is required for the calibration of a new CT simulator?
I am responsible for testing, commissioning and QA of the CT simulator. The quality assurance program addresses radiation safety, imaging quality, and dosimetry among other things.
What does your typical day look like?
My day largely involves -the quality assurance (QA) for the patient's treatment plans, and signing off on the QA document before the patient goes in to treatment.
How long will it take from the time it is set-up to the time it can start examining patients?
To set-up and prepare a patient for the CT simulator it takes about a half an hour.
Why are CT simulators important in health care and for patients?
For patients who have cancer and require or seek radiation, the first step for them is a scan from a CT simulator. Once the data and images have been collected, a treatment plan will be decided based on the data that the CT provided. The CT simulator helps to show exactly where a tumour is and how large it is which of course is very useful in the planning process.
More GRH Stories