Posted: February 11, 2019
Gemma Vogelaar isn't necessarily at a patient's bedside, but her work along with that of her peers is vital for exceptional care.
Gemma is part of Grand River Hospital's medical device reprocessing (MDR) department. She and her colleagues clean, sterilize and prepare instruments for 9,500 surgical procedures, 2,800 minor outpatient visits, 7,800 endoscopic procedures, and more than 4,200 childbirth deliveries every year.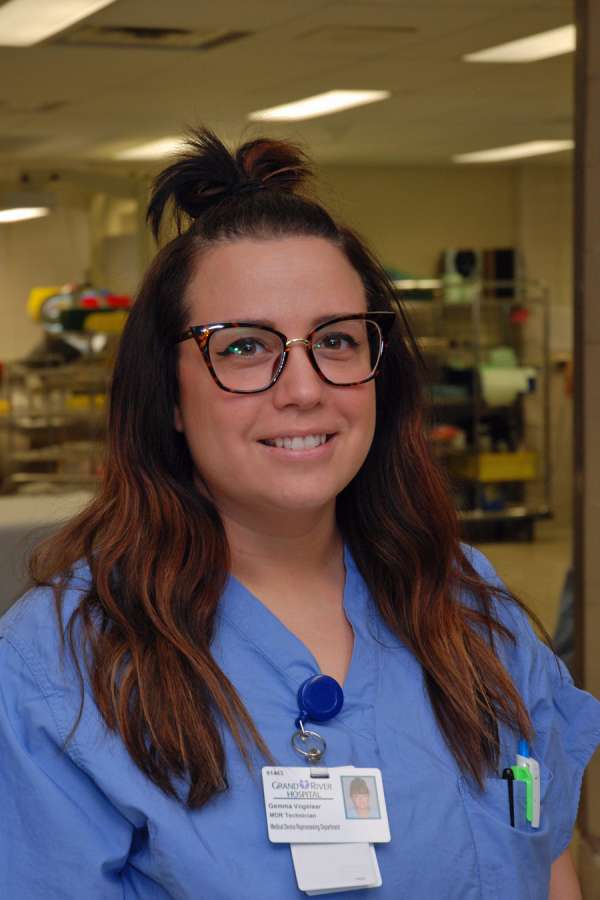 The days are busy for Gemma and her colleagues. They make sure care providers have the instruments needed for delivering babies, surgical procedures, fracture care and dozens of other procedures, and rely on quick thinking when problems need to be solved.
Gemma is excited to be part of GRH's MDR team, and was happy to return after time elsewhere in the health sector…
---
How did you become involved in MDR?
My sister had heard about the MDR course from a friend's mother who worked here at GRH. After taking the course, she encouraged me to look into taking it as well.  I had never heard of a medical device reprocessor before but it seemed very interesting work.
How did you come to work at GRH, and how long have you worked here?
After my sister and I had completed the course, she and I moved to Kitchener Waterloo area together and we both obtained positions here at GRH.  We even moved into an apartment right across the street.  It all seemed to come together nicely.
I started working here in the fall of 2003.  At the time, working different shifts was difficult for my personal life. So after three years, I acquired a position at a wellness centre in Waterloo as a receptionist.
I really had missed working with patients directly and wanted a change at the time. So I left for 10 years. I worked in homecare with the community care access centre for seven of those years.
In 2015, my company was absorbed by a larger firm, so I needed a change in jobs again.  I thought about MDR all those years and hoped to return. Amazingly, there was a position open, so I returned and have been back happily ever since.  I also worked briefly in MDR at St. Mary's General Hospital last year.
What does an average day involve for you?
A day in MDR involves a great deal of physical and mental work.
It's not just about cleaning soiled instruments. We are involved with every department and floor in the hospital, making sure they have everything they need to complete their jobs. We have to think quickly to solve problems with assembling instruments in time for a surgery, running to the operating room with a sterile supply, and multitasking and prioritizing every single minute we are here.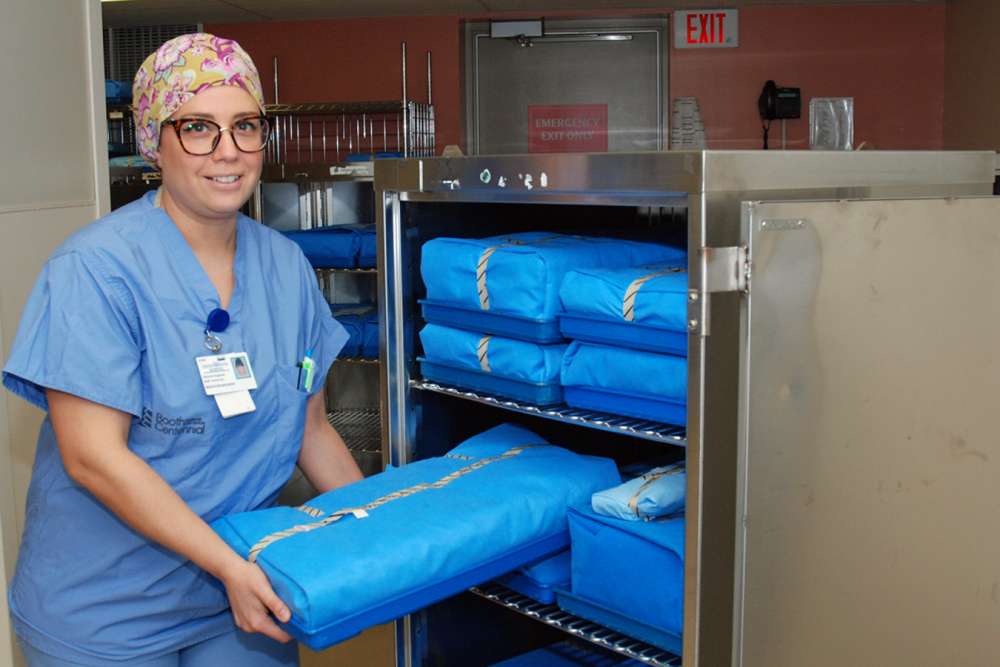 When you're talking with friends, what surprises them about MDR?
Most people have never really thought about what MDR does. They are aware that sterilizing occurs and they trust when they come to the hospital they will have clean/sterile supplies, but most do not consider HOW exactly we do this. 
Many do not know what an autoclave does, how much is involved in each instrument container, or even how much supplies are needed for each surgery.
What do you like about being part of the GRH community?
I appreciate the GRH community on a different level than just being an employee. Both of my parents have had surgery here and were treated with dignity, kindness, and respect. Knowing that my family was well taken care of while they are here gives me pride in our hospital and in all of our nurses, doctors, environmental services staff, MDR technicians, food services staff, and many others involved in care. 
What keeps you motivated day to day?
Being an MDR technician is such a vital part of each day at GRH.  We truly care for the wellbeing of each patient who walks through the door, and we hope that will show in the work we do!
More GRH Stories