Posted: May 25, 2022
May is Physiotherapy Month! Learn more about our physiotherapy team from Holly Arnold, Professional Practice Lead for Physiotherapy, and check out a Q&A and staff spotlight with some of our team members!
Physiotherapists (PTs) are highly skilled health care professionals with a university-based education focused on the science of movement and function, and evidence-based practice. As autonomous professionals, physiotherapists provide client-centered treatment with a commitment to excellence, accessibility and service delivery.
Physiotherapists are able to perform seven controlled acts under their own authority, including: tracheal suctioning, spinal manipulation, acupuncture, treating a wound below the dermis, pelvic internal exams, administering a substance by inhalation, and communicating a diagnosis within the physiotherapy scope of practice.
The PTs at GRH work to full scope, and use their specialized, hands-on skills to assess, diagnose and treat symptoms of illness, injury or disability. They are instrumental in discharge planning, including advising the team of a patient's potential for functional gains, recommending appropriate equipment for mobility, and instructing in follow-up to maximize patient outcomes. To the team, thank you for your leadership, humour, kindness, critical thinking and ongoing dedication to better patients' lives.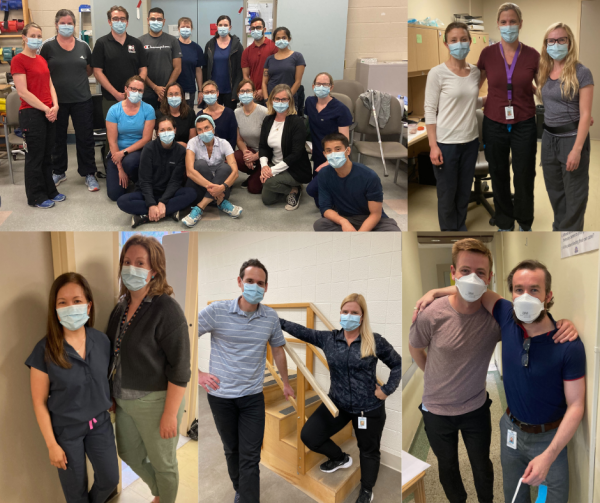 Spotlight: Karen Guha, GRH Physiotherapist and NDTA PT Coordinator and Instructor
Karen Guha works in the Neuro Rehab Clinic at the Freeport campus, with a focus on treatment of adults with hemiplegia. Karen utilizes her advanced skills in Neurodevelopmental Treatment (NDT) to assist patients to achieve their highest functional outcome. NDT is a hands-on, client centered, problem-solving approach, based on neuroplasticity theories.
Karen began her NDT training in 1998 by completing her Certificate Course (for adults with hemiplegia), and later took several advanced-level courses. In 2002 Karen became an Instructor Candidate and began assisting on various NDT courses. Karen became a NDTA PT instructor in 2007 and a NDTA Coordinator Instructor in 2011. Karen is also qualified to teach NDTA Advanced courses. She has taught NDT courses in Canada, the United States and internationally.
To celebrate PT Month, Karen developed and instructed a course for the PTs at GRH, with a focus on engagement of the hemiplegic upper extremity during ambulation. The team would like to thank Karen for sharing her knowledge and training in hands-on skills.
Physiotherapy Team Q&A
Being a physiotherapist in a hospital setting and working during a global pandemic influences the unique experiences that our physiotherapy team encounters in their everyday work. Thank you to all of our PTs for their commitment to caring for our community and its health care needs. Below, some members of the physiotherapy team at GRH share more about their experiences:
What makes your role at GRH unique compared to the traditional or most commonly known role of a physiotherapist?
Maja Rosati (MR): "My main role is to work with our patients who have had total hip and total knee replacements, right from the day of their surgery! I get the pleasure of getting patients up for their very first time standing or walking after their new joint is in place. It's such an exciting moment--the beginning of a patient's freedom after dealing with pain for a long time (and sometimes even longer with pandemic delays). Some specially-selected patients are even able to practice stairs and return home the day of surgery, allowing them to recover in the comfort of their own home with family caring for them. Not only is it great for these go-getter patients, it also allows a hospital bed to go to someone else in need. I am so happy to support our patients with their next big step!"
Maureen Torcoletti (MT): "I think that all physiotherapists at GRH have a unique role compared to traditional views of PT in the community. We help patients by incorporating all of their medical, psychosocial, and environmental needs to create achievable goals to facilitate their return to the community. We do not treat one system, or one body part. We provide treatment to people with neurological, respiratory, orthopedic, and cardiac conditions every day. Our focus is always functional independence to promote quality of life, which is unique to every individual we meet."
Lisa Lograno (LL): "As a physiotherapist on the complex continuing care unit, my role has a significant focus on the respiratory system. Many of the patients on this unit have a tracheostomy and require mechanical ventilation. I can provide these patients with respiratory physiotherapy that includes manual techniques for secretion clearance, suctioning and breathing control, along with mobilization. My role often also includes facilitation of the musculature involved in the respiration system and core trunk strengthening, which can assist with a patients ability to wean off from ventilator or from the tracheostomy."
Leah Gacusan & Shelley MacRae: "Besides being a generalist physiotherapist for the adult population, we also work in the Children's program for the Cystic Fibrosis clinic, Neonatal Intensive Care Unit (NICU) and Outpatient Pediatric clinics, servicing children 0-12 months with neurological, congenital & musculo-skeletal conditions. The most unique part of being a neonatal physiotherapist is working with the youngest of our patients - the fragile preterm population in the NICU. We identify, assess and provide research based interventions to those who are at high risk for neurodevelopmental delays, assist in the acquisition of oral motor skills and implement developmental care plans. It is an accomplishment to see those babies graduate from our NICU and transition successfully into their homes and community."
How has the pandemic impacted the way you provide care and the care you provide?
MR: "As we all know, the pandemic has delayed many non-urgent procedures, including total joint replacement surgeries. I'm happy to have been a part of the surgery team helping patients get back up and walking during the times it has been safe to run elective surgeries. I have also pivoted a couple of times to support patients in other areas of the hospital when COVID surges were happening. We are back to doing more joint replacement surgeries now, and we're trying our best help make up for lost time with these patients. They are so happy and relieved to be here!"
MT: "Personally, I had to manage remote school for three children at home, which meant managing a caseload with reduced hours and very limited coverage. The pandemic has highlighted the supportive team environment and the wonderful colleagues that I have the privilege to work beside. We have had to make a focused effort to reach out to family members more often for updates when visitors were restricted. Overall, the day to day interactions and treatment sessions with patients are the same, and continues to be the best part of my job!"
LL: "Treating patients in the intensive care unit for the first half of the pandemic allowed me to continue to progress my skills and knowledge on the respiratory system. Patients with COVID-19 did not respond to physiotherapy in the 'typical' way from a respiratory perspective. This change challenged me to incorporate more respiratory physiotherapy techniques into a patient's treatment program, while also progressing their strength and mobility. This knowledge and experience has translated well with my transition to the complex continuing care unit."
LG & SM: "With the existence of limited resources in the community even before the pandemic, children with physiotherapy needs were particularly vulnerable. We pivoted by offering both in-person and virtual services to meet the needs of our diverse families. Although there are challenges inherent to virtual teletherapy, the patients and their families remained flexible and resilient. This pandemic has offered opportunities to open doors to a variety of modalities for which physiotherapy services can be offered."
More GRH Stories