Posted: May 3, 2022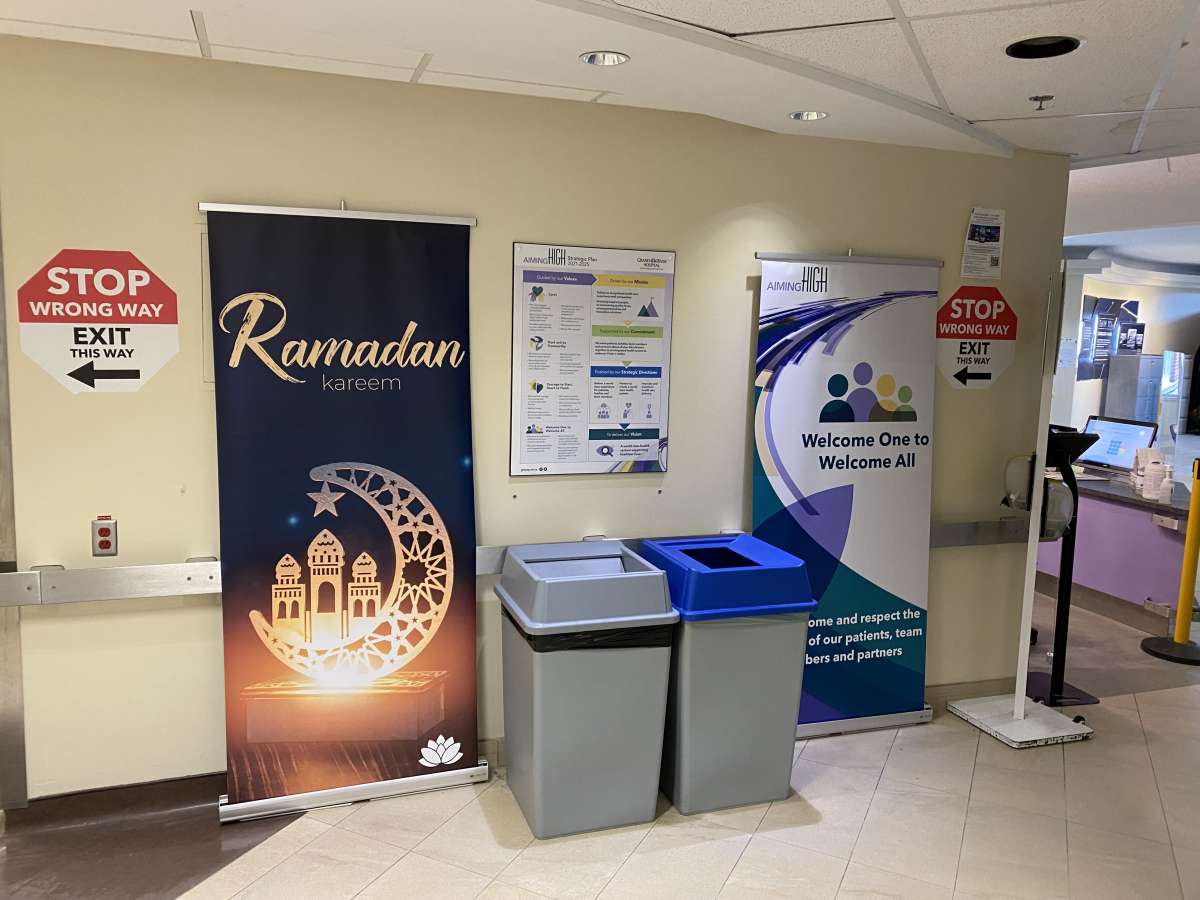 There are many holidays celebrated by our team and community during spring. We are committed to sharing and learning about the traditions and customs celebrated in our community and are excited to share the articles developed by our team and shared with our team to learn more about holidays celebrated throughout this season.
In honour of these celebrations, Ramadan banners were also seen at both hospital campuses to recognize the holy month. Easter and Passover banners have also been commissioned but were delayed due to unforeseen circumstances. These banners will proudly go on display alongside the Ramadan banners next year.
Read on to hear from our team members about how they celebrate spring holidays!
Ramadan Kareem! Ramadan began on April 1 and ended on May 1, 2022.
Five Questions You May Have About Ramadan by Kinza Anjum, RPN, Day Surgery
What is Ramadan?
Ramadan is the most sacred month of the year for Muslims. Muslims spend the month fasting from dawn until sunset. It means to increase spiritual discipline by indulging in reflection, charity and prayer.
Do Muslims fast for a whole month?
No, that would leave us extremely malnourished or dead. Muslims fast every day for a month, from dawn until sunset. We usually wake up just before sunrise to eat a meal that makes our fast easier.
So, not even water?
No. Not even water. We make sure to drink loads of water before dawn so as to not get too thirsty.
Can I eat in front of someone who's fasting?
Yes! Of course. It's extremely considerate for non-Muslims to not eat in front of us, but if you do, we don't mind at all! It's a test of our intention to fast and we can just as easily walk away from the delicious smells of your lunch.
Isn't fasting for that long bad for you?
Actually, studies have shown that curbing your appetite during Ramadan has numerous health benefits including lowered cholesterol, increased metabolism and improved cognitive function. In its essence, Ramadan is meant to detoxify us from impurities - mind, body and soul.
Ramadan Crafts by Uqba Rashid, Performance Data Analyst, Regional Oncology
I wanted to share how we are teaching our young kids (ages 5 and 2) about Ramadan this year. We spent March break building a mosque out of cardboard. We measured and cut the pieces, painted the cardboard, and put the mosque up.
During this process, we explained to our kids that we try to go to the mosque more often in Ramadan. When we go to the mosque we can do lots of fun things such as, praying, reading the Quran, colouring in our Ramadan Activity book, breaking our fast at sunset and playing with our friends.
Celebrating the End of Ramadan with Gratitude, Gifts and Great Food by Sadia Khan, Clinical Dietetic Technician
Eid-ul-Fitr, also known as the 'festival of breaking the fast', is celebrated by Muslims worldwide and marks the end of Ramadan, the Islamic holy month of fasting.
It is celebrated during the month of Shawwal, the 10th month of the Islamic calendar upon the sighting of a new moon. The traditions of Eid ul-Fitr can vary depending on the country but some things are universal. Eid is centred around spending time with family, friends and people within the community. Giving thanks to God is key, so on the morning of Eid, Muslims offer a special congregational prayer. Muslims are also obligated to pay a charitable tax, known as Fitra or Zakat Al Fitr, to help the less fortunate celebrate the occasion.
It is also encouraged to dress up on Eid morning in your best or brand-new clothes and many decorate their houses for the occasion. Muslims greet one another with hugs on Eid day by saying 'Eid Mubarak' which means 'blessed Eid'. This is to create a feeling of goodwill and unity. Children receive "eidi" which is a gift of money and gifts are also exchanged among family and friends.
Celebrating the end of fasting naturally involves great food—and lots of it! In fact, the Quran (the central Islamic holy scripture) forbids fasting on this day. It's common for family and friends to get together and share a meal.
In Pakistan, sheer khurma, a sweet, milky pudding made of Vermicelli noodles, is a staple in every household and enjoyed on Eid. Try it out for yourself by following this recipe.
Sources:
https://www.timeanddate.com/holidays/muslim/ramadan-begins
https://www.britannica.com/topic/Muslim-calendar
https://www.cookwithmanali.com/sheer-khurma/
Chag Pesach Sameach! Passover began on April 15 and ended on April 23, 2022.
Learn About the Passover Dinner
During the Passover seder meal, a Haggadah is read. This ritual often includes singing, discussing the meal, and reflecting on the collective struggle experienced by Jewish people. The Torah explains the Hebrew belief, how through Moses parting the Red Sea, they were able to escape slavery. The Haggadah and its ritual varies among families that celebrate Passover. There is even an online resource for creating the Haggadah.
There are many common dishes eaten during the Passover dinner, including matzo ball soup and brisket. Food Network Canada has a guide for the best Passover recipes. These recipes include easy to follow instructions for making a variety of dishes, including matzo balls, kugel, brisket, candy, latkes, and Charoset. Chag Pesach Sameach (KHAG PAY-sock sah-MEY-akh) or Happy Passover to all of our team members celebrating!
Sources:
https://www.foodnetwork.ca/article/passover-dinner-story-progressive/
https://www.foodnetwork.ca/tag/passover/
Happy Easter! Easter was celebrated on April 17, 2022.
Portuguese Easter Traditions by Paul Amaral, Director of Community Partnerships & Entertainment, Grand River Hospital Foundation
Here are my family's Portuguese Easter traditions. When I think of Easter I think of lots of church services during Holy Week and food.
Holy Thursday Mass celebrates the Last Supper of Jesus and the Apostles. Good Friday is a solemn and quiet liturgy as we contemplate the passion and death of Jesus. But on Saturday night and Sunday morning, we are joyful of His resurrection. This Holy Week will be even more profound as we pray together for peace and healing in Ukraine and other countries suffering from war around the world.
Portuguese food throughout this week varies by region, but for me it's about simple salted cod (Bacalhau) on Friday, and celebratory dishes on the weekend including turkey, shrimp, octopus, and the smells of sweet bread (Massa) filling the air. Goes without saying that wine and anise liqueur is a must have!
More GRH Stories