Posted: October 8, 2021
At GRH, our physiotherapy team plays a crucial role in helping patients affected by injury, illness or disability, whether it be through movement and exercise, manual therapy or education.
Stephanie Beadle, an experienced physiotherapist, has been a member of the Prosthetic and Orthotic Clinic team and the Neuro Rehab Clinic at Grand River Hospital's Freeport Campus for nearly 23 years where she supports patients who have experienced lower extremity amputation and neurologic conditions. Through her role, Stephanie has also been afforded a rewarding opportunity to share her skill with a remote community in Northern Ontario, twice.
Two years ago, Stephanie was asked by a friend (and occupational therapist), if she would consider taking a temporary role with the Weeneebayko Area Health Authority (WAHA). Based in Moose Factory, a remote island in Northern Ontario, Stephanie would have the opportunity to share her physiotherapy knowledge and expertise to improve patient care.
"I love my work at Grand River Hospital, but felt that the opportunity to step out of my comfort zone and experience working in an underserved, remote area would be revitalizing. It would improve my knowledge and skill for patients upon my return," said Stephanie.
Stephanie also had the support of her manager, Ellen Richards and Holly Arnold, Professional Practice Lead, Physiotherapy.
"When Stephanie brought this idea forward, both Ellen and I were excited for the opportunity to have Stephanie represent Grand River Hospital in an underserviced area," said Holly.
"Of course, the logistics had to be worked out to ensure that Stephanie's patients at GRH were cared for throughout her absence. I was able to alter my schedule to pick up one day per week to provide continuity for her neuro and prosthetic clients. Stephanie took advantage of gains made during the pandemic in terms of virtual appointments. This way, she was able to continue her involvement for patients with set-backs, or those being assessed for a prosthetic."
WAHA provides health care services to approximately 10,000 people in six communities along the coast of James Bay. The majority of patients are Indigenous and there is limited access to rehabilitation services for residents. There is a high prevalence of diabetes and its associated challenges, including amputation and stroke.
Stephanie made the journey by plane to Timmins, another flight to Moosonee, and a short boat ride to the hospital on Moose Factory Island. There had not been a full-time physiotherapist in place at WAHA for nearly three years when she arrived in October 2019. With many patients who had minimal physiotherapy intervention following their amputation or neurologic event, her expertise was needed and quickly put to good use.
Over the course of eight weeks, Stephanie was kept busy and no day was typical. At the hospital, she had the opportunity to provide acute care, inpatient and out patient rehab care as well as support some community elders who remained in hospital awaiting placement in Long Term Care. As ice began to make boating impossible, her commute to and from work in Moosonee turned to helicopter. Stephanie's work was very community-centric, and involved many visits to patient's homes to help them and their families learn how to use new equipment for improved mobility.
"At GRH, my role is primarily in amputee care and neurology. I have focused my professional development to support this. As a sole physiotherapist in a remote community, I quickly needed to regain my comfort with the broader spectrum of physiotherapy. Patients and their families are always appreciative, kind and a pleasure to work with; I've found this to be the case whether they are from KW or Moose Factory," said Stephanie.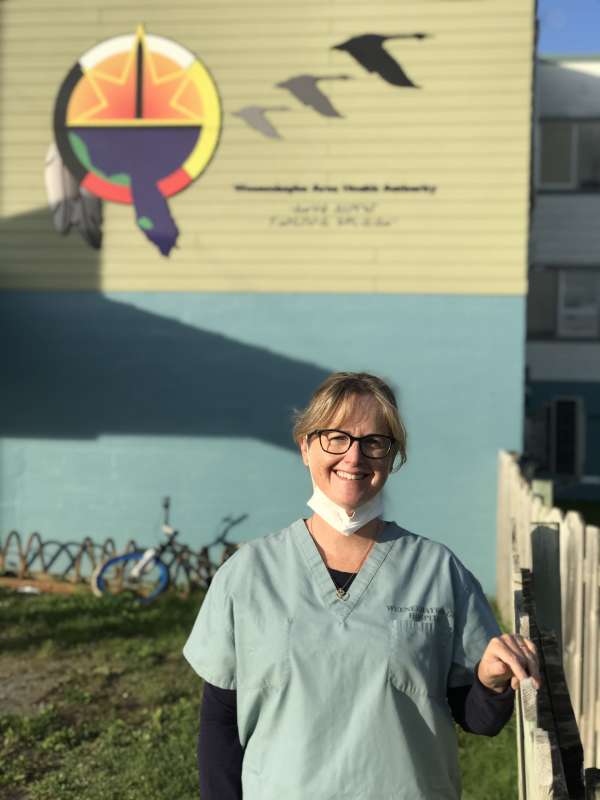 After her first experience supporting patients in Moose Factory, Stephanie has been patiently waiting for an opportunity to make a return visit.
Earlier this month, that opportunity came again. Stephanie returned to Moose Factory on September 13 to provide care and support through a four-week locum (a temporary professional opportunity).
This time she joins the full-time physiotherapist who was recruited to WAHA in February 2020. She will provide specialized patient care to targeted patient populations, including amputees, and collaborate with her fellow physiotherapist.
Stephanie uses technology to continue to participate in the weekly GRH Prosthetic and Orthotic Clinic team assessment days and provide physiotherapy treatment to some of her amputee and neurological patients, virtually.
What Stephanie has enjoyed most about her experience in Moose Factory is "the collaborative nature of the teams. The teams are constantly changing as locum health care providers come and go to support the full-time team members. Everyone works together to provide care in this welcoming community."
Stephanie has truly exemplified GRH's core value of 'care' and 'welcome one to welcome all" during her time in Moose Factory. We are proud to support Stephanie as she serves an underserviced population and makes a lasting impact for patients.
We look forward to her return later this month and the learnings that will come from her experiences providing patient care in a remote community.
More GRH Stories