Posted: October 20, 2018
Susan Rogers wants to make sure every breath you take is a good one.
Susan is part of Grand River Hospital's complement of respiratory therapists. She and her colleagues are experts in supporting patients who have difficulty breathing and require life support.
Susan came to respiratory therapy as a discipline because she was interested by the wide-ranging roles in health care outside of medicine and nursing.
Today, she works in all areas of the hospital supporting patients, while also mentoring respiratory therapy students in front-line education.
Susan continues to enjoy the fast pace and constant variety of her days in the hospital, while supporting some of GRH's most acutely-ill patients.
---
How did you become a respiratory therapist?
I became a respiratory therapist because allied health professions looked interesting. I didn't want to be a doctor or nurse. I was looking more at college programs and what was available. I looked at nuclear medicine, becoming an x-ray technologist, working as a medical lab technologist and respiratory therapy. I really liked how diverse the role of the respiratory therapist was.
I studied at Algonquin College for three years to receive my diploma in respiratory therapy.  I then wrote a national registry exam to become a registered respiratory therapist. Respiratory therapy is a regulated health profession.
How did you come to practice at Grand River Hospital?
I grew up in Kitchener and knew that when I graduated from the respiratory therapy program that I wanted to come and work at K-W Hospital (as it was then known).  I was hired right out of school.
What areas do you serve now?
Respiratory therapists serve all areas of the hospital population, from emergency and intensive care to neonatal intensive care here at the KW Campus, to the complex continuing care unit at our Freeport Campus. There really isn't anywhere that a respiratory therapist doesn't go if someone is having trouble breathing. 
We support newborns to older adults and everyone in between. We are also part of the cardiac arrest team for adults, children and newborns. We are part of the ICU outreach team (CCRT). We are part of the multi-disciplinary team in the ICU where we monitor and treat patients who require life support (ventilators). For anyone who has trouble breathing or can't protect their airway, we are there to help.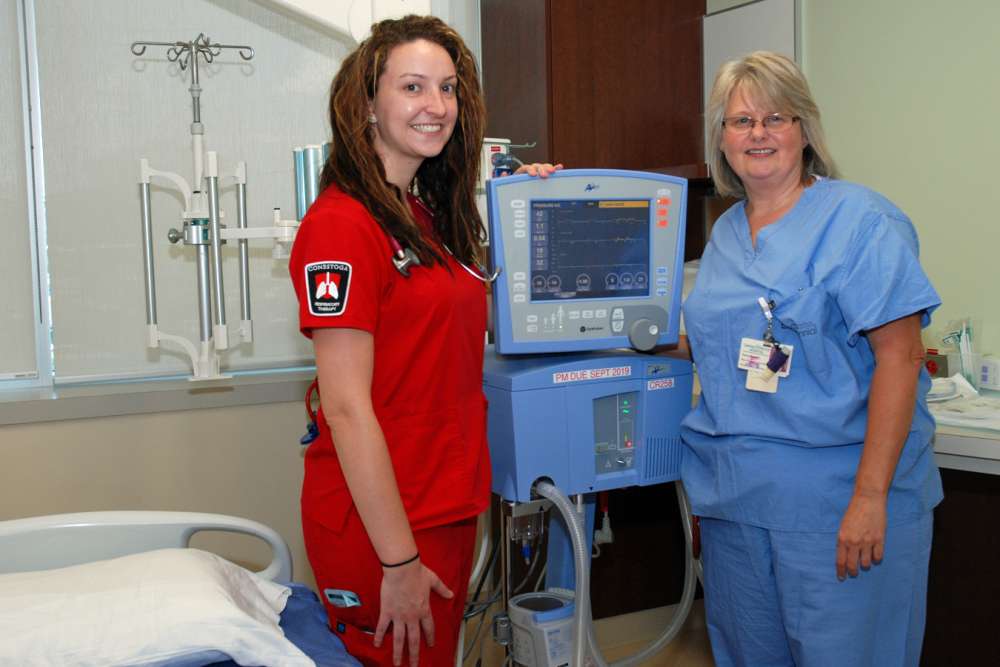 How has practice in respiratory therapy changed in your time as a practitioner?
Technology has greatly changed my practice.  Equipment has become more sophisticated and better able to assist a patient's breathing.
What do you enjoy about your role?
No two shifts are alike. It is a fast paced and dynamic role. Respiratory therapists usually are involved with the care of acutely-ill patients. It is always rewarding to see patients get better and no longer require our care.
What keeps you challenged or on your toes?
You never know what is going to happen when you come on shift.  I am only a phone call away from a patient who will require life support (ventilator) or a newborn baby having to go on non-invasive ventilator (CPAP).   
What would you like patients and families to know about respiratory therapists?
At our hospital, you see a respiratory therapist if you require blood to be taken to check how effectively you are breathing/require oxygen or are having difficulty with your breathing or your airway.
The role of the respiratory therapist differs from hospital to hospital. Respiratory therapists are not only in the hospital but also in the community and in diagnostics as well. If you require oxygen or a CPAP machine, you would see a respiratory therapist outside of the hospital. You would also see a respiratory therapist if you required a breathing test or a sleep study.
More GRH Stories