Posted: February 2, 2018
Grand River Hospital would not have become the top hospital in Canada for blood donation in 2017 without the partnership and support of Tara Gutscher and Gina Leyva.
Tara and Gina work for Canadian Blood Services in Waterloo Region. They have partnered with GRH staff to support the hospital's blood donation efforts since 2009.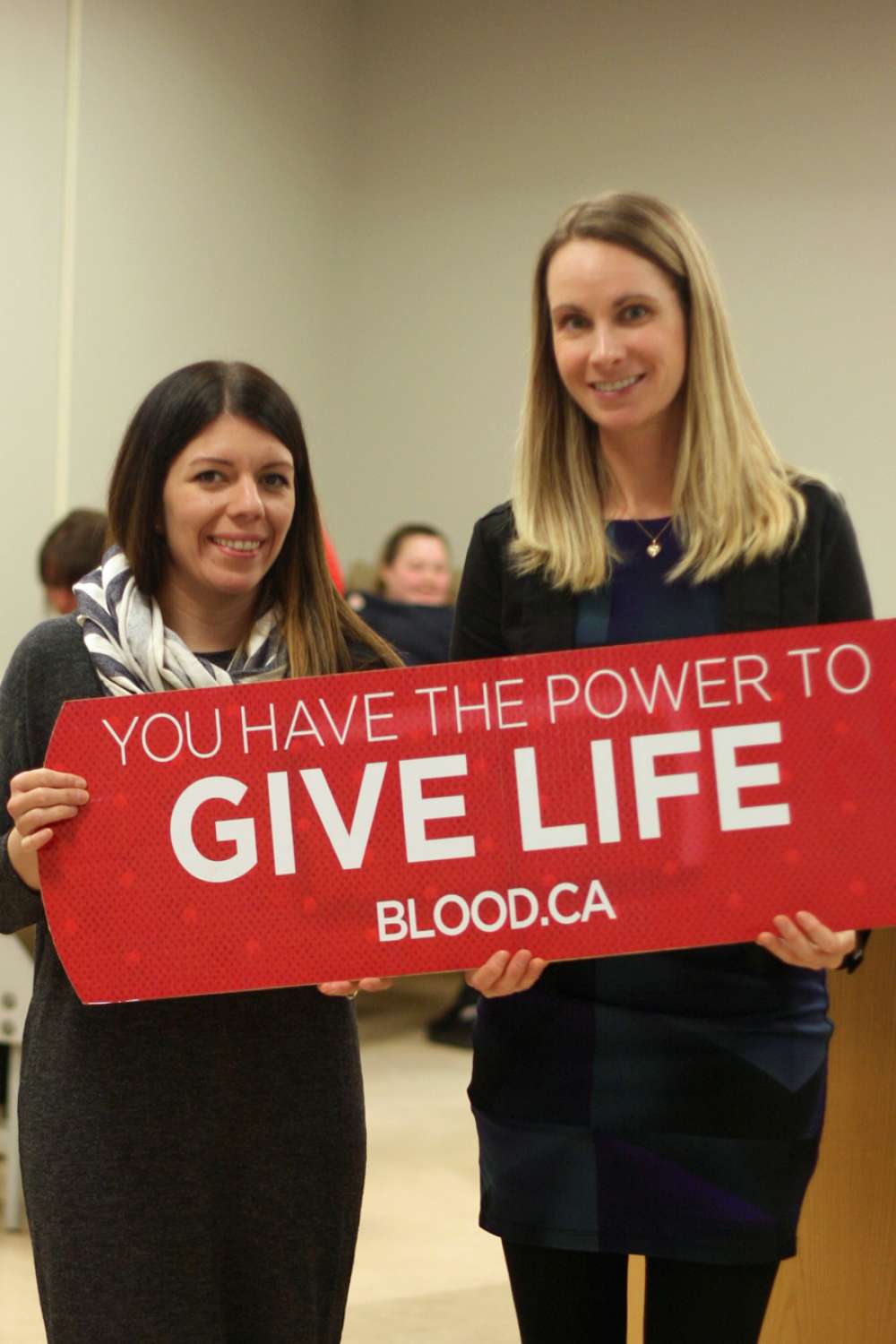 They help more than 30 partner organizations in the region to promote blood donation to save lives and support life-sustaining care. In 2017, GRH patients needed more than 9,600 units of red blood cells for their health needs.
Tara and Gina are strong advocates for the Partners for Life program, and are eager to enlist new organizations in Waterloo Region to support blood donation… which makes a vital difference in the lives of area residents.

---
In a given year, how much blood would patients in an area like Waterloo Region need?
Gina: Area hospitals in Kitchener and Cambridge used 14,488 units of red blood cells in 2017 alone. That doesn't include other specialized products, like platelets used in cancer care.

The need spans all ages and stages of life… from a mother after delivering a baby, to a newborn in a neonatal intensive care unit, to emergency and surgical patients, people with cancer, those with kidney disease undergoing dialysis, and so many more.
How much blood do area donors give every year?
Tara: Last year there were 22,180 units of whole blood donated in Waterloo Region between our permanent clinic in Waterloo and our mobile blood donor clinics in the region.
Our donors are doing a great job in supporting local needs, but also those of people across Ontario who require blood for their care. But the need for blood is constant.
How does Partners for Life work?
Gina: Partners for Life is a program that allows local community groups and organizations like Grand River Hospital to partner with Canadian Blood Services officially by setting a goal or pledge each year of blood donations they feel their members can achieve.
Organizations or groups can also partner with Canadian Blood Services by committing to group donations or adopting a clinic day or event to help us achieve our goals in Waterloo Region.
How many Partners for Life organizations does Canadian Blood Services have in Waterloo Region, and how do they contribute?
Tara: There are 34 Partner for Life organizations in Waterloo Region that pledged a total of 3,818 donations in 2017. Together they were very close to achieving the total pledge with 3,794 donations.
Grand River Hospital was the top partner in the region in 2017, as well as the top hospital in Canada. The hospital's 571 donations represented 15 per cent of the total partner donations in Waterloo Region.
What's made the Partners for Life program unique in Waterloo Region?
Gina: Working with fabulous organizations like Grand River Hospital, whose people make blood donation a priority and support us on a consistent basis throughout the year, has made the program an ongoing success locally.
How does one go about setting up an organization for Partners for Life?
Tara: By visiting https://blood.ca/en/blood/how-do-i-start-team (opens in a new tab), you can register your organization for the Partners for Life program and get started by making a pledge. We'll work with you to formulate a plan on how to achieve your organization's goal. You can also contact me at Tara.gutscher@blood.ca or call 519-884-5646 extension 4883.
---
To give blood, please call Canadian Blood Services at 1-888-2-DONATE or visit http://blood.ca (opens in a new tab)
More GRH Stories