Posted: February 22, 2022
Work has recently happened to support vaccine efforts locally and ensure that newcomers are able to get the protection of the COVID-19 vaccine.
As part of the Region of Waterloo's vaccine work, the Grand River Hospital Pinebush vaccine team hopped on a Grand River Transit bus, designated as a mobile vaccination station to visit local hotels in Waterloo Region where Reception House provides temporary residence for refugees that have recently arrived.
To date, this mobile vaccine clinic team has provided 176 doses of the COVID-19 vaccine to refugees through eight trips to Reception House locations. These trips allow residents, who have limited resources to get to a clinic, to receive their vaccine.
Each family got the opportunity to get vaccinated and appointments were not required. The team bought a nurse that speaks Arabic and an interpreter who speaks Dari to support communications, inviting everyone to ask questions in a language they are most comfortable speaking.
"These clinics emphasize the work that is happening to shape our services to meet the needs of everyone in our community to protect our community," says Lisa Anstey, Manager of the Pinebush Vaccine Clinic and Grand River Hospital staff member. "This is an incredible partnership between the Region of Waterloo, Grand River Transit, Reception House and Grand River Hospital. We are extremely proud to be a part of this amazing outreach and partnership and proud of the team that has come together to provide doses of the vaccine wherever the need may be."
Alongside the Region and GRT teams, GRH team members that led the recent mobile vaccine clinics for Reception House include: Ronalee Kennedy, Johanne Leveille Schirm, Noela Vorsteveld, Junior Ainoo, and Kristine Snyder. Thank you, Team Pinebush, for your dedication to providing high quality care to every member of our community.
Click here to read more about this partnership.
Pictured below, left to right: Ronalee Kennedy, Johanne Leveille Schirm, Dr. Cary Shafir, Noela Vorsteveld, Kelly (Region of Waterloo), Junior Ainoo, Kristine Snyder.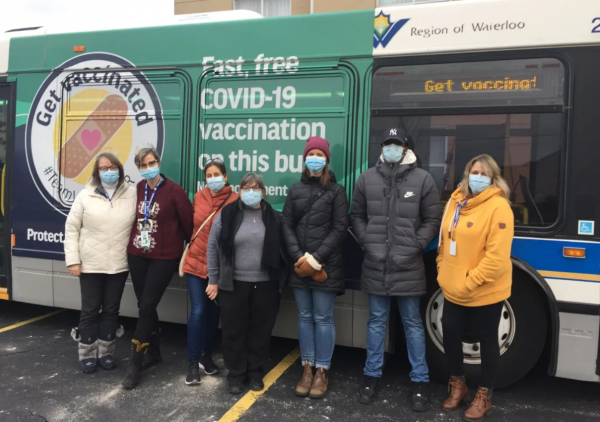 More GRH Stories